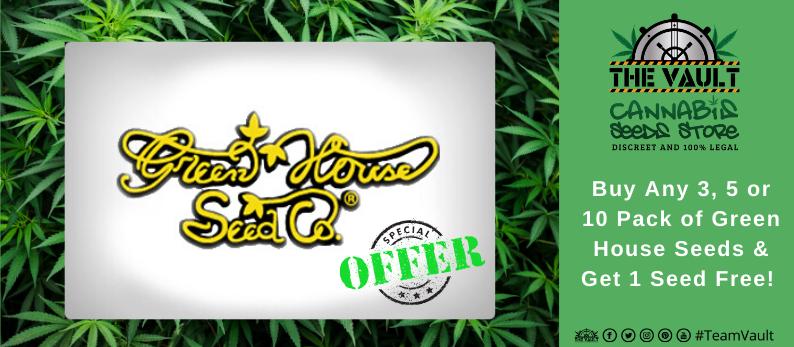 In partnership with the Green House Seed Co. we are delighted to bring you this on purchase promo.  its pretty simple – Buy any 3, 5 or 10 pack of Green House Seeds and get 1 Free.
This is of course, on top of all the other offers currently live at The Vault Cannabis Seeds Store, check them out on our cannabis seeds offers page.
Green House Seed Co.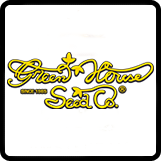 The Greenhouse Seed company has one of the most impressive and popular seed companies in the world today. They create wonderful strains of medicinal and recreational cannabis that can only be found to be supplied by them, completely and utterly unique aromas and flavours.
In 1985 the Greenhouse Seeds Co. was established in Amsterdam by Arjan Roskam and since then the company has spread all over the world. They have won many international awards including 35 High Times Cannabis Cups, 17 Highlife Cups, and several other awards which are unique to individual countries. With so many brands it is difficult to trust what the reviews or the website boasts but you can't argue with international recognition. They have even expanded into merchandise which is sold world wide.
The internet is covered in their useful growing help videos with others showing their customers their journey all over the world painstakingly searching for new champion strains. It really is a different level when you can personally watch the phenomenal produce being selected and watching the men responsible for that quality at work. You feel strangely safe with a brand who don't hide and who you can watch and start to almost get acquainted with. Almost like buying from a close friend.
They are completely obsessed with finding the rarest, most exotic, and finest quality strains known to exist in the world, no matter where they have to go to find it. A brand that is so committed to quality that they would hunt so far afield clearly cares a lot about the satisfaction of their customers and maintaining their meticulous image.
The Greenhouse Seed Company also has a huge range of famous chums, from Kevin Spacey and Pierce Brosnan to Eminem and 50 Cent with many others in between. The creator of this brand is known more often than not as the king of cannabis.
Need I say more?
If you want professionalism, a top quality product, a friendly atmosphere, and excellent prices The Greenhouse Seed Company is certainly for you.
Enjoy a further 15% off all Greenhouse Seed Co. using discount code GHSC15 in the cart.  Let us know about your experiences with Greenhouse Seed Co and their strains in the comment section below and then go shop their range at Green House Seed Co.
Newsletter Sign Up
Make sure you never miss another Vault promo – sign up for our newsletter at http://goo.gl/Bt2Ba2
Remember: It is illegal to germinate cannabis seeds in many countries and some remote, less enlightened planets outside the core systems.  It is our duty to inform you of this fact and to urge you to obey all of your local laws to the letter.  The Vault only ever sells or sends out seeds for souvenir, collection or novelty purposes.