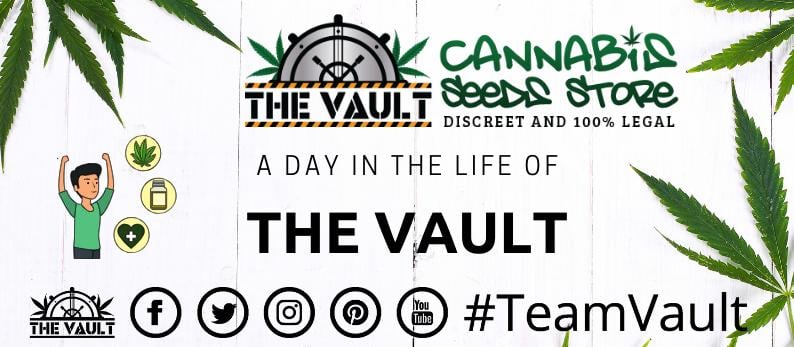 This is our first Vault focused blog post of 2020 so we hope you had a great Christmas and New Year and got yourself some new Cannabis seeds goodies and merch' from Santa?
In this post, we thought we'd give you an insight into #TeamVault and what we get up to on a daily basis and introduce you to some of the members of the team. This ranges from customer service through to our marketing efforts.
We're a small-ish team, our main HQ is based in Edinburgh, Scotland but we also have distribution centre's in England and Spain for legal and logistical reasons.  All team members at The Vault are super dedicated and passionate about The Vault, the industry and being part of the movement towards legislation and they are an absolute credit to the company, thanks guys, we salute you.  If you have ever had dealings with our customer services team, headed up by Cameron and Greg then you will already know how fanatical they are about ensuring each and every customer is looked after!
We're run and operated by two guys originally from Northern Ireland, Jack and George. Jack is now based in our Spanish premises and George works with the rest of the squad here in Scotland. The guys set The Vault up in 2012 so we're moving towards our tenth year soon.
The Name
Our main name and URL is of course www.cannabis-seeds-store.co.uk but we have also become known as simply The Vault.  But why?
You may or may not know this, but The Vault's name isn't just something made up because it sounds cool! The name was inspired from the real-life seed Vault that exists in Svalbard, which is a small island off Norway!.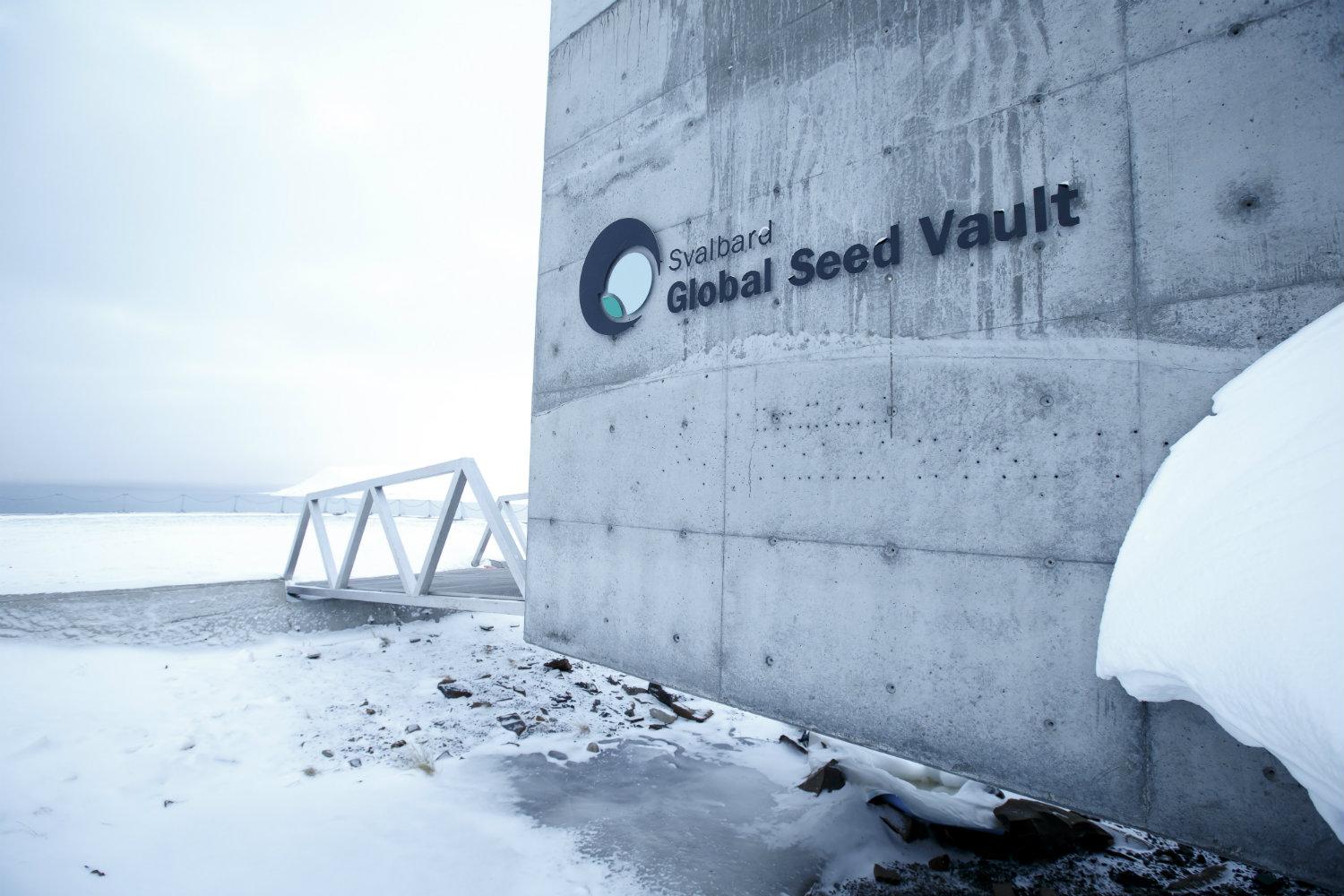 This is a super-secure Vault that stores all the worlds essential seeds should we face armageddon as a race (or some form of major world catastrophe).  Synonymous with storage and security we thought it was very apt to how the Cannabis Seeds Store approach the storage and quality of our cannabis seeds so the sub name of The Vault was borne.
The Seed Vault has the capacity to store 4.5 million varieties of crops. Each variety will contain on average 500 seeds, so a maximum of 2.5 billion seeds may be stored in the Vault. (Remember these are not just Cannabis Seeds).
Currently, the Vault holds more than 980,000 samples, originating from almost every country in the world. Ranging from unique varieties of major African and Asian food staples such as maize, rice, wheat, cowpea, and sorghum to European and South American varieties of eggplant, lettuce, barley, and potato. In fact, the Vault already holds the most diverse collection of food crop seeds in the world.
We hope you've learned something new today. To check out all the details you can visit the website here; https://www.croptrust.org/our-work/svalbard-global-seed-vault/
The Website
The most essential part of the Vault Cannabis Seed Stores' business (apart from the #TeamVault community and our customers), is our website and of course what we sell on the website. Every day we work to bring you the latest seeds alongside quality breeders with well established and popular seeds. We put a lot of effort into ensuring all the cannabis seeds you buy are of the highest quality from only the worlds best breeders so any breeder you see listed on The Vault Cannabis Seeds Stores site will be vetted, tried and tested so you know you can always buy in confidence from us.
This is mainly the work of George who has strong relationships with some of the worlds best breeders like Barney's Farm, Female Seeds, Royal Queen Seeds, Dutch Passion, Kannabis, Phoenix, Sensi Seeds, Seedsman, Fast Buds, Greenhouse Seeds, Seedsman, Sweet Seeds, to name but a few.
The site, which we have just upgraded, displays all the products we have available and is split into helpful sections like feminised, auto flowering, regular and top tens, cbd and medical strains etc. This clearly needs someone technical nous and that's where our technical development team come in which is headed up from our Russian developer, Anton (we're an international bunch here at The Vault).
The Support
Arguably, one of the busiest departments in The Vault is the customer service department, headed by Cameron and supported by his brother Greg.
Every day they will be answering calls and literally hundreds of emails from you guys and gals. Mainly these will be sales enquiries and support for your orders. Additional things might be sending you guys merch' and seeds from our regular compos and promos.
The Vault pride themselves on the fanatical support you get from us, so we do everything we can to make sure you're as happy as possible, and this shows through in our ratings on Trust Pilot. If you've dealt with us in the past, feel free to leave a review on our page on Trust Pilot.
The Marketing
We obviously have to let you guys know about the great products, deals, offers and promos that we run and want to engage with you to share the latest news and views from the Vault Towers. This role is overseen by George and is sometimes assisted by the Cannabis Marketer and friend of the Vault, Gary Eff.
On a daily basis, we make sure we are updating all of The Vault's Social Media pages so that you guys always have the latest from us. We share things from memes to serious news stories focussing on medical and legal issues from the world of Cannabis.
One of the other places we are active daily is our Facebook group, which is a private group where you can all get to know one another a little better. The group can also be used to share your own photos and/or ask for advice etc, so it could be worthwhile joining if you're a Facebooker! Click on the image below to join.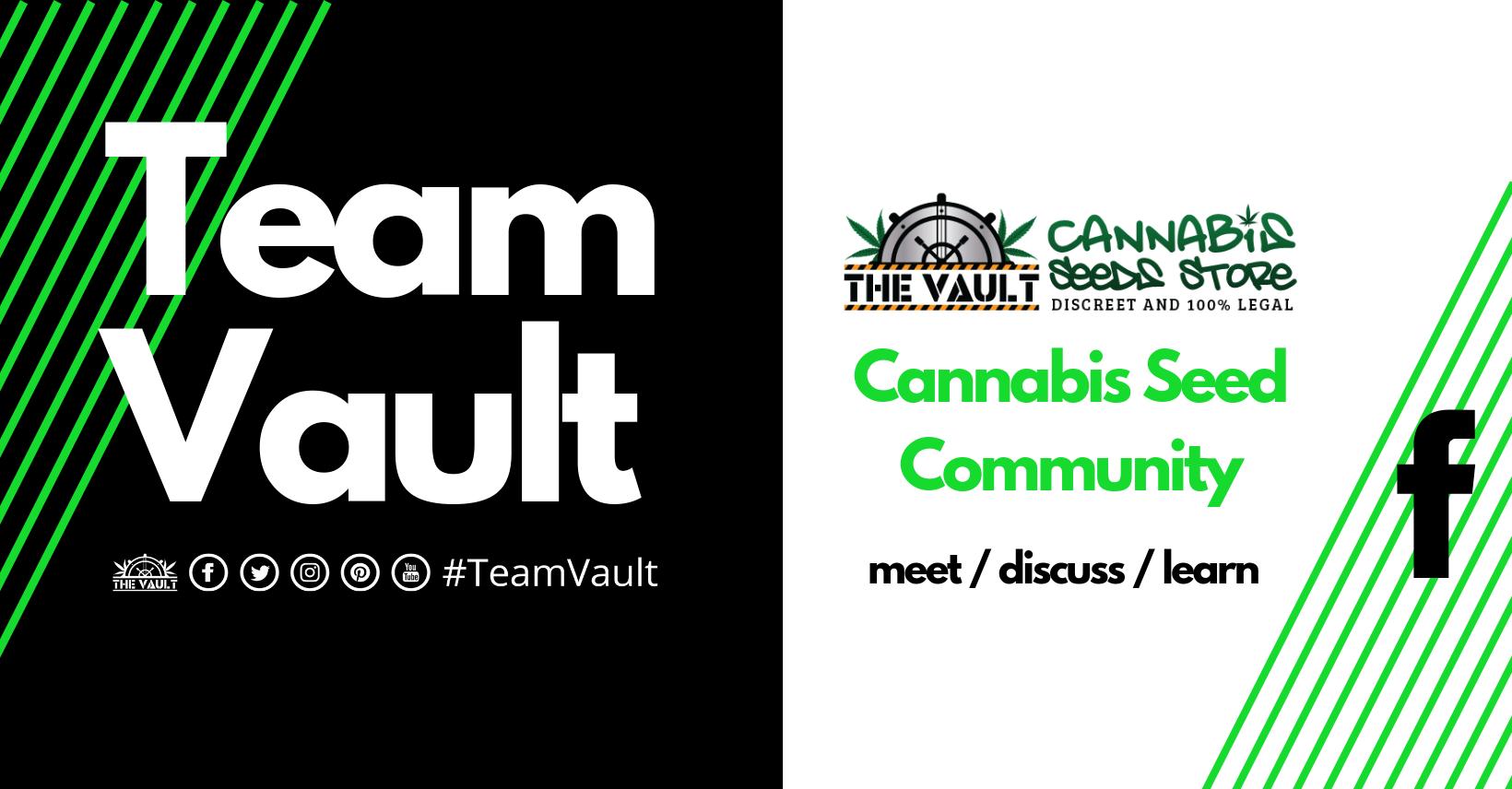 As well as our own group, you will find us engaging in various groups and forums across the Cannabis Community online too. You'll find us on Grasscity, 420 Mag & Percys to name but three. Watch out for us on other platforms too like as seen on Highlife and Leafly web pages too, where you can find some dedicated Cannabis professionals.
You would be hard pushed to find a cannabis seeds forum or website where we are not active.  This allows us to be on hand to answer questions and offer support wherever needed.  If you have a resource we are not featured on then drop us an email or a comment below to let us know and we check it out!
The Promos
We pretty much run free cannabis seeds giveaways constantly. Given the amount of time we spend on this we dedicated this section to you!
One of our best promo's we've ran was our 420 event from 2019, whereby one of our happy customers Timmothy Standish, made the Vault it's very own Truck, which someone won along with hundreds of cannabis seeds.
We don't always give away that many, but to keep tabs on all and any future promo's it's worth adding yourself to our email database (see below) or follow us on our social media pages. We also have a dedicated cannabis seeds offers page on The Vault website, so check that out too.
We have some awesome on purchase promos that are live right now, so be sure to check them out too.  This can also be easily identified wherever you see the word PROMO appearing after the breeders name in the mega menu on our website on the desktop version, on the mobile version just check out the offers page for details.  Every breeder running a promo will be giving away bonus free cannabis seeds usually like buy 5 get 2 free etc. so when you combine that to our other freebies based on spend you can usually end up with a serious amount of free seeds.  Why not give it a try now, add your favourite seeds into your cart and it will update automatically with all the freebies as you go!
Summary
The Vault continues to go from strength to strength and has had great growth over the past 8 years. As laws continue to change for the better we will continue to grow further and keep offering you guys and gals the best cannabis seeds on the planet! The team we mention above simply want to make sure you're always happy as that way it's a win win for all!
We always appreciate feedback, we find it invaluable to learn how we can improve our services to you so please leave your comments below, good or bad.
To 2020 and beyond!
We recently upgraded our website onto bang up to date technology, moved to bigger, faster servers with even more security.  Next up we are just putting the finishing touches to a new design for the site and we are hoping to roll this out early Feb 2020 which will see an even better navigation system, making it easier for you to search and checkout quicker than ever before, plus a few other enhancements we will keep under wraps for now but we know you will be buzzing when we launch.
Why not head on over to The Vault Cannabis Seeds Store now and pick up some Cannabis Seeds now, whilst taking advantage of the discount code VAULT15 for a whopping 15% discount off your order of Cannabis Seeds.
Newsletter Sign Up
Make sure you never miss another Vault promo – sign up for our newsletter at http://goo.gl/Bt2Ba2
Remember: It's illegal to germinate cannabis seeds in many countries.  It is our duty to inform you of this important fact and to urge you to obey all of your local laws.