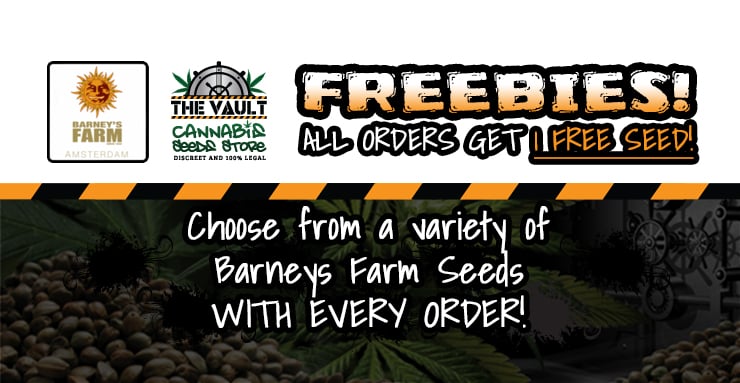 The Vault have been offering Freebies for some time now and also take great pleasure in the promo's and competitions that we run with the World's Best Cannabis Seed Breeders.
We've been working with Barney's Farm for some time now and are delighted to continue this work with our Freebie Seed offering. If you've shopped with us in the past year, the chances are you've had a Barney's Farm Seed from us. That's because we send one with every order and we continue to do so.
We pride ourself in giving you the best choice amongst the top breeders and ensure all seeds sent are in original breeder packaging so you know exactly what you are getting from us.
About Barneys Farm:

Possibly one of the worlds most renowned breeders; Barneys Farm began in the late 1980's high atop the Himalayas.  After spending 3 years cultivating Sativa and Indica based strains one member of the talented group went on to create one of the most prominent cannabis seed production businesses in the world; that business is Barney's Farm and the man who started it all is Derry.
In 1992 Derry went to Amsterdam and took the helm at the legendary Barney's Coffee Shop. They have created some of the worlds most popular and successfully strains winning countless awards along the way.  However, they remain to be one of the most prolific cannabis seeds breeders continuing to create and innovate.
New strains are frequently released, allowing for an ever-increasing audience to continue to enjoy high quality seeds from a company that started, literally, at the top and has remained there ever since.
About the Freebies*
To make it easier to decide which freebie floats your boat the most, let's take a look at some specs on these top-notch seeds: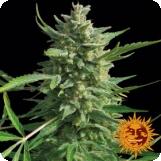 The crossing of a Pakistani Kush with a true Brazilian Sativa paved the way for one of our most exotic strains. RED DRAGON™ gives a distinctive and immediately exotic Sativa high, with a relaxing effect that lasts for hours. The finished buds encapsulate the flavour and smell of Guava fruit within unique red and green colas. RED DRAGON™ grows medium short, and has a short 8 week flowering period. This plant gives a big yield of highly prized product, but finishes outdoor by the end of September.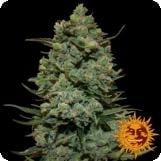 RED DIESEL™ brings together our famous NYC Diesel with the sweet citrus of the Californian Orange Bud plant. This plant is hardy and grows to a medium size, but the side branches will need supporting in the last week of flowering. The large colas are filled with resin, and are coated with the dominant red hairs of the Cali Orange. RED DIESEL™ combines the best of a trippy cerebral Sativa high with the relaxing tranquillity of the Indica.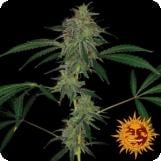 Are you ready for something special from the Barney's lab? Get ready for PEYOTE CRITICAL™ . It's an exclusive limited edition pure Indica hybrid, with awesome yield potential and fantastic pest resistance qualities. PEYOTE CRITICAL™ "limited edition" has been created by crossing Peyote Purple and CRITICAL KUSH™. The result is an Indica hybrid that combines all the raw power of the CRITICAL KUSH™ with the notorious sweet flavour and colourful brilliance of the Peyote Purple. These two plants are perfectly matched, their striking similarities making this a truly harmonious blend. Both parent plants are short flowering, produce exceptional yields and are tough too. Built to resist, this hybrid comes with a natural force field against pests and diseases. Our lab was looking for a powerful plant with a unique taste and PEYOTE CRITICAL™ ticks that box. One for the senses, delicious sweet earthy flavours, and aromas of aged wood and sweet coffee. This plant is recommended for all levels of grower – those new to cultivation but also experienced growers looking for something different. Powerful, sweet tasting and big yielding,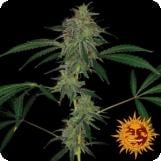 TRIPLE CHEESE™ is the crossing of our BLUE CHEESE™ with the powerful Original Cheese (Skunk#1 phenotype), created over many generations of selections and back crossing to give this amazing strain. TRIPLE CHEESE™ is everything we wanted to create and more. But wait, it gets better; this plant is easy to grow and produces dense buds with a remarkable blueberry and Old Cheese taste. The indisputable dank cheese flavour dominates this strain, and packs a punch.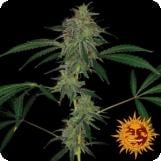 At BARNEYS FARM® we strive to bring you the best strains, so with MALANA BOMB AUTO™ we started with one of the most important plants in Marijuana culture: the Malana Charas. A sacred plant used by Sadhu's in the worship of Shiva the Hindu God of destruction. Malana Bomb crosses this sacred plant with Lowryder #1 to create a big and stable plant. The colas ooze with rich pine aromas, recreating the tastes of the Himalaya Mountains. MALANA BOMB AUTO™ naturally moves into flowering within 3 weeks, and finishing in a total of 60-70 days.
*Freebie strains change often and these are the seeds on offer at the time of writing.
Go view the entire Barneys Farm range and get yours now!
Make sure you never miss another Vault promo and sign up for our newsletter at http://eepurl.com/U2sFj
All free seed offers are subject to availability and if we happen to run out of any free seed we will substitute your choice for a similar strain with a similar price range.
Remember: It is illegal to germinate cannabis seeds in many countries; therefore, it is our duty to urge you to obey all of your local laws.  The Vault only ever sells or sends out seeds for souvenir, novelty or collection purposes.
#TeamVault