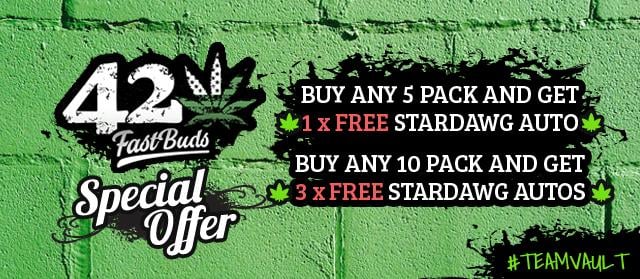 Fastbuds Seeds waste no time at all in getting a fantastic offer up for #TEAMVAULT but act quickly on this one folks as their is limited stock availability!
Buy any 5 pack from Fastbuds and get a FREE Stardawg Auto
Buy any 10 pack from Fastbuds and get 3 FREE Stardawg Autos
This is of course, on top of all the other offers currently live at The Vault Cannabis Seeds Store, check them out on our cannabis seeds offers page.

Fastbuds Seeds
With years of experience, fruitful work and close cooperation with some of the best growers in the States, FastBuds Seeds have decided to create their own seed bank in Europe.
Founded in 2010, Fast Buds has set out with one primary goal in mind – To present people with the most fashionable, trendy and superior Autoflowering genetics California has to offer and introduce them to growers around the planet.
Stardawg Auto Fems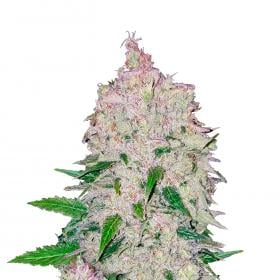 Stardawg Autoflowering sparkles and dazzles with glistening resin crystals.  It regularly features as a bestseller at The Vault Cannabis Seeds Store!
It is a cross made from two hybrid cannabis strains viz. Chemdawg #4 and Tres Dawg. Stardawg is an indica/sativa/ruderalis hybrid and one which grows well indoors as well as outdoors needing enough room for its lateral branching.
It has a striking aroma of pine and lemons in the grow room and that in itself is enough to raise the spirits.
In 8 – 9 weeks from germination growers will harvest between 400 – 600 gr/m or 50 – 300 gr/plant in 8 – 9 weeks from germination. Buds are quite light green with orange pistils.
THC production is very high with CBD levels of 1%. The effect is fast and powerful. No creeper, Stardawg will reveal its full-on mind-body effect in 5 minutes maximum.
Mentally stimulating but physically relaxing, it has shown to be a good strain for nausea as well as to stimulate appetite. Its use is also indicated for the following: Glaucoma, Nausea, Epilepsy, Multiple Sclerosis, Back pain, PMS, Arthritis, Herpes, Rheumatism, Sickle Cell, Expectorant, Stress, Migraines, AIDS, Tumours, Asthma
Why not head on over to The Vault Cannabis Seeds Store and pick up some Fastbuds Seeds now, whilst taking advantage of the discount code VAULT15 for a whopping 15% discount off your order of FASTBUDS Cannabis Seeds.
Win 5 x Stardawg Autos from Fastbuds
We also have 2 prizes of 5 x Stardawg Autos to be won!  Simply post a comment below to let us know your thoughts about Fastbuds Seeds and their strains in particular the ever popular Stardawg Auto to enter.
Winners will be selected using random number generator and will be contacted via the email address used to post with, which will of course remain private!  Winners will be announced on the 26th of Nov.
Winners
The 2 winners are M.A and Adam D. who both win 5 x Stardawg Autos from Fastbuds.  I have already sent you an email to arrange delivery of your prizes!
We have tons more promos live right now at https://www.cannabis-seeds-store.co.uk/Cannabis-Seeds-News/ including our Green Friday promo at https://www.cannabis-seeds-store.co.uk/Cannabis-Seeds-News/green-friday-at-the-vault-insane-offers
Newsletter Sign Up
Make sure you never miss another Vault promo – sign up for our newsletter at http://goo.gl/Bt2Ba2
Remember: It is illegal to germinate cannabis seeds in many countries and some remote, less enlightened planets outside the core systems.  It is our duty to inform you of this fact and to urge you to obey all of your local laws to the letter.  The Vault only ever sells or sends out seeds for souvenir, collection or novelty purposes.