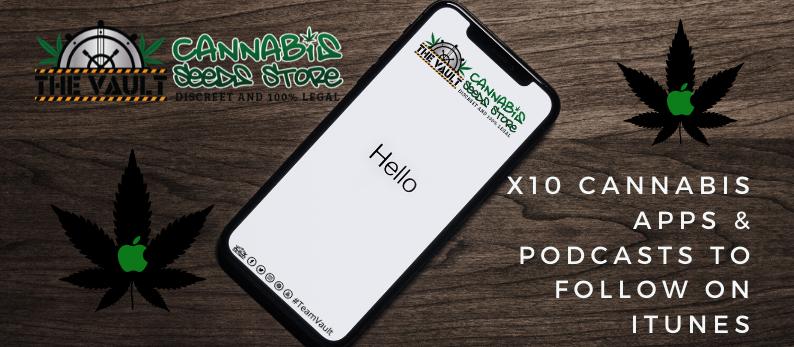 Recently, we've been doing a run of posts which look at interesting places to find Cannabis content across the web. We've looked at Facebook, Pinterest, You Tube, Twitter and Instagram amongst mentions of others.
There are also forums to think about and sites like Reddit and Quora where you'll get plenty of fresh content too.
One area where you might not think to go to first is your smartphone.
After taking a look at a Cannabis-based game for your smartphone in our last post, we thought we'd put together a top 10 list of apps you can find in the Apple App store (including podcasts). Most, if not all, will be available on android devices too.
According to Statista over 2 billion apps were downloaded across iStore and Google play in 2018. Lets take a look at some of those key apps that are related to the wonderful world of Cannabis. Let's jump in, as they say.
1 – Cannabis Strain Guide Lite by Denovo Studios LLC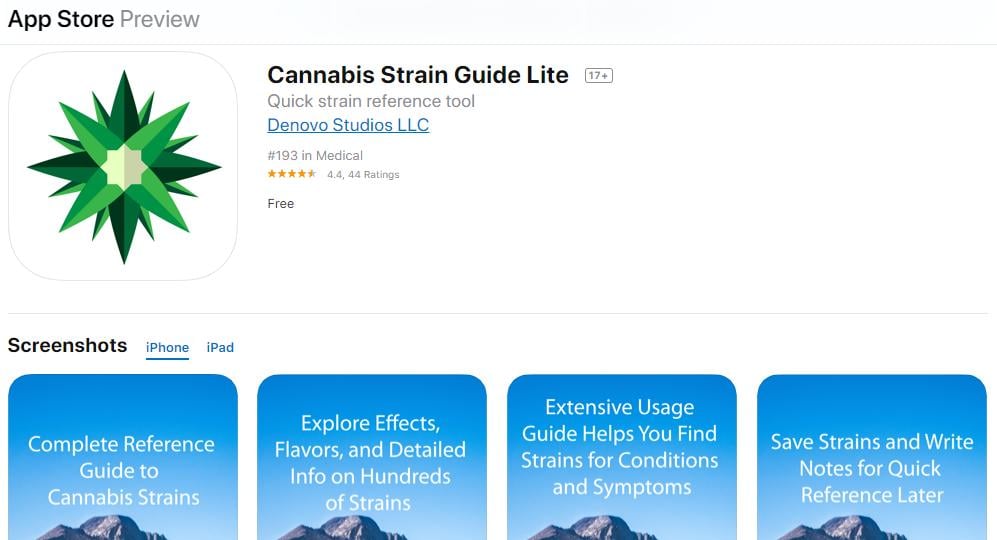 This is a super handy quick strain reference guide. Obviously, the Vault give you all the information you need on our website, but if you're looking for a handy guide on your phone, then it might be worth downloading this app. Have a play around with it and let us know how you get on.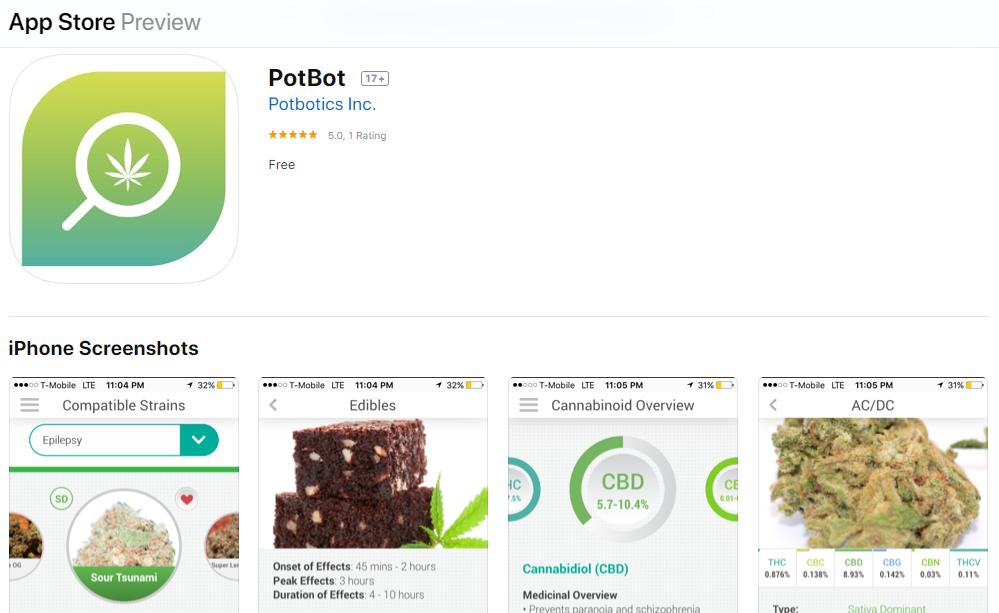 PotBot is a very helpful tool for those looking into medical marijuana. As they define on their website:
PotBot simplifies the lives of medical marijuana patients who do not know which strain will be best for their condition. Backed by science, PotBot's unique cannabinoid-based algorithm uses the latest peer-reviewed research to recommend strains in the local area that have the best chance of relieving a patient's symptoms.
Jump in and take a look around. Once you've found what you're looking for head back over to our medical seed range to see if you can find what you're looking for: Top 10 Medical Cannabis Seeds at The Vault Cannabis Seed Store.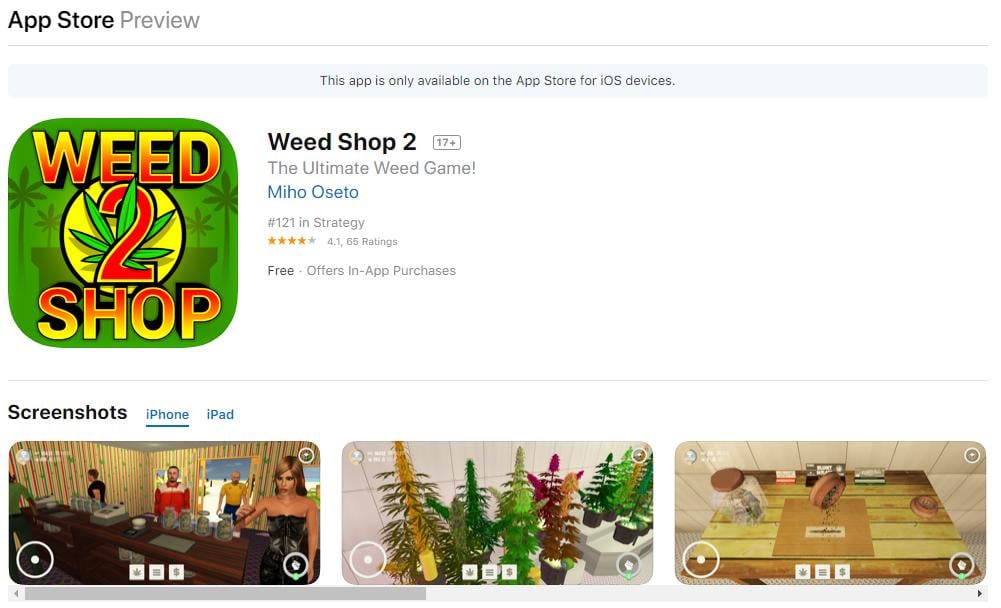 Weed Shop 2 is here. OK, I didn't play WS1, but if they've made a 2nd one, then it must be good. It has 4.1 stars out of 5 too. Anyway, why don't you download this and get involved.
According to the maker you can:
"Grow new weed strains, sell your pot harvest, promote and expand your cannabis firm, hire ganja farmers to do the work for you, roll some joints and turn your weed shop into the best marijuana dispensary in California!"
Who know, this might make you the next big thing in the real world of 'cannabiz'. Let us know if you've played this and tell us what you think in the comments.
4 – Wiz Khalifa's Weed Farm by Metamoki Inc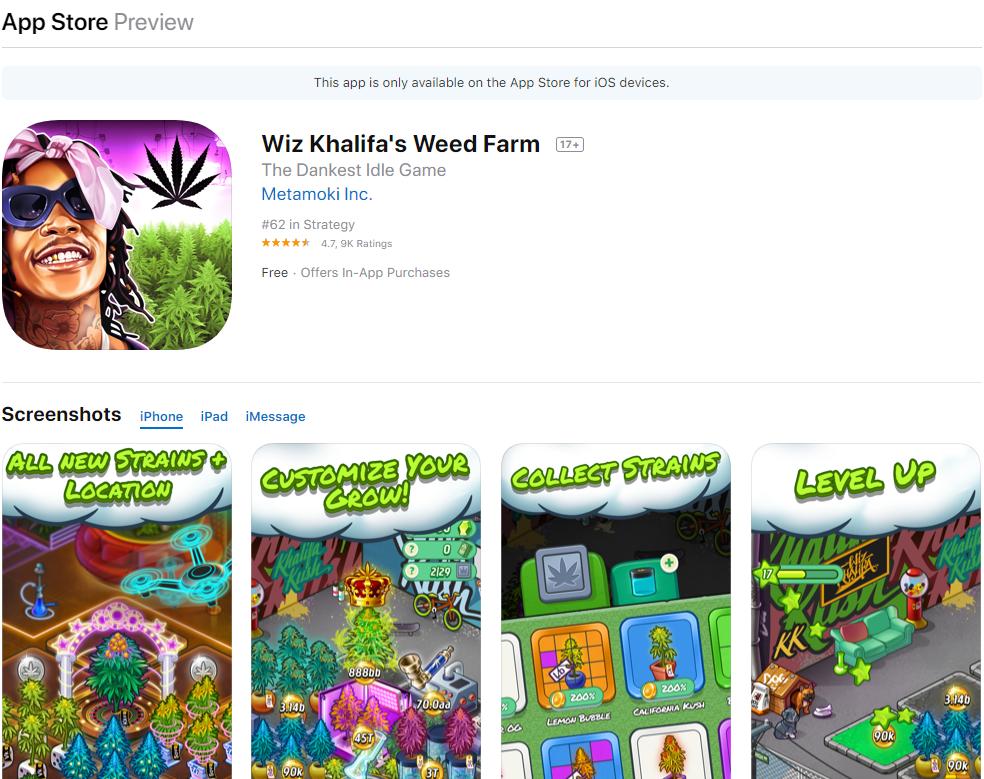 Staying with the Cannabis game theme, we have this from Wiz Khalifa. It's a very popular game with over 9k ratings.
The game is advertised enticing you to follow in Wiz Khalifa's footsteps – you will:
– Tap to plant and grow quality strains for your clients
– Swipe to get your products to market and get your paper up
– Invest your profits to expand your grow op
– Boost your harvest with hydroponics and LED grow lights
– Level up to unlock accessories and rare mystery strains
Load it up to your device, sit back, have a puff, and immerse yourself in some quality interactive gaming. Just don't make any mistakes and buy the wrong strain.
5 – HiGrade: Cannabis Testing by MyCrops Technologies Ltd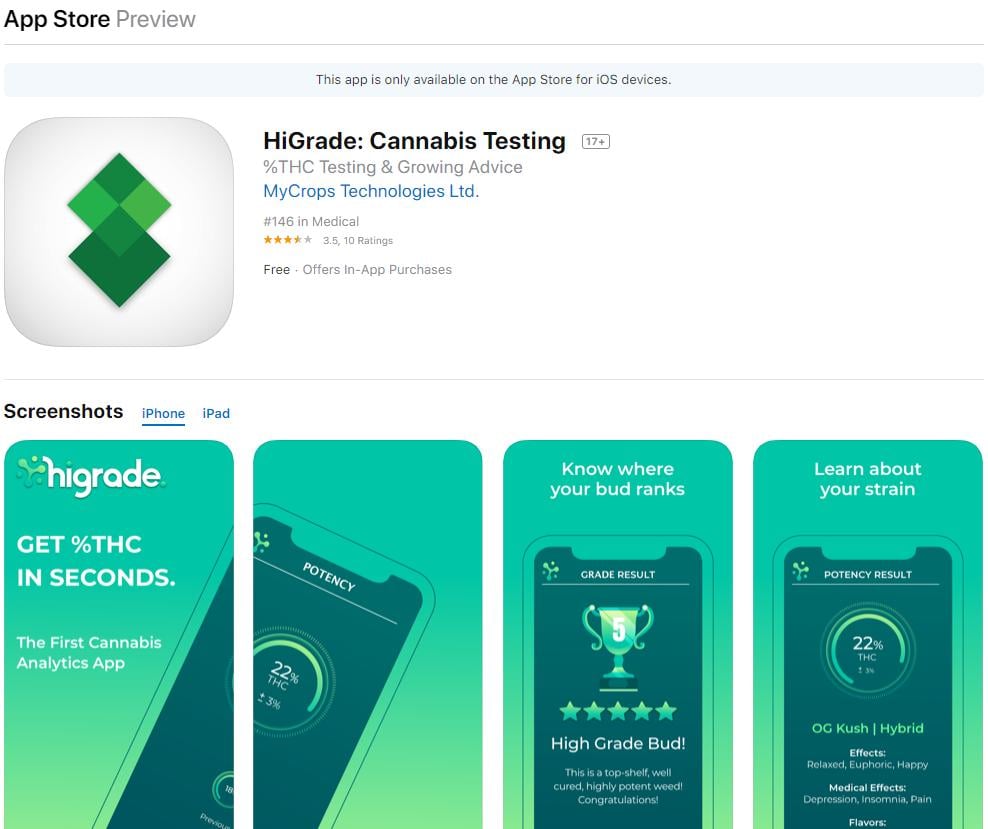 This is potentially a wonder app in Cannabis. We've not tried it for obvious reasons (we don't grow weed), but if you're in a territory that allows it then check this out. Based on the information provided, you simply upload three images of your plant and it will get you an insight into the quality of your bud. We're keen to hear how you get on with this – as ever, leave a note in the comments for any feedback for the #TeamVault community.
6 – High Time Magazine – Zinio Pro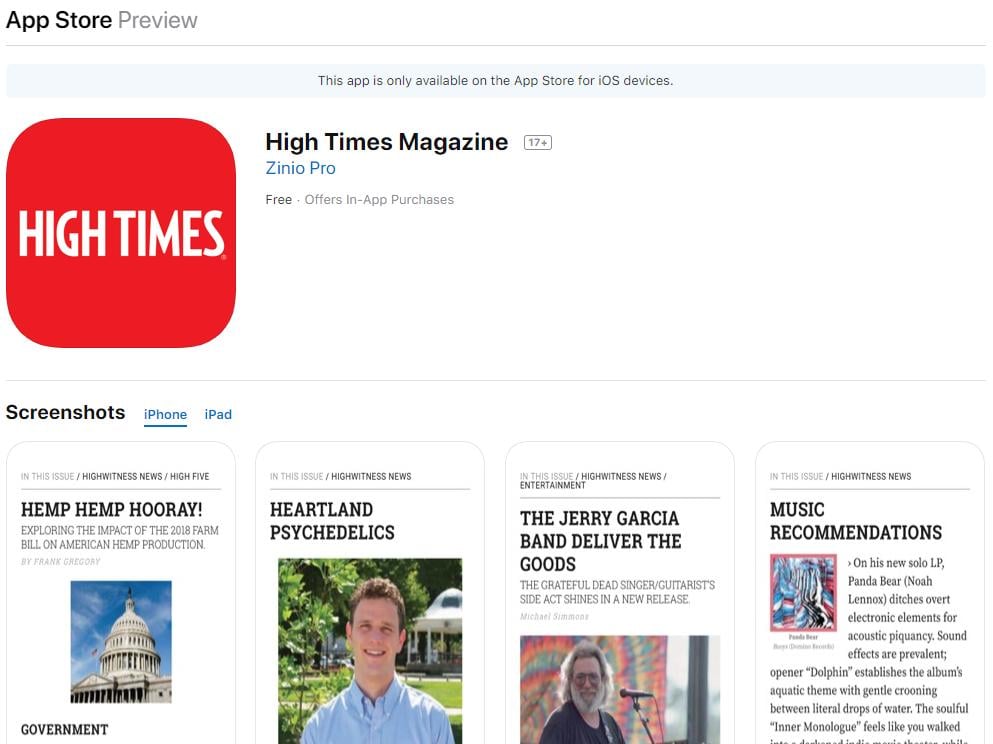 The long running High Times Magazine has its own dedicated app'. If you're into Cannabis on any level then High Times should be one of your go to places for Cannabis content. You will get a range of topics there, from medical to legalisation and recreational comment too. It's a MUST HAVE app for any Cannabis aficionados.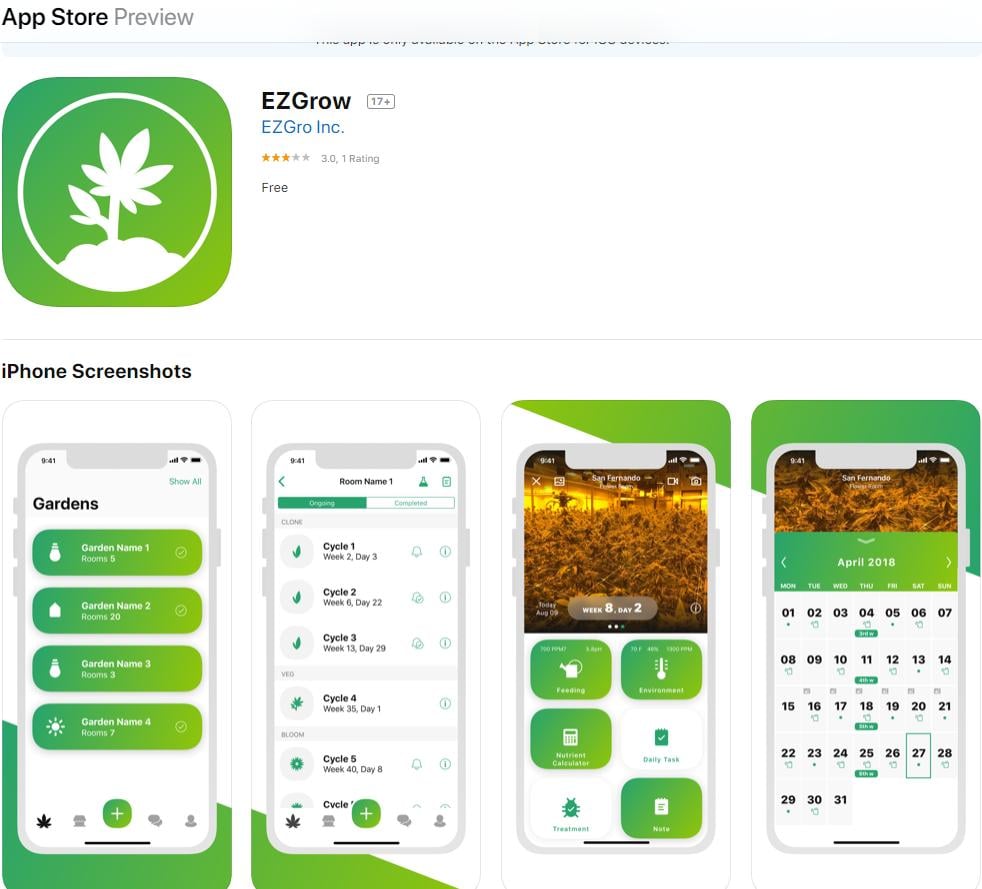 This app could be super handy for some of your growers out there, especially those new to the game. EZ Grow will assist in tracking and gathering day to day data to help you along with your growing experience. Some of the key features are: tracking multiple gardens, uploading of videos and photos, create feeding schedules and monitor your general set up. This sounds pretty essential to us. Download it now.
Next we move from apps to Podcasts – In at Number 8 we have:
8 – Marijuana Today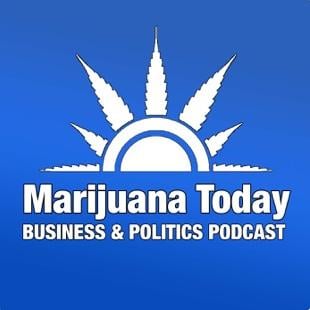 This is a well-established podcast with 279 episodes to get your lugs around. The average episode is around an hour and the topics are in-depth in their nature. Marijuana Today is the most in-depth discussion and analysis of the current state of marijuana in business and politics. If this sounds like it's of interest to you, tune in.
9 – Cannabis Cultivation and Science Podcast – by Tad Hussey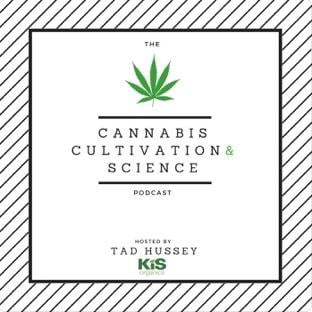 This podcast is less law and order and more about the science of growing, which I'm sure appeals to some of the #TeamVault audience. Some of the past podcasts cover topics like Biostimulants, LED Light reviews, Fertilisation and so on. The episodes are around 1 hour long and they have a 5 star rating on Apple Podcasts. Tune in and let them know The Vault sent you!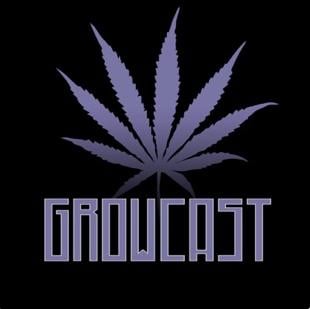 More fun for you growers. This time from Growcast. Very simply they do interviews, grow advice, look at Cannabis history and a whole lot more. If you're looking for more immediate help be sure to check out The Vault's private Facebook group where you can dip in and seek advice (if you're in an area that permits growing, we must stress).
Summary
We hope you find this latest resource helpful. If you do happen to use any of the apps at the moment or try one after reading this post, let us know how you get on.
Newsletter Sign Up
Make sure you never miss another Vault promo – sign up for our newsletter at http://goo.gl/Bt2Ba2
Remember: It is illegal to germinate cannabis seeds in many countries and some remote, less enlightened planets outside the core systems.  It is our duty to inform you of this fact and to urge you to obey all of your local laws to the letter.  The Vault only ever sells or sends out seeds for souvenir, collection or novelty purposes.