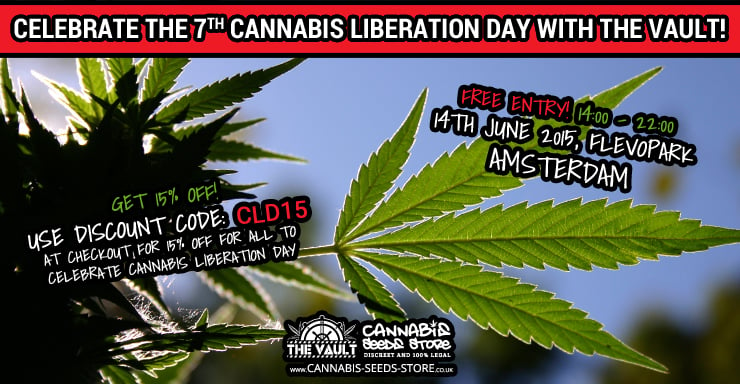 Where will you be on the 14th June, 2015?
If, like Jack from The Vault, you happen to be in Amsterdam that day, then you are in luck: Holland's biggest cannabis and hemp event is on: And you're invited!
The 7th Cannabis Liberation Day event will be held at Amsterdam's greenest park: The Flevopark, from 14:00 – 22:00. Entry is FREE and the event will be packed with tons of exciting things to see and do, including:
Awesome live music
A super-cool line-up of bands and DJs has been announced for the event, including:
Einstein Barbie, De Rupelsoldaten, Natty, Knight Susan, Isabelle Amé, Dj Skunkstar, Dj Dr Tompson and Covenant Sound System.
Fascinating, inspirational speakers
Marc and Jodie Emery, Ed Rosenthal, Doede de Jong and Annie Machon will be making appearances at the event as honoured guest speakers.
A huge hemp market
There will be a massive array of organisations, both commercial and non-commercial, who will be proudly presenting themselves and their legal cannabis and hemp-derived products at the event.
An entertaining cannabis film festival
As part of this amazing event, Europe's largest 'Ger' (Mongolian tent) will play host to an amazing film festival where you can watch cool movies, hilarious comedy sketches and educational documentaries – as well as join an interesting panel discussion.
What is Cannabis Liberation Day all about?
Beyond all of the amazing music, arts and entertainment that will make the 7th Cannabis Liberation Day event a load of fun, there is a serious purpose behind it all: to help make a call for tolerance and widespread use of hemp as a durable, sustainable resource – and to challenge the injustice that exists in criminalising the naturally-derived plant, punishing cannabis consumers, cultivators and coffeeshops. The whole event is a massive celebration of cannabis culture – and the capacity for good that nature's miracle herb has to offer the world.
Meet Jack at the event!
If you happen to be at the 7th Cannabis Liberation Day event, look out for Jack: He'll be there to represent The Vault and pass on some love to our buddies in The Netherlands and beyond. Jack will be highly visible in a Vault tee, passing out discount flyers, so if you catch sight of him don't be frightened to pop over and say hi: He'd love to meet you!
Where is the event being held?
Cannabis Liberation Day is held at Flevopark on Sunday 14th June: A venue which is within walking distance of camping Zeeburg – Amsterdam's most popular campsite. There's free parking at the adjacent Science Park and the venue can be easily accessed using public transportation. As always with this event, entry is FREE and everyone is welcome: So come along, have a barrel of laughs and help to liberate the plant!