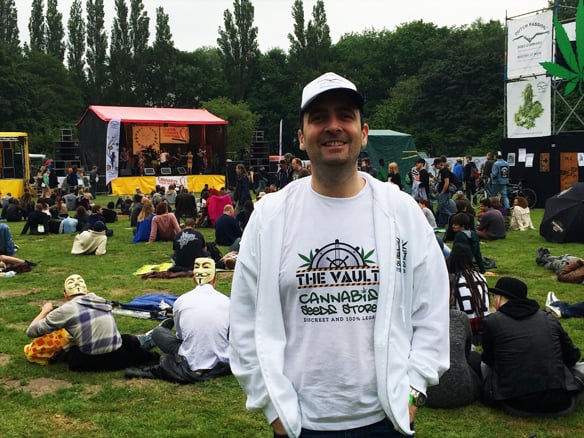 Jack's back!
That's right: Your bud Jack has just returned from a trip to Amsterdam, where he had a whale of a time representing The Vault, making new buddies and hooking up with old friends, as well as joining in with the festivities that went down at the 7th Cannabis Liberation Day.
Before going any further, The Vault would like to say a huge thank you to the organisers, performers, guests and all those who came together to make this a truly spectacular day. As always, the Cannabis Liberation Day was a prominent beacon to the world, which went a long way towards promoting the positivity, love and potential for good that comes from our shared cannabis culture.
An evening in beautiful Amsterdam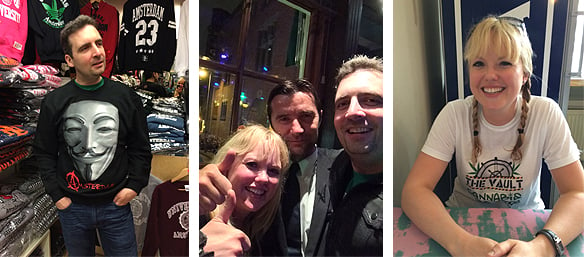 After arriving in the 'Dam, Jack and Suzanne soaked up the ambience and rich culture of this amazing European capital and paid a visit to one of its most iconic attractions: The famous Grasshopper Coffeeshop, where they received the finest of Dutch hospitality from the friendly locals.
This fantastic evening would prove to be the perfect prelude to a wonderful, memorable weekend…
The big day: 14th June, 2015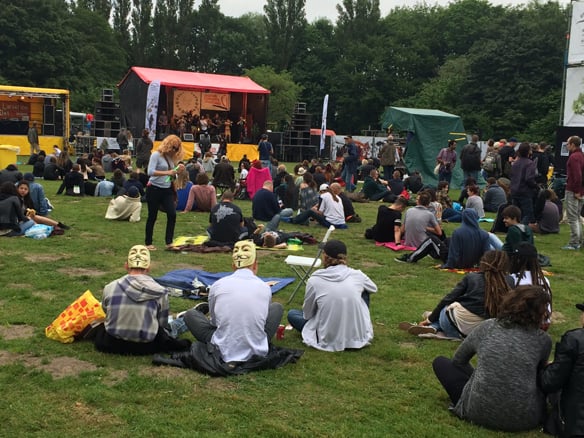 The sun was shining, birds were singing and all over a beautiful green quarter of Amsterdam, crowds started to gather as the 7th Cannabis Liberation Day began to unfold…
The wheel of fortune! we couldn't resist giving away some prizes…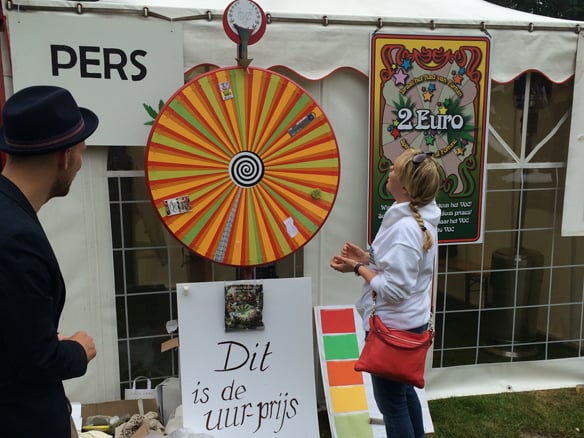 Aside from bringing loads of discount flyers and Vault-themed merchandise over to share with the good folks in attendance at the event, The Vault was also dishing out prizes, including some superb seed packs at the Cannabis Liberation Day's very own 'wheel of fortune'!
Backstage with Jack!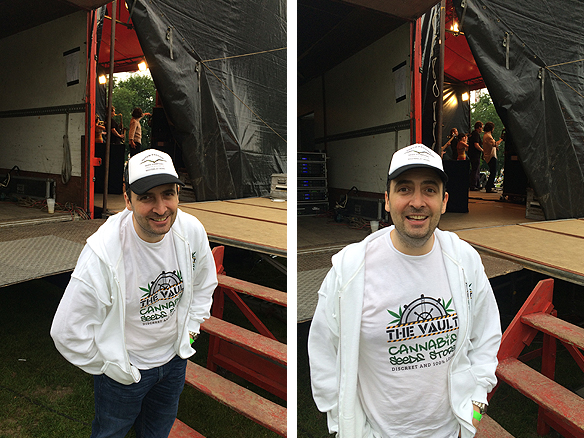 The Vault was lucky enough to receive back-stage access to the various performances, giving us a closer look and the chance to meet a whole bunch of truly awesome people. Here's what went down…
Isabelle Amé kicked things off with a marvellous performance, which mixed some of her classic fan favourites as well as showcasing a selection of her new material: What a beautiful voice and an awesome sound!
Throughout the day, a Dub Area was set up which laid down some funky, rhythmic and supremely chilled-out reggae beats courtesy of the always awesome Covenant Soundsystem: This area was buzzing with activity and the music brought smiles and nodding heads to everyone within earshot of their infectious basslines!
Next, it was the turn of guest speaker Annie Machon, from Law Enforcement Against Prohibition (LEAP) UK – to share some fascinating and inspirational thoughts with us on a number of huge issues and topics relevant to all of us in the global cannabis community.
Dirty Soul Rockers rocked the house with a positive, eclectic mix of energetic songs, adding to the fun and helping to generate a real party atmosphere well into the afternoon.
Guest speaker Luc Krol, from the Medical Cannabis Bike Tour made an appearance, telling us all about the good work that this organisation and its supporters have done to help a very worthy cause.
Knight Susan, a funky, ska-infused band hailing from Groningen kept everyone's feet tapping as excitement built for the awesome Highlife Cannabis Cup I and II which was set to follow…
Living the highlife! Congrats to Dutch Passion and Sensi Seeds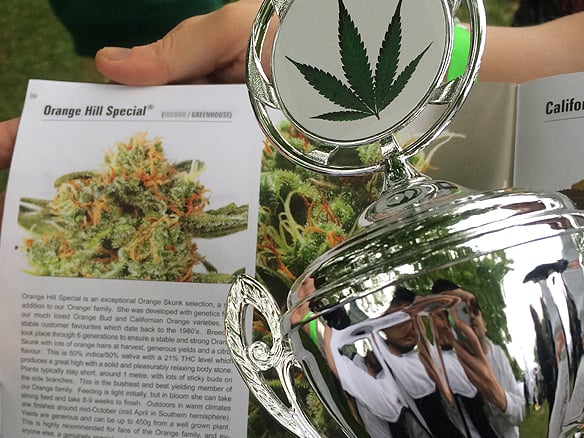 After all of the wonderful music and inspirational speeches that bombarded the venue, a calming hush descended upon the Flevopark as crowds gathered to witness the amazing Highlife Cannabis Cup…
Dutch Passion: Winning!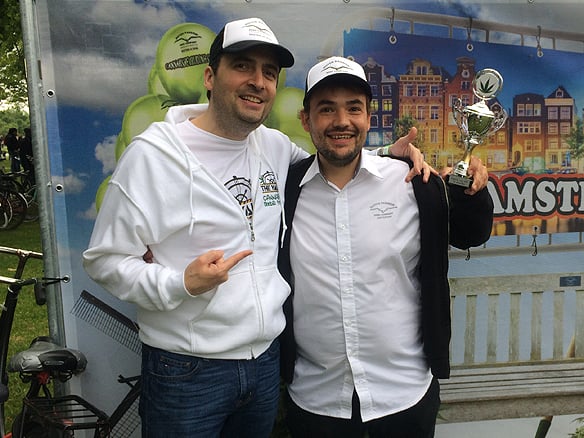 Our buddies at Dutch Passion won a cup in the 'Outdoor Strain' category, for their sublime Orange Hill Special: We shared a moment with Jouke, the company director and award recipient: What a truly great guy!
Well done to Jouke and the whole team at Dutch Passion for this amazing achievement!
Sensi Seeds: Double-Winner!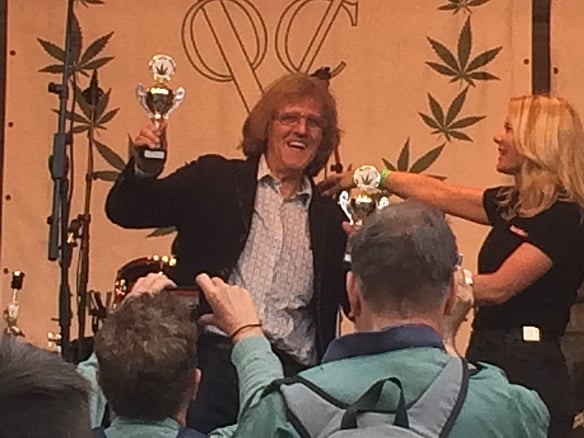 Sensi Seeds also won big, taking home two awesome prizes, including a trophy in the 'Organically Grown' category with their outstanding Super Skunk strain: A true classic if ever there was one!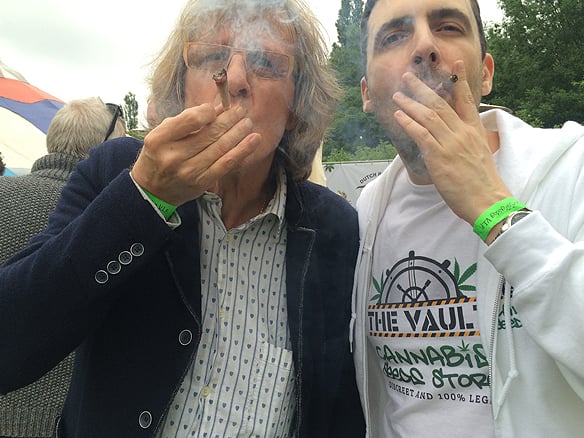 Congratulations to everyone at Sensi Seeds for this monumental achievement – and a special shout-out to our buddy and recipient of the award, Albert, a real legend and true gentleman that Jack had a chance to meet and have a lovely smoke with backstage!
The festivities continued long into the night…
After all the excitement from the Highlife Cannabis Cup had settled down, the buzz kept on going, as music and guest speakers filled the air with thought-provoking messages and mind-blowing tunes. As always with the Cannabis Liberation Day, the entire event was peaceful, chilled-out and filled with positive vibes. If you ever get a chance to attend, Jack would recommend that you grab it with both hands: The Vault looks forward to seeing you at next year's event!