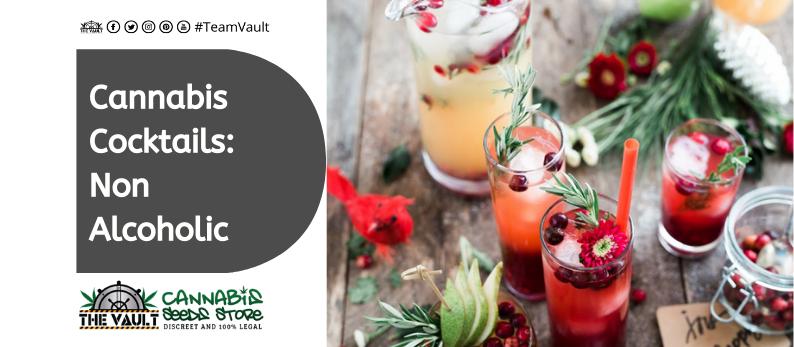 Cannabis cocktails are a fun and exciting way to liven up your holidays. I will say as a disclaimer that those with a smaller tolerance may want to start off with non-alcoholic versions. It is just as easy to make delicious cannabis cocktails with no alcohol that will produce a decent high. Even those with a higher tolerance may struggle with a cannabis-infused alcoholic drink, so I'm going to start off nice and slow with alcohol-free cannabis cocktails. These are also a great idea for those of us who do smoke but don't drink and can end up feeling a little left out at parties.
How To Infuse
First, let's get started with how we infuse cannabis with our cocktail ingredients. The best way to infuse cannabis with a liquid is to create a sort of teabag. This teabag can then be placed into whichever cocktail ingredients such as juices and left to sit for a few days.
In order to make the teabag, we should follow the same instructions as we would when preparing cannabis for cooking. All of these instructions are available in this previous article along with some yummy recipes. Once the cannabis has come out of the oven and cooled we place it into the cheesecloth, thus creating our little cannabis infusing teabag.  Later on, if we want to add alcohol we can place the cannabis bag straight into the spirit we want to use and leave for a few days.
Pomegranate Mojito
For this tasty lady we will need:
A Handful of Mint
3 tbsp of Pomegranate Seeds
2 Limes
1 Litre Pomegranate Juice (cannabis-infused)
500ml Lemonade
Ahead of time, we need to divide up the pomegranate seeds and pop them into an icecube tray. Fill the tray with water and whack it into the freezer.
Pop half the mint into a large jug and add in the lime quarters. Take a rolling pin and squish the lime and mint together to mix up the flavours and release the juices. Add the cannabis pomegranate juice and the lemonade to the jug and give it a good stir.
The ice cubes and the mint will go in individual glasses to serve. Feel free to add more lime, always more lime.
Eggnog
Considering the time of year I thought it wouldn't feel right without this festive classic. Probably best to keep this one virgin as eggnog often knocks me over at the best of times.
For this cocktail, we can create cannabis-infused cream, the recipe for which can be found in the festive edibles article.
We will need:
4 Egg Yolks
1 Pod's Worth of Vanilla Seeds
100ml of Double Cannabis Cream
500ml of Whole Milk
100ml of Sugar Syrup
Icecubes
In a large bowl add together the vanilla seeds, yolks, and sugar syrup before whisking them together. This will take a few minutes so it may be best to use an electric whisk if one is available. After about 3 minutes add the milk and the cream, then whisk again until combined.
Pour the eggnog into a jug of ice and stir till it's nice and cold, then serve.
Mulled Wine
Another tasty holiday classic that adds perfectly to any Christmas day menu.
We will need:
500ml Cannabis Pomegranate Juice
250ml Apple Juice (can also be cannabis-infused if we're feeling crazy)
25g of Golden Caster Sugar
1 Cinamon Stick
4 Cloves
1 Quartered Orange
1 Star Anise
3 Black Peppercorns
1 Handful of Frozen Blackberries
We mix the pomegranate juice, apple juice, blackberries and sugar into a saucepan. Then we pop in the cinnamon, star anise, cloves, peppercorns and orange. Heat the pan until it's simmering gently and stir the ingredients. Continue to stir and taste until it's just perfect then dole out into mugs. This drink is perfect for a comfy evening watching a favourite Christmas movie.
Bucks Fizz
This one is extremely basic but supplies us with a few options. Usually, these babies are popular around the holidays, especially on New Year's Day. If we want we can have her as a cannabis only cocktail with alcohol-free prosecco. This is available at most supermarkets and will be perfect with the cannabis-infused orange juice. For those of us who want a little of both, we can mix the cannabis-infused juice with normal prosecco or champagne.
I won't bother giving a recipe for this one because it's just the two ingredients and the amounts are totally up to the drinker.
Virgin Mary
I know she isn't all that Christmassy but she certainly is delicious. Especially for a little morning treat, there's nothing quite like a bloody mary (or virgin in this case).
We will need:
89 ml of Cannabis Tomato Juice
14 ml of Lemon Juice
1 Dash of Worchester Sauce
2 Dash of Hot Sauce (or more if you like it good and spicy)
Fresh Pepper
1tsp of Celery Salt
Pour the tomato juice and the lemon into a glass over some ice cubes. Mix these ingredients together well then add the pepper, celery salt, hot sauce and Worchester sauce to taste. Garnish with a stick of celery and there you have your cannabis-infused virgin mary.
Mint Hot Chocolate
I but this one on the list because usually at Christmas I would put some top-shelf Brandy in to festive it up. Also because it's ridiculously delicious and easy to infuse with cannabis. I'm going to use a really over the top recipe for this one, really pile the Christmas calories on top of the lockdown ones, why not?
For this we will need:
50ml of Double Cream (can be cannabis-infused)
150 ml of Cannabis Whole Milk
Peppermint Extract
50g of Chopped Dark Chocolate
Dark Chocolate Sprinkles
1 tsp of Icing Sugar
Whip the cream in a bowl and add the sugar, then we can pop in a few drops of peppermint if we want extra mintiness.
Heat up the milk in a saucepan then add the chopped dark chocolate off the heat and stir until completely melted. Pop it back on the heat and add in a few drops of peppermint extract. Once it is warm pour into a cup and then pop the cream and sprinkles on top.
Newsletter Sign Up
Make sure you never miss another Vault promo – sign up for our newsletter at http://goo.gl/Bt2Ba2
Remember: It is illegal to germinate cannabis seeds in many countries and some remote, less enlightened planets outside the core systems.  It is our duty to inform you of this fact and to urge you to obey all of your local laws to the letter.  The Vault only ever sells or sends out seeds for souvenir, collection or novelty purposes.