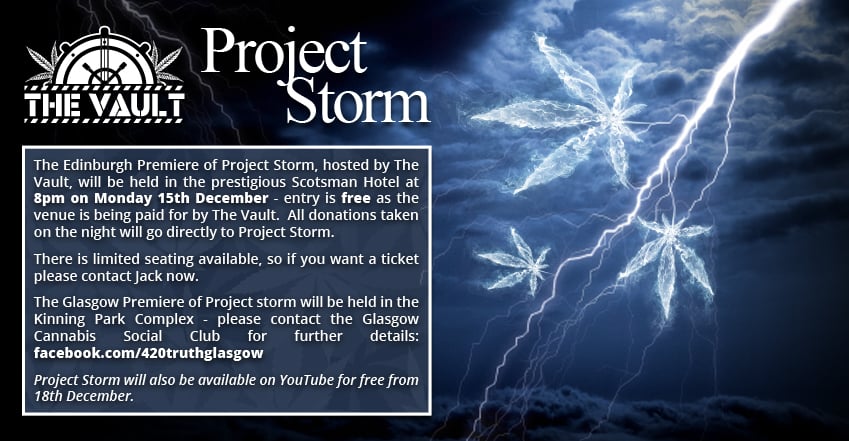 The Vault is excited to announce that the premiere of Bud Buddies' ground-breaking film: 'Project Storm' is set to hit the silver screen – and the internet, imminently, so hold onto your hats and get ready to be blown away…
What is Project Storm?
Project Storm is a pioneering film which follows the respected medical organisation: Bud Buddies as they carry out their work to help a number of people who have approached them in order to fight cancer using the power of cannabis oil.
Instead of simply talking about the healing potential of cannabis and presenting anecdotal evidence based on unverified accounts, Project Storm is different: Focusing upon the lives of their patients as they receive treatment – and presenting detailed scientific information of the results throughout, this documentary is a thorough investigation into the healing potential of marijuana which will present you with the facts and allow you to make up your own mind about this hot topic.
Bud Buddies have worked with some of the world's leading researchers to explore the science behind what makes cannabis so effective in treating cancer, as well as taking a detailed look at the amount of work involved in creating new strains to help treat the growing number of self-medicating cancer patients around the world today.
Through this fascinating film, Bud Buddies have sought to uncover evidence to help answer one of science's biggest questions: Does cannabis kill cancer?  Through Project Storm, the truth will be revealed for all to see…
This will be a game-changer
We have been eagerly following the progress of Project Storm and we're convinced that this film will make a real difference in helping to sway public opinion about the very real, incredibly valuable properties locked within the herb.  Bud Buddies have gone through a lot to be able to bring this film into being: Following years of underground research, numerous court cases and a number of convictions for supplying medicinal cannabis to those who need it most, the good people at Bud Buddies are looking set to help many more people as a result of this momentous film release.
Come along for the Edinburgh Premiere
The Edinburgh Premiere of Project Storm, hosted by The Vault, will be held in Edinburgh's prestigious Scotsman Hotel at 8pm on Monday 15th December.  Entry is free, as the venue is being paid for by The Vault.  100% of all donations taken on the night will go directly to Project Storm.
There is limited seating available, so if you want a ticket, please contact Jack now.
Attend the Glasgow Premiere
This event will be held in the famous Kinning Park Complex: Please contact the Glasgow Cannabis Social Club for further details: https://www.facebook.com/420truthglasgow
Watch it on YouTube
Project Storm will also be available to watch on YouTube for free, from 18th December, so make sure to keep an eye out for it! In the meantime, check out the trailer.
Want to learn more?
Bud Buddies have plenty of information about Project Storm on the official Project Storm website: Make sure to check it out and tell all of your friends about this fantastic film!