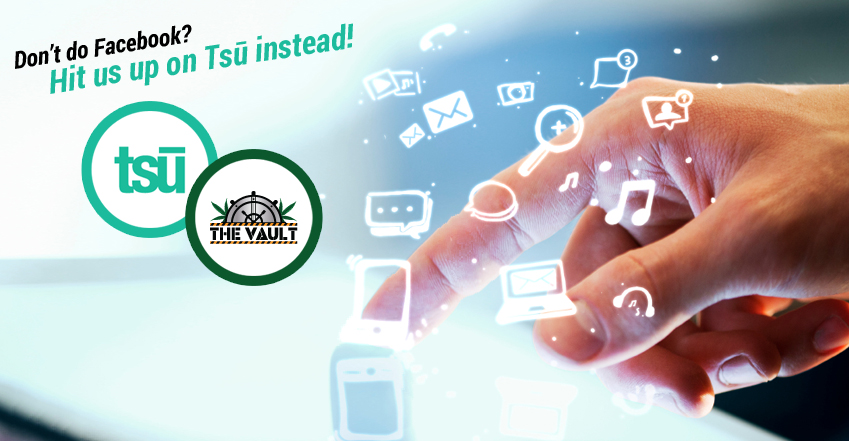 We're always looking out for new ways to connect with you, our buddies, online…
Whilst Facebook, Twitter and other popular social media networks can be fantastic places to keep connected with The Vault, we recognise that many of our friends simply prefer to get their slice of Vault action via other means, like Grass City Forums, 420 Connect, through our blog, via newsletter updates or by tuning in to our activities with the Edinburgh and Glasgow Cannabis Social Club, Medical Marijuana UK and other respected organisations.
However you prefer to stay connected – we want you to know that we appreciate all of your support: We couldn't be the leading online force in legal cannabis seeds without your help, so we are always seeking to find new ways to return the favour.
From the myriad of competitions, special promos and great deals that we bring your way, to our undying commitment to give away more freebies than any other seeds site – we want to make sure that you feel the love and can spread it around to your buds for all to enjoy!
This leads us to Ts?: A new, free social network with a rather nice twist…They pay users fairly for posting on their network…
Ts?: A social network that pays back for your content? Sweet!
The whole ethos of Ts?: A responsible, invite-only social media network that seeks to give the lion's share (90%) of the ad revenues generated via user-generated content back to the original authors (i.e. the users), really appealed to us: After all, if the social networks are reaping rewards off the back of your social posts, it is only fair that you get something back from them: Right?
In any case, we felt that having another social media channel open to our buds could only be a good thing: You'll have the choice to see whether or not Ts? is your cup of tea with our invite, so make sure to check it out and let us know what you think!
Hook up with us on Ts? today!
We have set up our very own Ts? account and would like to take this opportunity to invite you and your buddies along to join in the fun!  Just click here and complete the registration form to hook up with us on Ts?: Or, if you already have a Ts? account, just login and check us out at: www.tsu.co/The_Vault_Seeds.