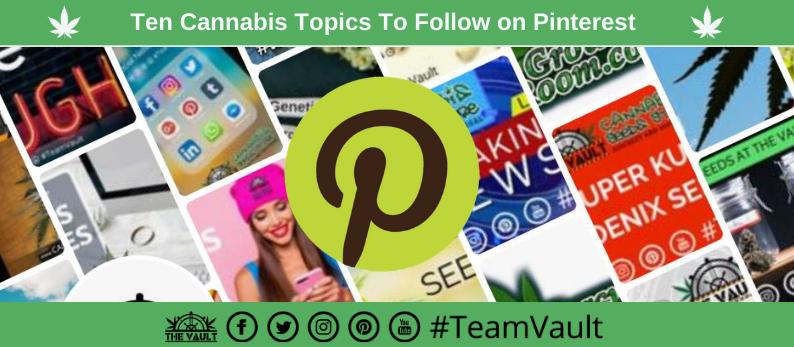 We're all on social media these days doing everything. It has completely changed our lives. I remember going onto Yahoo in my workplace in 1999 and having a mess around. Now someone born in 1999 will be 20 and have no idea what the world was like before the internet!
Now, as Cannabis fans, the Internet turns into a veritable playground. You can surf the net to check on the history of marijuana, you can buy bongs and have them with you the same day, via courier, you can go onto dedicated forums and meet like-minded people to share your Cannabis Passion with. You can also get useful hints and tips on growing and all other Cannabis related topics you can ever dream of.
One place that I love hanging out online is Pinterest. It's maybe not the first place you'd think to go but you can find all sorts from amazing pictures of plants to funny cannabis memes. There are also some recognisable Cannabis brands on there too, so you should think about using it more if you don't already.
This guide from The Vault will show you ten places on Pinterest you should be following to enhance your online Cannabis experience!
Here goes:
1 – The Vault – https://www.pinterest.co.uk/TheVaultSeeds/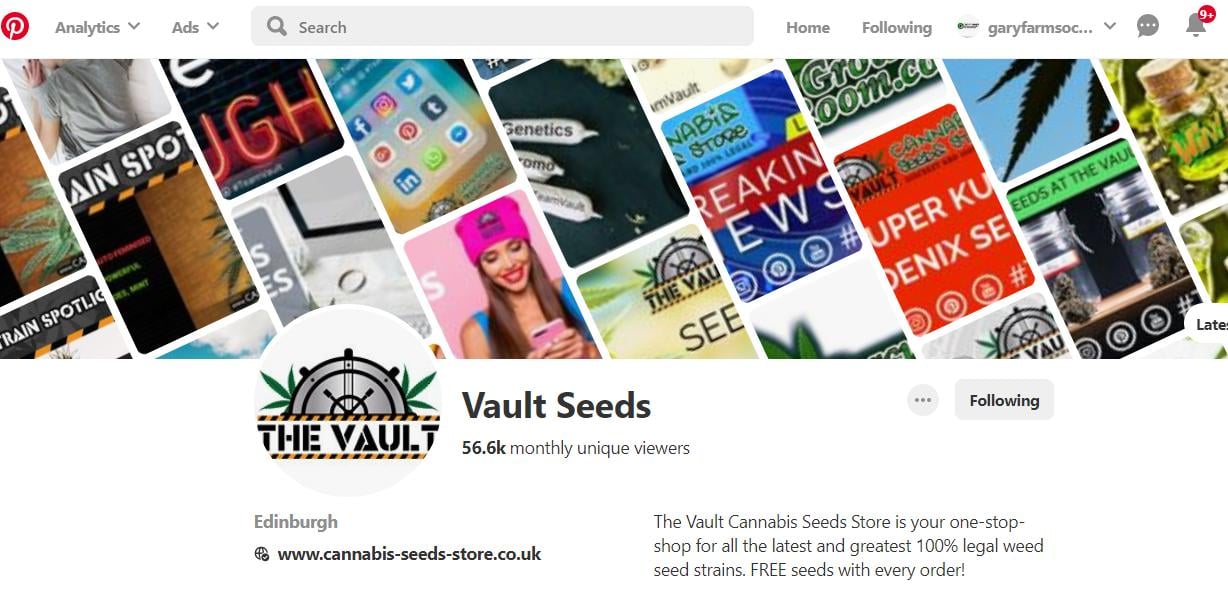 We should have been modest and made ourself no7' or something like that, but as we're pretty active on there, we wanted to show off a little! We have some brilliant boards on there with things like promos, memes and medical cannabis infographics. If you're on there, drop us a follow, you won't regret it!
2 – Cannabis Seed Board by Cannabis School – https://www.pinterest.co.uk/cannabisschool/cannabis-seeds/

This board has over 6,000 images on all things Cannabis Seeds. You'll have varying pictures of nugs and beautiful Cannabis plant images too. The board seems to be updated regularly so you'll never get bored with their fresh Cannabiz content.
3 – Cannabis Memes – https://www.pinterest.co.uk/search/pins/?q=cannabis%20memes&rs=typed&term_meta[]=cannabis%7Ctyped&term_meta[]=memes%7Ctyped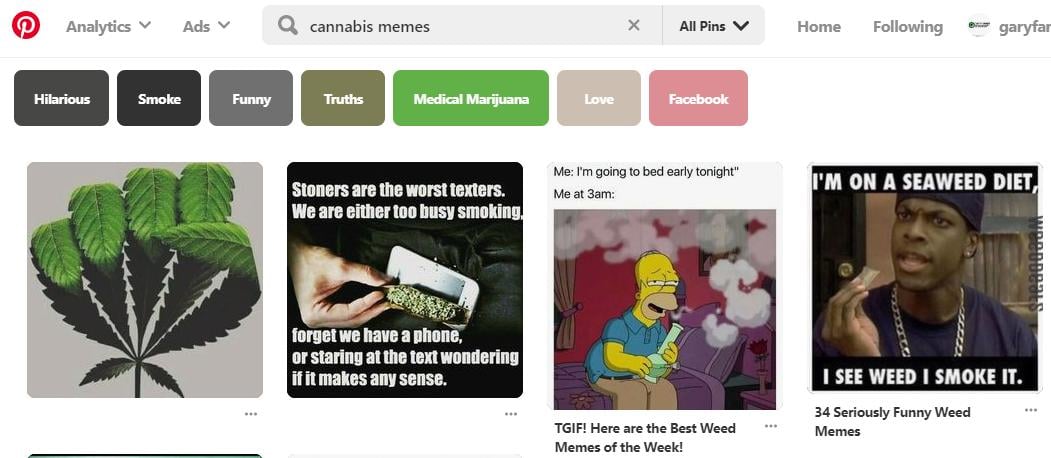 Who doesn't like a laugh? Who doesn't like a laugh mixed in with Cannabis? We all love a bit of the giggles, don't we? Well, if so, this is the page you want to engage with. This is a simple search for Cannabis memes on Pinterest. You can save the memes you like and make your very own board! If you do, share it with us!
4 – Cannabis Cheri – https://www.pinterest.co.uk/cheri_sicard/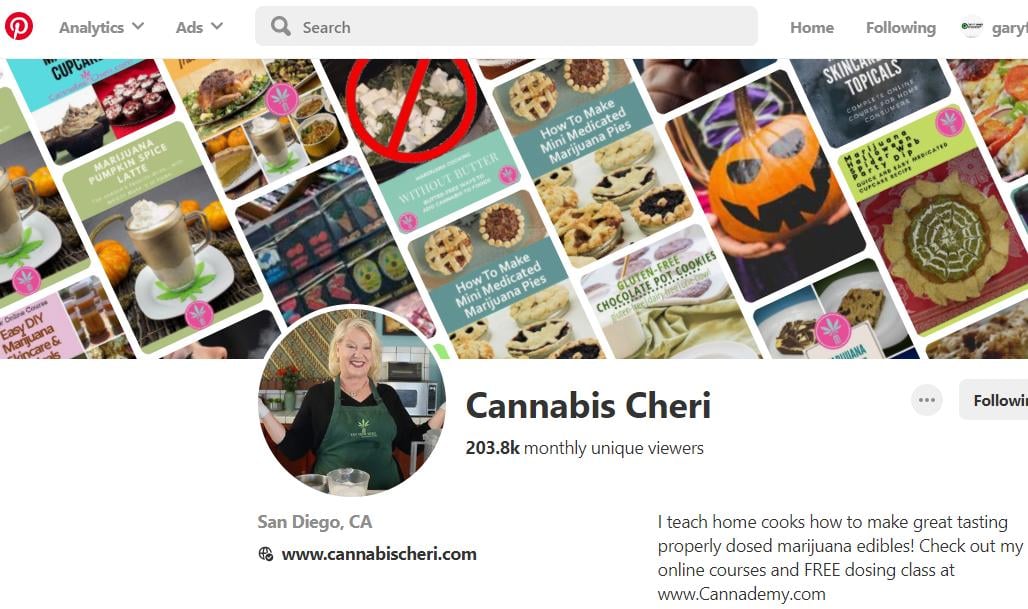 Cannabis Cheri is awesome. She makes teaches how to make great tasting edibles. Tune in and watch some of the amazing creations she comes up with. If you're a budding edibles cook, the Cannabis Cheri is for you!
5 – Cannabis Training University – https://www.pinterest.co.uk/cannabisschool/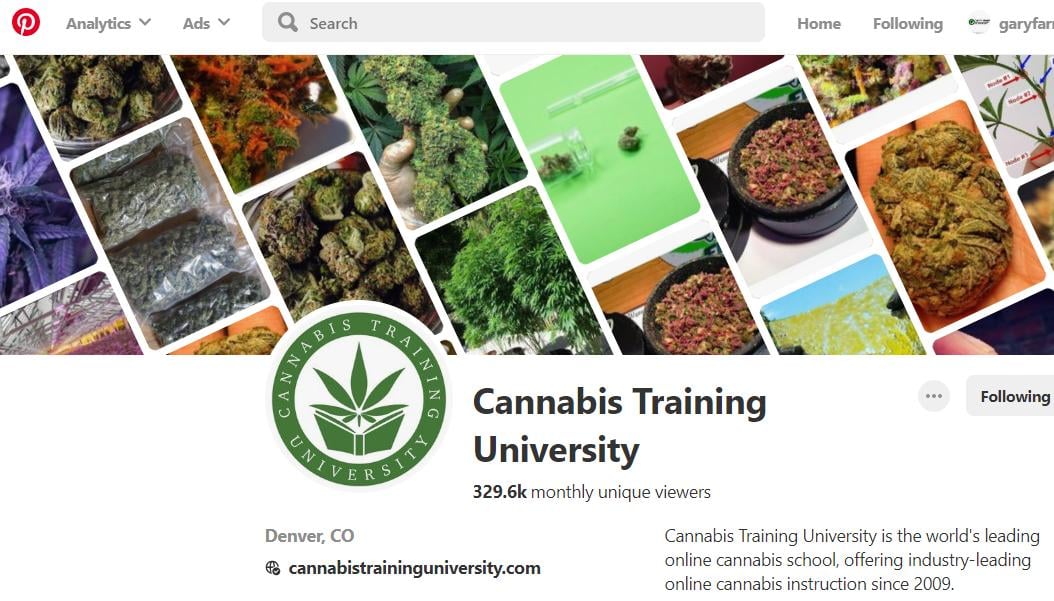 It's not all fun on Pinterest! You can educate yourself too. If you want to know more about the plant and the Cannabis industry, then give the Cannabis Training University page a follow. You'll find some great infographics on there and you can lead through to their website for more detailed information too!
6 – Cannabis Pain Relief / CBD Boards – https://www.pinterest.co.uk/willowsmom1960/cannabis-pain-relief/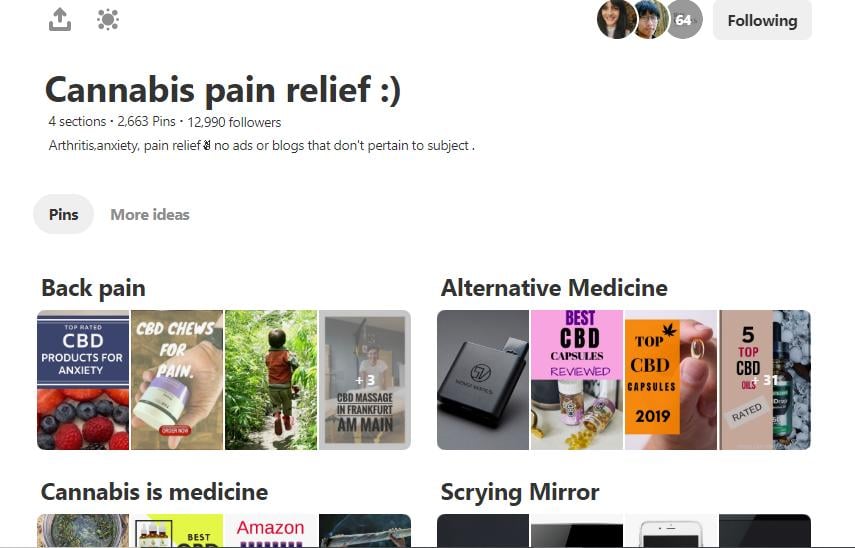 The beautiful thing about the Cannabis plant is its medical qualities. The world is finally waking up to the wonderful benefits it possesses and these boards will show the varying different conditions cannabis can help out with! For the last few years, medical marijuana has hit the headlines and quite rightly so! The benefits to be had are huge, with stories of even cancer sufferers receiving relief, if not more.
7 – Gary Eff Cannabis Marketing – https://www.pinterest.co.uk/garyfarmsocial/gary-eff-cannabiz-marketer/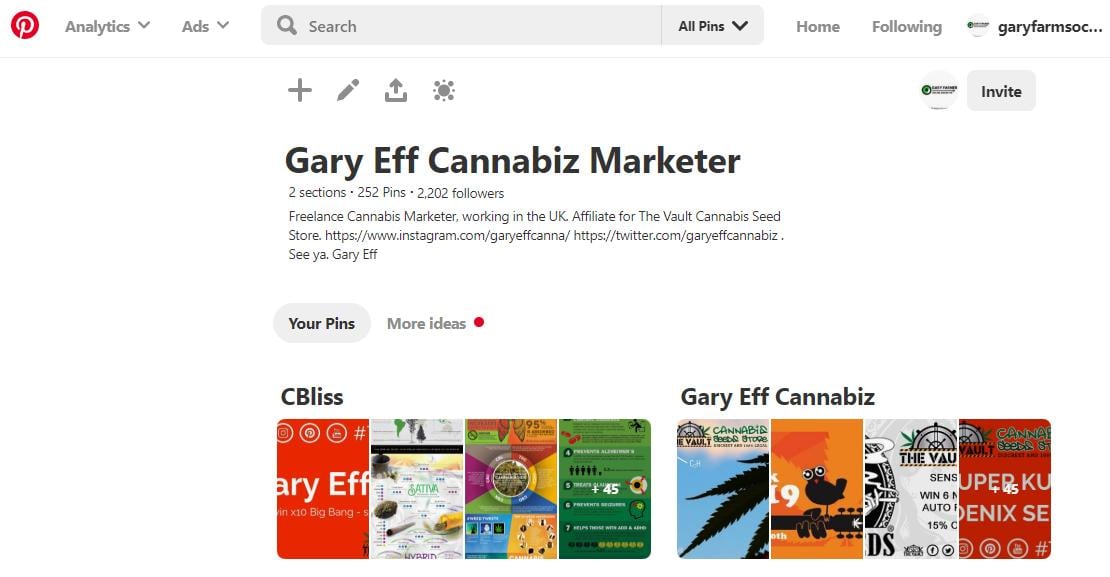 Gary Eff is a good friend of The Vault's and you'll often see him involved with our awesome promos. He's very active on Pinterest and this board with over 250 pins will keep you entertained and informed for a while!
8 – Sensi Seeds – https://www.pinterest.co.uk/greenglobe/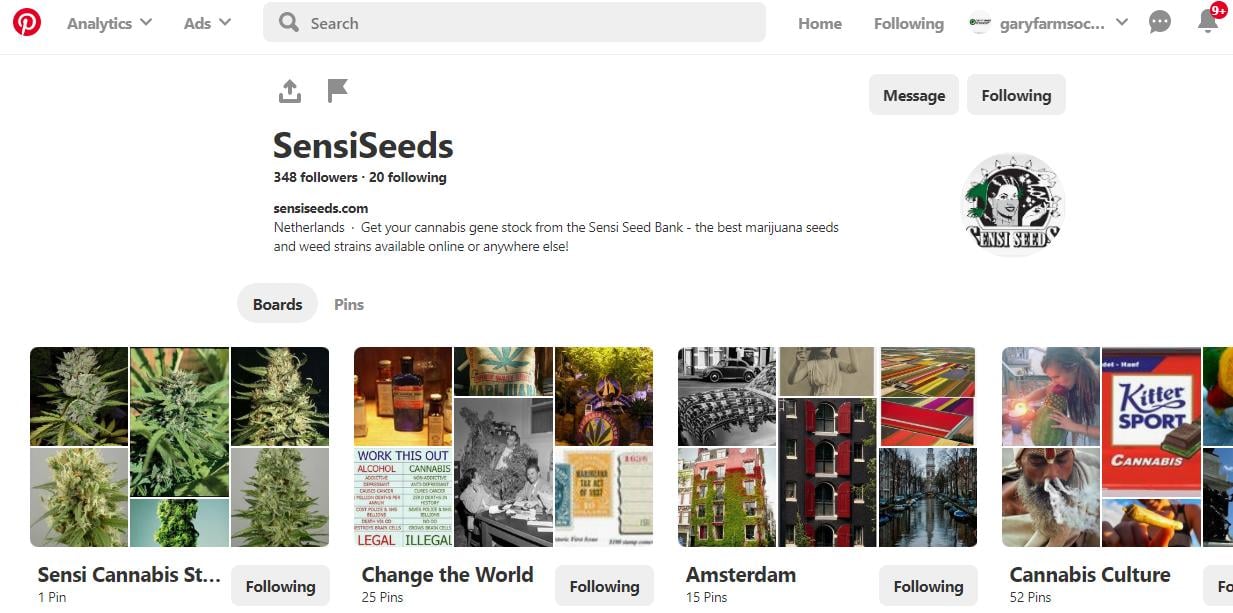 Our good friends Sensi Seeds are on Pinterest too. There board has all the usual good Cannabis imagery but they also look into things like Cannabis culture and their homeplace, Amsterdam! Get involved and tell them The Vault sent you!
8 – Cannabis Buds – https://www.pinterest.co.uk/thecannaschool/cannabis-buds/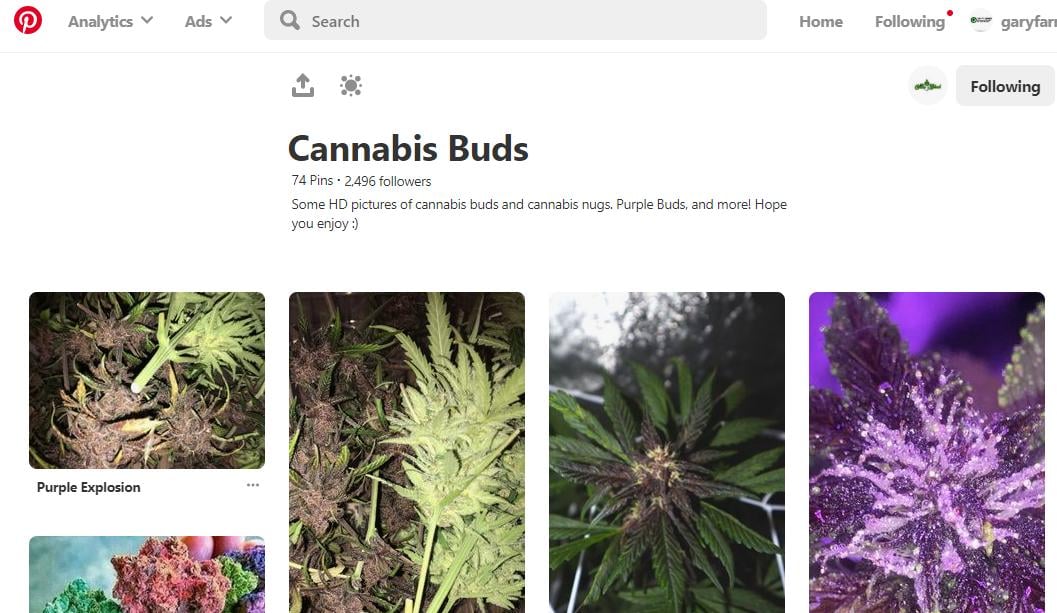 There's something therapeutic about Cannabis Nugs and Buds. This board with 74 pins on it will leave you salivating over your next purchase! Check this board out, there are some excellent pics and in 'HD' too…according to the poster!
9 – Cannabis Jokes – https://www.pinterest.co.uk/greenthum4/cannabis-jokes/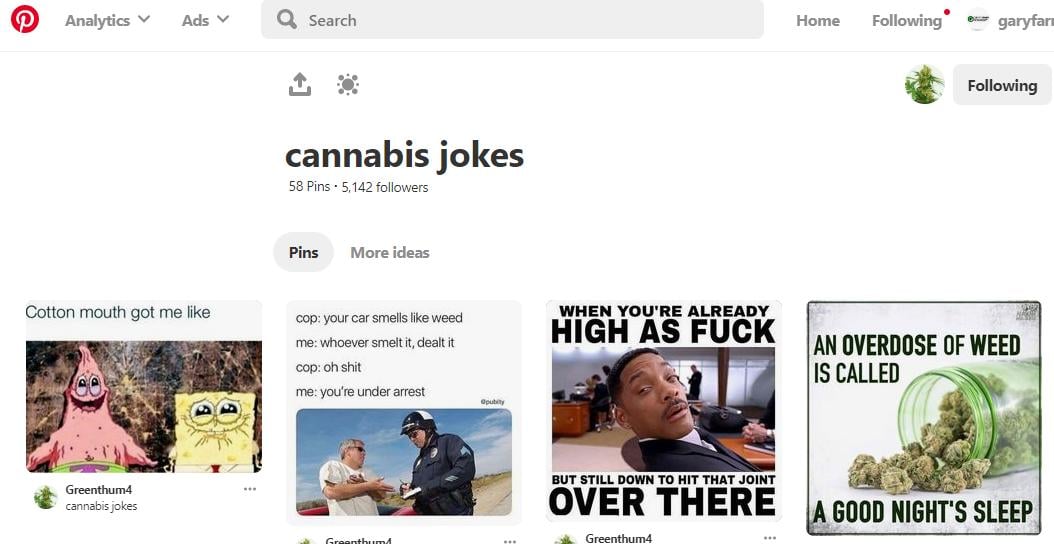 More fun with this board! There are some great jokes and memes here for your enjoyment. Let us know which is your funniest via the comments!
10 – Cannabis Infographics – https://www.pinterest.co.uk/infoinyourface/cannabis-infographics/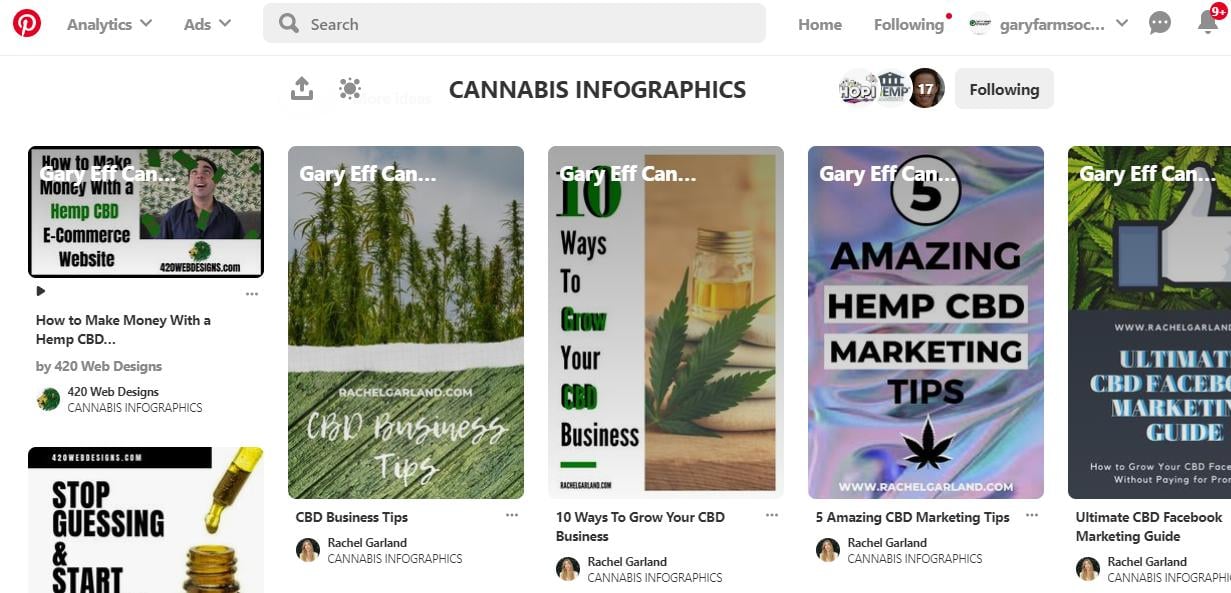 We end on an educational note. These infographics from Rachel Garland will keep you informed on all things medical and cbd related Cannabis!
Summary
As you can see from the above, the is just the tip of the Cannabis iceberg on Pinterest. There's a ton of great info' on here and you can generally find whatever you want. It's great to see Cannabis being accepted into the mainstream and Pinterest is another way of proving the case! If you have your own Pinterest page, drop it in the comments and The Vault will follow you!
Why not head on over to The Vault Cannabis Seeds Store now and pick up some Cannabis Seeds whilst taking advantage of the discount code VAULT15 for a whopping 15% discount off your order of Feminized Seeds.
Newsletter Sign Up
Make sure you never miss another Vault promo – sign up for our newsletter at http://goo.gl/Bt2Ba2
Remember: It is illegal to germinate cannabis seeds in many countries and some remote, less enlightened planets outside the core systems.  It is our duty to inform you of this fact and to urge you to obey all of your local laws to the letter.  The Vault only ever sells or sends out seeds for souvenir, collection or novelty purposes.