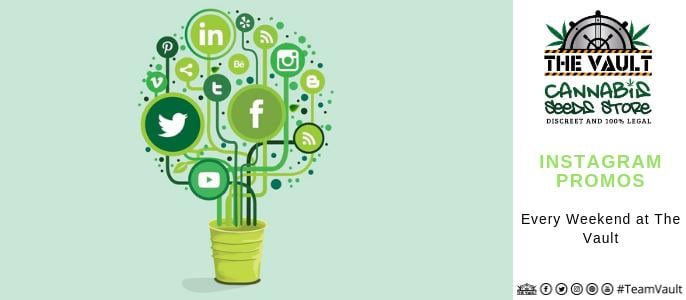 For those of you who use Instagram, we have some good news. We have re-introduced our weekly weekend give-aways now that we have our page back.
We've ran some brilliant little promos before Christmas and look forward to bringing you more in conjunction with the World's top breeders.
Follow our Instagram Page for the latest pictures, meme's and promos on all things Cannabis and Cannabis Seeds.
We'd also love to connect on the other Social Media platforms too – we hold promos there too!
Queen of Cannabis Facebook Community
When you connect, please say hi!
Follow, Connect, Engage
Also note, you will find us in forums such as Grasscity, 420 Magazine, RollItUp, Overgrow, ICMag and AFN, as well as many Cannabis related Facebook groups. We've just started to post in Reddit and Quora too, so feel free to connect there.
This Weeks Prize
This week we have x5 seeds up for grabs from Exotic Seeds. On offer we have their Monster Mash Auto. To top that off, treat yourself to 15% off the whole Exotic Seed range by using code 'exotic15' at checkout. As ever, the prize comes with a Vault goodie bag (t-shirt, papers, stickers etc).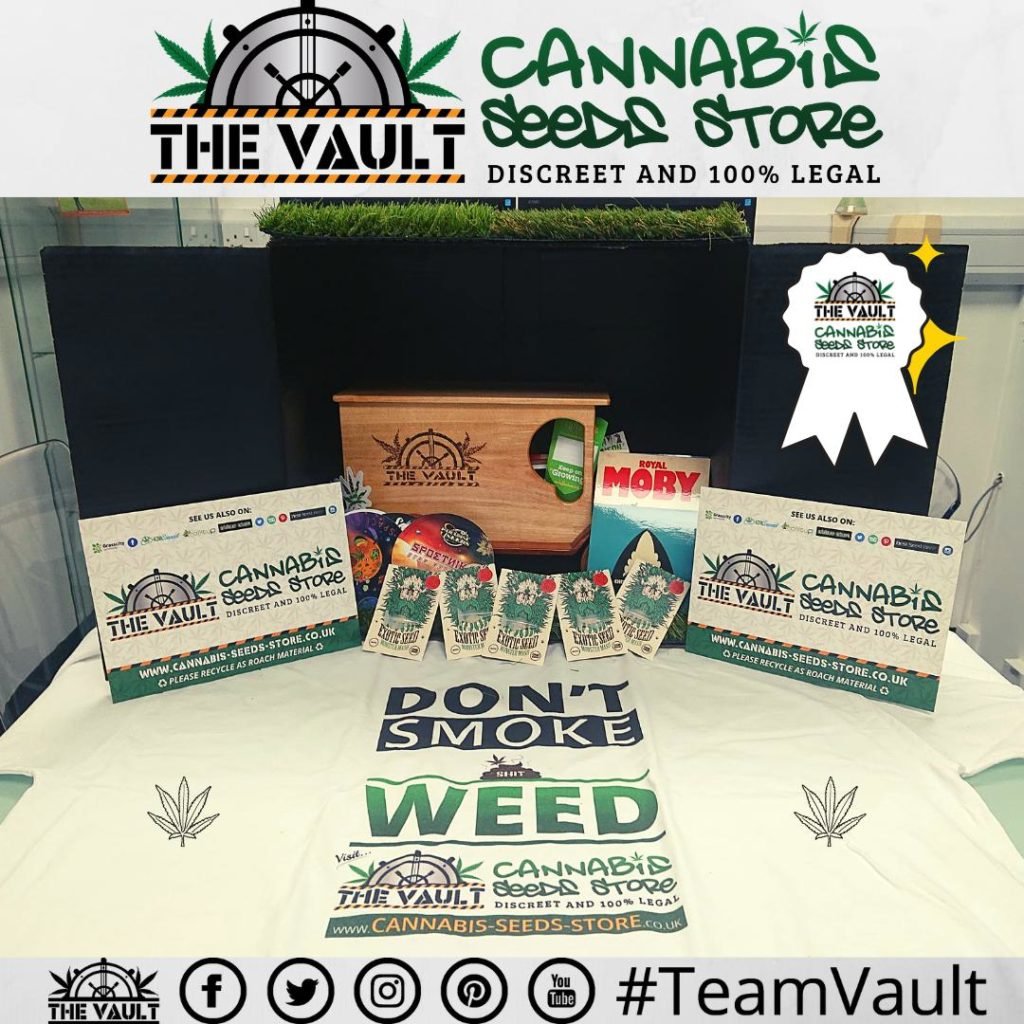 Seed Info
Auto Monster Mash is a combination between Black Domina and MK-Ultra. It has an extraordinary scent of Kush with a sweet undertone, with a delicious flavour to match. It gives an amazing yield and looks like a miniature Christmas tree, which is nice. It is perfect for SoG set ups but will need to be watched carefully for signs of mould. It should be well ventilated in more humid conditions, this is due to its thick and bushy structure. The effect of the strain is largely physical, but not excessively so, which makes it perfect as a bed time smoke.
Vault Info
So there you have it. We are back in business on Instagram. Give us a follow if you haven't already. Remember, if you are ordering from the Vault, we send worldwide, offer guaranteed delivery, accept credit cards AND send freebies with all orders. There are discount codes to be found on all of our social channels too, so keep an eye out for those.
Affiliate or Influencer?
We are always keen to find those in our community who have medium to large engaged Cannabis audiences (especially on You Tube and Instagram) to become affiliates or act as Influencers. Read this blog post on the Vault Cannabis Seeds Blog to learn more.
Mailing List
To keep in touch with the latest news and views from The Vault please join our mailing list > http://goo.gl/Bt2Ba2
Remember: It's illegal to germinate cannabis seeds in many countries. It is our duty to inform you of this important fact and to urge you to obey all of your local laws. The Vault only ever sells or sends out seeds, or seed voucher prizes for souvenir, collection or novelty purposes.
Legal disclaimer: The competition winners will have their prizes sent to them via recorded delivery. If you are chosen as a winner but don't receive your prize, we cannot resend competition prizes, so you'll have to raise this with your local delivery service (In the UK, for example, this would be Royal Mail).
#TeamVault