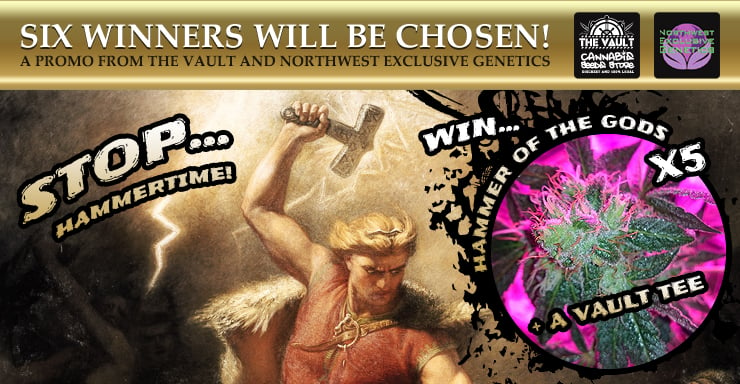 If you are on the lookout for some truly out-of-the-ordinary, superior-quality genetics to add to your collection, your buddies right here at The Vault are giving you not one but SIX chances to win big…
Northwest Exclusive Genetics: A Vault-exclusive breeder
To celebrate the addition of our newest Vault-Exclusive breeder – Northwest Exclusive Genetics – to our already impressive roster of respected names, we're running a competition across all of your favourite social media channels, including: Facebook, GrassCity, AutoFlower Network, 420 Connect, Roll it up and, of course, at The Vault blog…
What's up for grabs?
Each lucky winner will get their hands on:
A pack of 5 x Hammer of the Gods regular seeds from Northwest Exclusive Genetics
A superb Vault t-shirt
How do I enter this competition?
With six different entry methods, you can pick and choose which ones you'd like to use: Whether you wish to enter using all six channels to maximise your chances, or would prefer to just select your favourites, the choice is yours…
Via Facebook
In order to enter via Facebook, simply like, comment and share THIS POST

Via GrassCity
To enter at GrassCity, just comment on THIS POST

Via AutoFlower Network
Enter through the AutoFlower Network by just commenting on THIS POST

Via 420 Connect
You can enter using 420 Connect by just commenting on THIS POST

Via Rollitup
Simply comment on THIS POST to enter at Rollitup
Via The Vault's Blog
Leave a comment on our competition blog post and that's it, you're in!
Enter now before it's too late!
This competition is open until 19th Nov and winners will be chosen at random and announced on the 20th Nov – so make sure to place your entry with us so you don't miss out on this great chance!
Good luck, have fun and be sure to let your buddies in on this one so they can share the love!
UPDATE 20/11/15:
Thank you to all that entered, the response as always was phenomenal. The winners, chosen at random as always are:
Grasscity – dr doobs
Facebook – https://www.facebook.com/profile.php?id=100009257226158 (Jim R Tarby)
AutoFlower Network – Discretepete2676
420 Connect – Just10b87
Roll it up – nomoresnow
Vault blog – Extrome
All winners listed above win:
A pack of 5 x Hammer of the Gods regular seeds from Northwest Exclusive Genetics
A superb Vault t-shirt
Can the winners send me a PM on the respective sites please with your name, address and T Shirt size so I can arrange delivery of your prizes! (Apart from our blog winner who I will email via the email address you used to enter with) If you weren't a winner this time round, then never fear, we will be back with another awesome promo soon just keep an eye on our blog, newsletter, social and website.
About the prize seeds
Hammer of the Gods is one of Northwest Exclusive Genetics' most highly regarded strains, which will please all fans of Indica-heavy genetics, thanks to its 80/20 Indica/Sativa mix.
As the result of a 9lb Hammer (TGA Genetics) x White Lighting (So Cal Seeds) cross and selective back-cross, Hammer of the Gods produces strong pain-killing and stress-busting effects in a densely productive, vigorous and mildew-resistant package.
The high is soaring and euphoric, but clear in nature, leaving one lucid and capable of fully appreciating this strain's relaxing, soothing full body stone.
Deliciously fruity citrus and juicy purple grape flavours are rounded off with complex earthy, floral notes for a true taste sensation.
About the breeder
Founded back in 2012, this trailblazing USA-based breeder has sent shockwaves around the world thanks to the outstanding quality of their strains and the incredible skills of their experienced team, which are used to create one-of-a-kind masterpiece strains.
Northwest Exclusive Genetics was established to provide an alternative to the worryingly hit-or-miss process of shopping at the growing number of dispensaries that popped up in legal states in recent years. By taking matters into their own hands and developing premium quality, fully stable crosses using proven superior genetics – and by focussing on quality over quantity, they have provided a shining example to the industry: Accept no substitutes, pick up Northwest Exclusive Genetics' seeds and add the best of the west to your collection!
Legal disclaimer: The competition winners will have their prizes sent to them via recorded delivery. If you are chosen as a winner but don't receive your prize, we cannot resend competition prizes, so you'll have to raise this with your local delivery service (In the UK, for example, this would be Royal Mail).
Remember: It's illegal to germinate cannabis seeds in many countries. It is our duty to inform you of this important fact and to urge you to obey all of your local laws. The Vault only ever sells or sends out seeds for souvenir, collection or novelty purposes. All of our content is provided for educational purposes only.