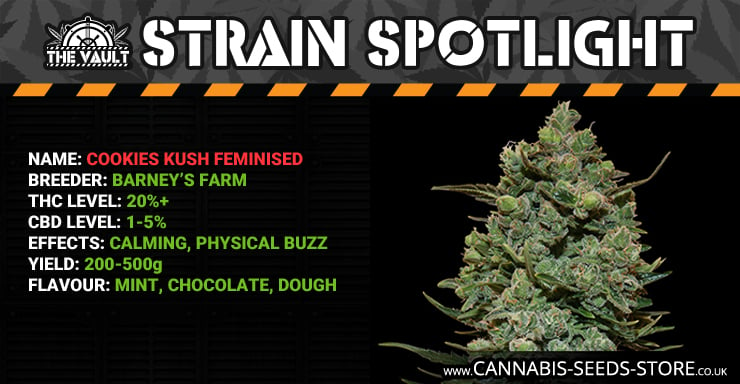 This heavyweight of a Kush took the 1st place award at the prestigious Cannabis Cup in 2014 (Under the 'Best Coffeeshop Strain' category), thanks to a winning combination of flavour, potency and all-round classiness. The judges loved it, the cannabis community loves it – and now you can add these prime genetics to your collection, straight from our Vault to yours!
Background
Created by blending the legendary Rolex OG Kush with the equally epic Girl Scout Cookies, this connoisseur-grade masterpiece from Barney's Farm is a worthy addition to any collection.
One of the main goals of the master breeders who created this strain was to balance the strong, bold flavours and effects of the best Kush genetics with the mint chocolate-chip cookie dough flavour and aromas that come from Girl Scout Cookies.
After much planning, careful selection and wonderful attention to detail, Barney's Farm's extensive breeding programme successfully generated this knock-out stunner!
Effects
As an Indica variant with a very high THC level, it is safe to say that Cookies Kush has some profound effects on body and mind, with a pleasantly calming, uplifting buzz that is great for treating stress, depression and pain – and a deeply relaxing physical stone. A CBD content between 1% and 5% helps to balance the effect and give it some valuable medical potential.
Flowering time and yield potential
An 8 week flowering time, combined with yields of between 250 and 500g make this a fast-moving, yet productive strain.
Flavour
The taste of this strain is simply unreal! Sweet and earthy, with a pungent aroma, Cookies Kush delivers a complex and delicious flavour profile direct to the palette, with hints of mint, chocolate, cookie dough and cinnamon.
Would you like to add some Cookies Kush Feminised to your collection?
This amazing strain from world-renowned breeder Barney's Farm will make a remarkable addition to any collection. To celebrate Cookies Kush Feminised, we'll slash its price by a massive 15% when you enter the discount code: CKF15 at the cart checkout. What are you waiting for? Buy some Cookies Kush Feminised today!
Remember: It's illegal to germinate cannabis seeds in many countries. It is our duty to inform you of this important fact and to urge you to obey all of your local laws. The Vault only ever sells or sends out seeds for souvenir, collection or novelty purposes. All of our content is provided for educational purposes only.