Strains of the Week – 7th to 15th of September 2021
Hello again, Team Vaulters!
New Tuesday, new Strains of the Week selection! 15% off top brands seeds, top strains. We keep the usual – 3 Fems and 3 Autos, to please all the tastes. If you want to know more, then keep scrolling down to find out which are the Strains of the Week!
As we always repeat, to apply the price reduction please introduce the code 'SOTW15' at the checkout.
Both breeders and types of seeds may vary depending on the week and the events taking place at the time. This means no week will be the same as the previous one!
We'll try to please all tastes by selecting carefully strains based on their flavour, THC and CBD content, maximum size, yielding, etc.
The Strains of the Week
Orange Bud Feminised Seeds by Dutch Passion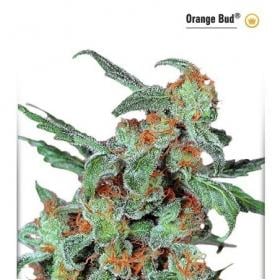 It looks and behaves like Skunk and there is a good reason for this: Dutch Passion Orange Bud is all skunk but with the right spattering of genetics to make it exceptionally appealing all around.
Even the classic Skunk aroma has been replaced with a heavy fruity aroma that is at the same time sweet and acidy like fresh citrus. It tastes every bit as good as it smells, too, and its flavours directly reflect its aroma adding to them a distinctly floral endnote.
This is a 90% sativa hybrid and it gets its name from the look that mature plants take on: large quantities of dense, tight buds with brilliantly orange hairs that really stand out against the leaves.
Blueberry Cheese (Blue Cheese) Feminised Seeds by Barney's Farm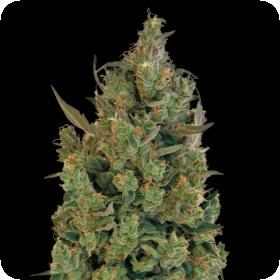 Since the early 1980s, it has been the mission of the dedicated breeders at Barney's Farm to scour the globe gathering high-quality landrace genetics for their unique and inspiring hybrid cannabis creations.
The goal of this constant search is to create some of the world's rarest and best strains of marijuana, and these efforts have had their rewards.
They have won a number of international awards for the overall quality and stability of their strains and they are a recognized global leader in top-quality cannabis seed production.
This undying passion is evident in every seed they produce and the experience of both growing and using these products only serves to underline that passion and showcase their commitment.
Painkiller XL Feminised Seeds by Royal Queen Seeds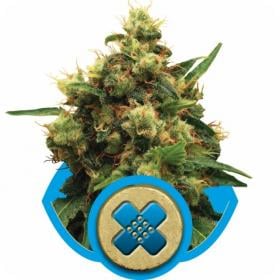 This strain, Painkiller XL, is a combination of Juanita La Lagrimosa and Royal Highness. It comes from a rich background of popular strains and is itself really rather impressive.
Each new strain from these ancestors has its own scent, flavour, colour and each one has a high medicinal benefit. Painkiller XL is famous for having a perfect balance of THC and CBD, 9%, and is 75% Sativa and 25% Indica.
This strain, despite being predominantly Sativa, has a much more physical effect, which is where it gets its name from. The strain is ideal for relieving pain, migraines, stress as well as helping to lessen the symptoms of AIDS, epilepsy, diabetes and Parkinsons.
Zkittlez Auto Feminised Seeds by Seedsman Seeds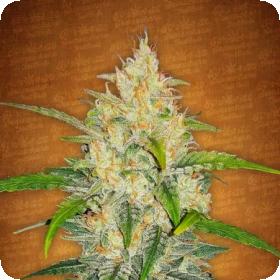 California legalization brings a new cannabis craze, sweetness at any price. Dessert flavoured strains keep on appearing, but nothing is sweeter than Fast Buds' Zkittlez strain, created from the ultra-stable triple Zkittlez backcross Z3 and Fast Buds' autoflower genetic magic. Not to be confused with Skittles the candy.
This indica dominant hybrid fills the room with its overpowering scent and packs on the buds. You'll always be able to recognise a plant grown from Fast Buds' Zkittlez seeds by its American football sized colas, and it's massive 'crown' of buds that top its formidable frame.
B.I.G. Auto Feminised Seeds by Seedsman Seeds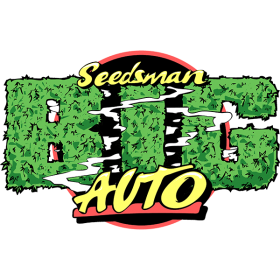 B.I.G. Auto is an indica-dominant strain that is highly psychoactive, producing a euphoric, stimulating effect. This strain has a strong skunk smell and flavour with large dense buds. B.I.G. Auto is a heavy yielding, mould, pest and disease resistant strain. It is bred by crossing Critical with Ruderalis.
Jack Herrer Auto Feminised Seeds by Seedsman Seeds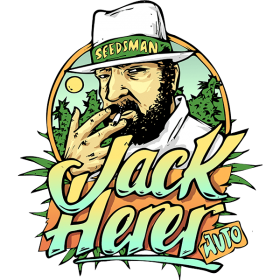 Jack Herrer Auto is a productive, sativa-dominant auto-flowering strain. It has a good resistance to plant diseases and also has medicinal uses.
Candy Cream Auto is an indica-dominant auto-flowering strain. It is capable of producing good yields, is resistant to insects and creates a well-balanced effect. It also has medicinal uses.
TERMS
15% Off The Following Strains
This selection of Strains of the Week is valid from 7th to 15th of September 2021.
To apply the price reduction please introduce the code 'SOTW15' at the checkout.
It cannot be combined with other discounts codes.
Newsletter Sign Up
Make sure you never miss another Vault promo – sign up for our newsletter at https://www.cannabis-seeds-store.co.uk/the-vault-newsletter
Remember: It is illegal to germinate cannabis seeds in many countries including the UK.  It is our duty to inform you of this fact and to urge you to obey all of your local laws to the letter.  The Vault only ever sells or sends out seeds for souvenir, collection or novelty purposes.