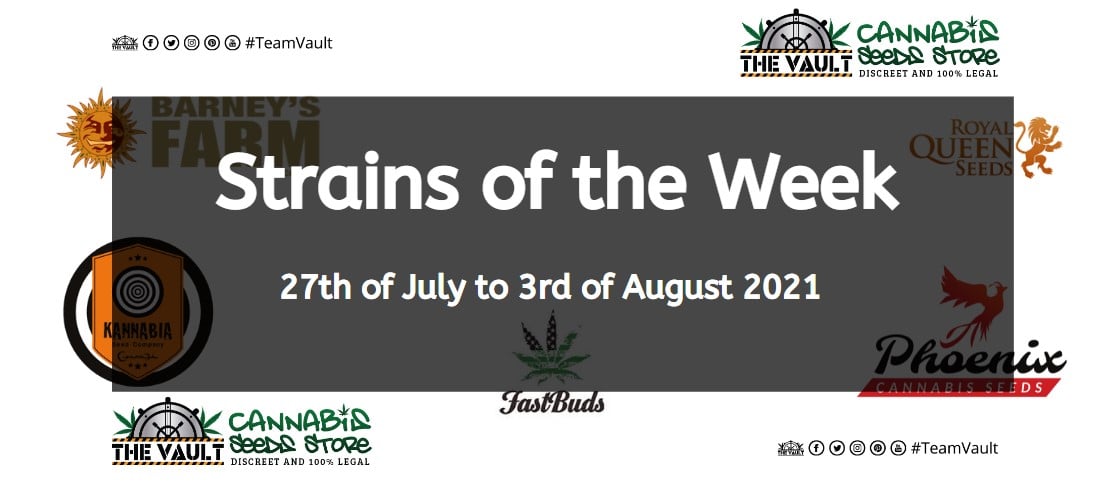 Hello there Team Vaulters!
Here we go again. New week, new highlighted strains with an amazing 15% off. As usual, we're bringing you 3 Fems and 3 Autos for you to enjoy. Do you wanna know more? Then keep reading to find out which are the Strains of the Week!
To apply the price reduction please introduce the code 'SOTW15' at the checkout.
Both breeders and types of seeds may vary depending on the week and the events taking place at the time. This means no week will be the same as the previous one!
We'll try to please all tastes by selecting carefully strains based on their flavour, THC and CBD content, maximum size, yielding, etc.
The Strains of the Week
Colombian Jack Feminised Seeds by Kannabia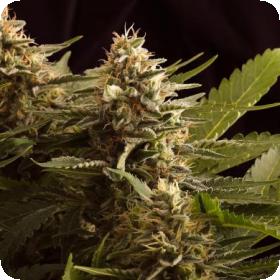 This wonder could well have come from the mind of Stan Lee or star in a new movie from the Marvel universe… cos it has all the qualities of a superheroine. "The result of an exhaustive selection and a careful preservation of genetics over time, at birth, Colombian Jack contained inside her the cosmic power of the Titanic Nebula and the explosive energy of the powerful Black Jack, her parents."
When she arrived on Earth she discovered her gifts: Superpowers of both aroma and effects; a delicious citrus flavour between lime and grapefruit with slight touches of incense; mental lightness with high creativity; remarkable homogeneity in the crop (thanks to the equal degree of dominance between her parents), giving rise to plants with large flowers full of dazzling trichomes and a huge production of resin that extends to more than half the surface of the floral leaves.
OG Kush Feminised Seeds by Phoenix Seeds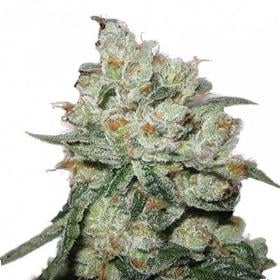 OG Kush is known all over the world for its amazing potency and unique scent. OG Kush is a combination of Pakistani Kush, Lemon Thai and Chemdawg. At least that's what we think it is made of, no one knows for sure.
Some think it might be something similar to Chemdawg that was created in the 90s. Mysteries aside, we do know that this strain is unlike any other.
The aroma is powerful and dark with a tangy sweetness that makes the mouth water. Medicinally this strain is often used by those suffering from PTSD, depression and Parkinson's.
This strain is feminised and will only grow into female plants. Feminised seeds are great for growers who don't want to breed their own crops.
Tropicanna Banana Feminised Seeds by Barney's Seeds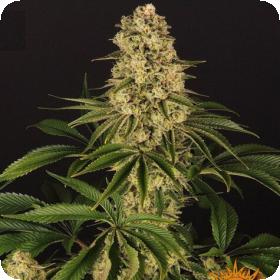 Tropicanna Banana is another totally tantalising addition to our Cali collection. It's a mesmerising tropical cocktail of fresh fruity flavours, uncompromising power and excellent yield potential. This remarkable hybrid is sweet, sticky, pumped up, highly potent and will leave growers gasping in awe at these high performing genetics.
Barney's Farm has tamed this sativa-dominant hybrid (60% Sativa, 40% Indica) and garnished it with huge dollops of glistening, sweet tropical fruit-scented trichomes. A perfectly crafted marriage of Tropicanna (Girl Scout Cookies x Tangie) and a twist of Banana Kush infuses a calming Indica influence.
Her effervescent personality will guide you into a world of euphoric fizz and mystery. Tropicanna Banana is a highly vigorous plant, capable of delivering monster production when in the correct hands.
Royal Kush Automatic Feminised Seeds by Royal Queen Seeds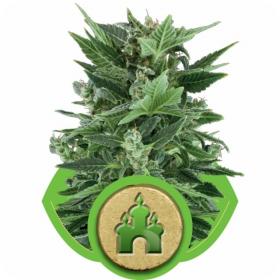 This strain provides a welcome change to those who are fans of autoflowering strains. Royal Kush Automatic was born from a fast flowering Kush strain and a Ruderalis strain.
The influence of the Kush strain can be seen in the strain's height, however due to the Ruderalis portion of its genetic make up it is also very compact. The scent of the plant during flowering is powerful, rich, and has a spicy fruitiness to its aroma.
The effect of the strain is clear, uplifting and happy making it excellent for social occasions. It also is ideal for those suffering from stress, anxiety and depression.
Sweet Tooth Express AUTO Feminised Seeds by Phoenix Seeds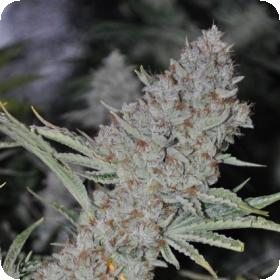 Sweet Tooth Express Auto is a combination of Sweet Tooth and a balanced ruderalis/indica strain. This means that there is now an auto-flowering version of this already very popular strain. Sweet Tooth is an award winner and took 1st place at the 2001 High Times Cannabis Cup. The aroma is very sweet with a hint of flowers and berries. The original Sweet Tooth was created by combining Hawaiian, Afghani and Nepalese genetics. The effect is uplifting and euphoric, ideal for those suffering from anxiety, stress and headaches.
This strain is both auto-flowering and feminised, which makes it ideal for growers. Auto-flowering plants will flower automatically at a certain point in their life, rather than as the result of a light cycle. This means it will have a shorter flowering time as well as a shorter stature.
Zkittlez Auto Feminised Seeds by FastBuds Seeds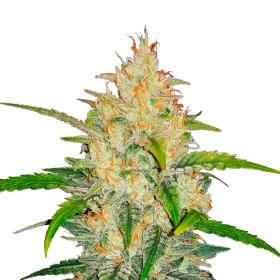 California legalization brings a new cannabis craze, sweetness at any price. Dessert flavored strains keep on appearing, but nothing is sweeter than Fast Buds' Zkittlez strain, created from the ultra-stable triple Zkittlezbackcross Z3 and Fast Buds' autoflower genetic magic. Not to be confused with Skittles the candy.
We're excited to bring the first and sweetest of legalization's fruits to growers around the world. This indica dominant hybrid fills the room with its overpowering scent and packs on the buds. You'll always be able to recognize a plant grown from Fast Buds' Zkittlez seeds by its American football-sized colas, and it's massive 'crown' of buds that top its formidable frame.
TERMS
15% Off The Following Strains
This selection of Strains of the Week is valid from 27th July to 3rd August 2021.
To apply the price reduction please introduce the code 'SOTW15' at the checkout.
It cannot be combined with other discounts codes.
Newsletter Sign Up
Make sure you never miss another Vault promo – sign up for our newsletter at https://www.cannabis-seeds-store.co.uk/the-vault-newsletter
Remember: It is illegal to germinate cannabis seeds in many countries including the UK.  It is our duty to inform you of this fact and to urge you to obey all of your local laws to the letter.  The Vault only ever sells or sends out seeds for souvenir, collection or novelty purposes.