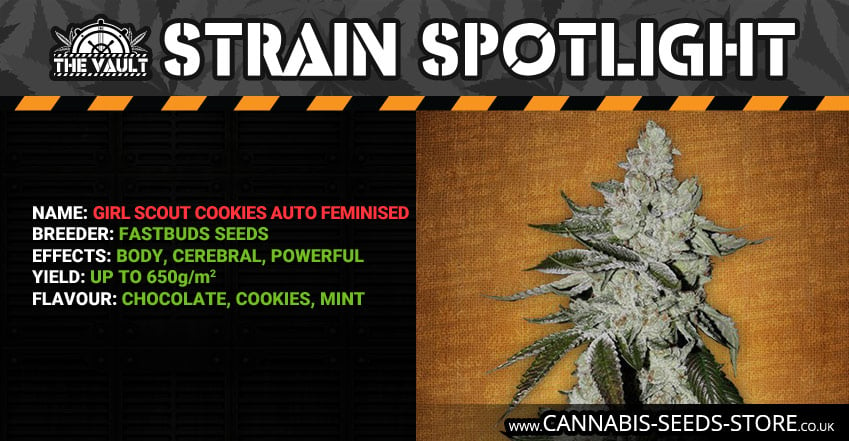 FastBuds' incredible version of the Californian classic will turn you into a real-life cookie monster!
Background
The team of genetic wizards at FastBuds worked their magic by combining two of the most popular phenotypes of the legendary original Girl Scout Cookies strain, resulting in an incredible Indica-dominant hybrid with Canadian Ruderalis and Sativa incorporated into the mix which would go on to win the hearts and minds of collectors everywhere.
Effects
An ultra-high THC level of 20%, combined with a sub 1% CBD level makes this an incredibly potent painkiller on the physical level, with uplifting, euphoric, stress-busting cerebral effects and a deeply relaxing, yet stimulating vibe.   Ideal for treating a wide range of medical conditions, such as: Arthritis, asthma, epilepsy, glaucoma, migraines, multiple sclerosis, nausea, chronic pain and more.
Flowering time and yield potential
With its 8-9 week flowering time, this easy-going auto has the capacity to produce some truly incredible results, with up to 650g/m2 yields being possible indoors!
Flavour
The original GSC strain is well known for its incredible mint choc chip cookie dough flavour and this updated auto version brings these flavours to the forefront, with the addition of an extra earthy, pungent undertone: Simply delicious!
Would you like to add some Girl Scout Cookies Autoflowering Feminised seeds to your collection?
If you'd like to pick up some of these incredible seeds, The Vault is giving away an amazing 15% discount off Girl Scout Cookies Autoflowering Feminised, when you enter the code: GSCA15 in the cart!
Let us know your thoughts about this amazing strain in the comments section below.
Newsletter Sign Up
Make sure you never miss another Vault promo – sign up for our newsletter at http://goo.gl/Bt2Ba2
Remember: It's illegal to germinate cannabis seeds in many countries. It is our duty to inform you of this important fact and to urge you to obey all of your local laws. The Vault only ever sells or sends out seeds for souvenir, collection or novelty purposes. All of our content is provided for educational purposes only.