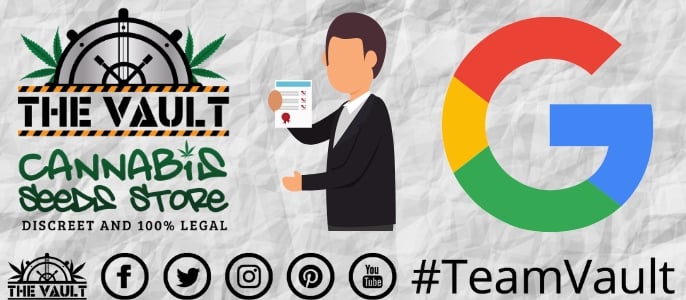 We are always thankful to our customers and are grateful for your continued business here at The Vault. To make sure we're doing our best we are seeking feedback and therefore want to ask a favour of you!
Our goal is to provide the very best service and we are always looking for ways to improve. We are looking to gain feedback on our service so that we can enhance your experience and make our customers happy.
We would love to hear your thoughts, and we would be incredibly grateful if you could take a couple of minutes to write a quick Google review for us. This will allow us to improve our service and let others recognise the value we provide.
To submit your review, simply click this link to let us know about your experience with The Vault Cannabis Seedbank.
To thank you for leaving us a review, treat yourself to 12.5% Off at The Vault using code 'GOOGLEREVIEW' on www.cannabis-seeds-store.co.uk
Thank you so much for taking the time to leave a review. Your feedback is highly appreciated and important to us and I look forward to reading your comments.
Newsletter Sign Up
Make sure you never miss another Vault promo – sign up for our newsletter at http://goo.gl/Bt2Ba2
#TeamVault #OneLove
Legal Disclaimer: The competition winners will have their prizes sent to them via recorded delivery.  If you win the competition but don't receive your prize, we cannot resend competition prizes, so you'll have to raise this with your local delivery service (In the UK, for example, this would be Royal Mail).
Remember: It is illegal to germinate cannabis seeds in many countries and some remote, less enlightened planets outside the core systems.  It is our duty to inform you of this fact and to urge you to obey all of your local laws to the letter.  The Vault only ever sells or sends out seeds for souvenir, collection or novelty purposes.