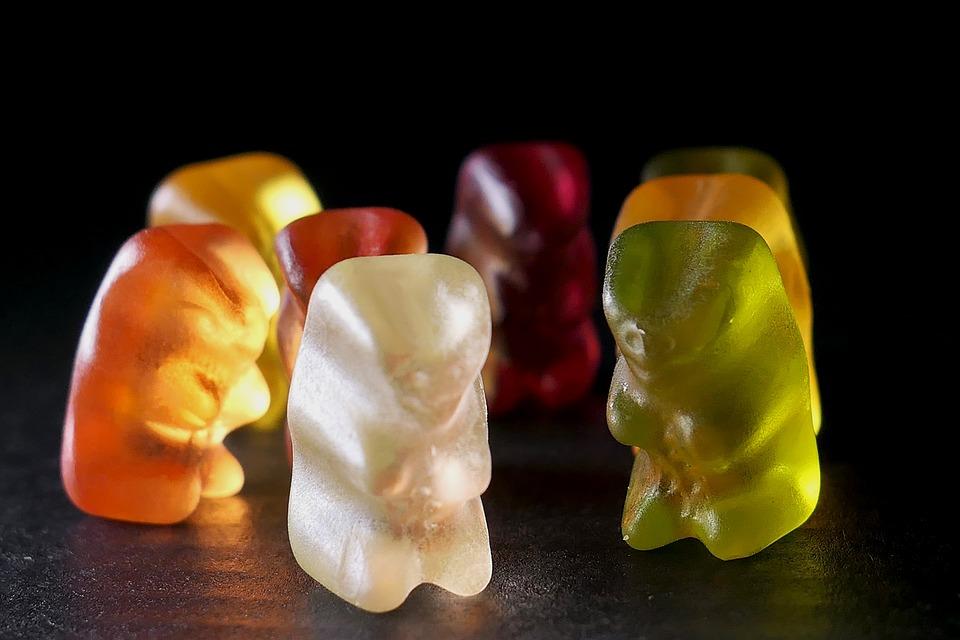 https://pixabay.com/photos/gummib%C3%A4rchen-candy-sugar-sweetness-3554408/
Drinking a teaspoon of trusted CBD oil by Formulaswiss every morning to get all the health benefits can get boring, and you don't always want to play around and mix it up with smoothies. Well, if you want to make a large batch of CBD snacks that you can just grab from the fridge or off the shelf and eat, we've got a couple of great recipes for you.
Here are two simple and delicious recipes for CBD oil gummies that you'll be glad to have in your life.
What You'll Need
CBD edibles are all the rage now, and they've been shown to work well, so it's time to whip up your little snack. There are several recipes you can use, depending on how fancy you want to get, so we'll cover a quick, simple, and gourmet shelf-stable version. Here are the ingredients you'll need for either version.
Quick and Easy CBD Oil Gummies
This is something just about anyone can whip up at home with simple ingredients and little skill. You can keep these gummies in the fridge for about a week, as they usually start to fall apart and get moldy after 5-7 days.
Silicone mold
Mixing bowl
Small saucepan or pot
4 tbsp CBD Oil tincture
1 ½ cups of Fruit Juice
4 tbsp Gelatine powder
Gourmet Shelf-Stable CBD Oil Gummies
This version packs a more flavorful punch and requires a few more ingredients. It's also a shelf-stable recipe, so you can keep these gummies outside the fridge in a ziplock bag, and they'll last for up to 6-7 months.
Silicone mold
Mixing bowl
Small saucepan or pot
4 tbsp CBD Oil tincture
½ cup Fruit juice
¼ cup Honey or Maple or Corn Syrup
1 tsp Citric acid
1 tbsp Food coloring
¼ tsp Potassium Sorbate dilution
4 tbsp Gelatin
Now, when you have all the ingredients you need, let's look at how it should all come together to make the perfect vegan CBD gummies.
Preparing the Mixture
For both recipes, the preparation process is the same, and it's all pretty straightforward. The biggest mistake people make when trying out gummy recipes is that they just throw gelatin powder into the mix while everything is on the stove.
This can cause sticky or overly wobbly bits of jello, and you don't want that in your gummies.
The trick is to bloom your gelatin first. Don't worry, it's nothing complicated, it just means you need to pour cool water, or in our case juice, into your mixing bowl first, and then gently sprinkle the gelatin powder on top.
Let it sit in the liquid for 3-4 four minutes so that the granules take in plenty of moisture and are easier to fully dissolve later on.
About 2 minutes into the blooming process, add the rest of your dry ingredients, except the potassium sorbate, into the mixing bowl, and leave it all to soak for another 1-2 minutes.
For the gourmet version, you'll want to mix 1 part potassium sorbate to 3 parts water separately, and then add ¼ teaspoon of that dilution to your dry ingredients. Don't mix anything at this point; just let all the ingredients sit in the liquid and soak.
The Cooking Process
Another big thing to avoid is boiling gelatine, so you want to put your pan or pot on low-to-medium heat. For the quick and easy recipe, heat up 1 cup of fruit juice in the pan until it's a bit hot to the touch, then add the tincture and mix well, finishing off with the ½ cup juice with the bloomed gelatin in it.
The first thing to go into the pan for the gourmet version is the maple or corn syrup, even honey if you like, then the mixture goes on top once the syrup has become a bit runnier. Mix it all up a bit with a spatula, then when it starts dissolving, take a whisk and stir lightly.
It would be best if you kept stirring for a few minutes, but don't speed up as you'll create bubbles. Just stir enough, so it all melts and combines into a homogenous concoction. Make sure to turn the heat down or move the saucepan away from the heat if it starts rising, as you don't want it to boil.
There will be some tiny bubbles on the outside when it is ready, and at this point, take it off the heat and let it cool for 1-2 minutes. If a light foam appears on top, scoop it away, it just means that you were stirring it a bit too much.
Add the CBD tincture at the end and stir it lightly for 20-30 seconds.
Letting It Set
Take the silicone molds and spray them with cooking spray, then pour the mixture in. You should let the CBD Oil gummies sit in the fridge for at least 3-4 hours.
For the ultimate gourmet experience, you can mix 4-5 tablespoons of granulated sugar with one teaspoon of citric acid and coat the gummies in the mixture.
As you can see, CBD oil gummies are quick to make, and you can even get creative and have a lot of fun. Enjoy your healthy little snacks, and don't be afraid to experiment.
Why not head on over to The Vault Cannabis Seeds Store and pick up some cannabis seeds now, whilst taking advantage of the discount codes VAULT15 for 15% of your order total and don't forget to check out our discount cannabis seeds page for all the latest offers, promos and competitions!

Make sure you never miss another Vault promo and sign up for our newsletter at https://www.cannabis-seeds-store.co.uk/the-vault-newsletter
Remember: It's illegal to germinate cannabis seeds in many countries including the UK. It is our duty to inform you of this important fact and to urge you to obey all of your local laws. The Vault only ever sells or sends out seeds, or seed voucher prizes for souvenir, collection or novelty purposes.