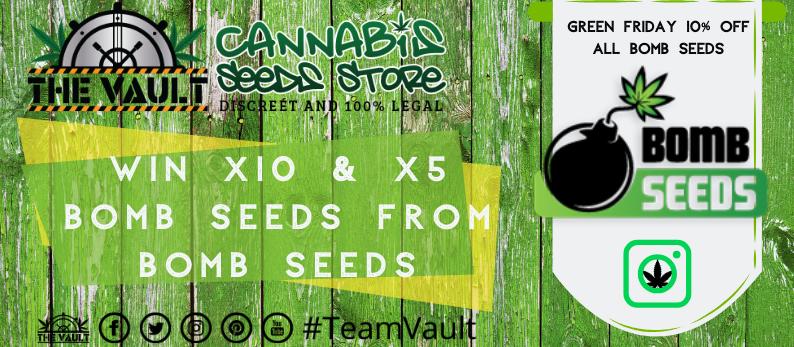 We've just dropped a happy bomb on our Green Friday promo for the #TeamVault community. If we didn't spoil you enough with discounts, freebies and prizes, then we're adding something else into the mix for you! This time, it's something from the guys and gals from the explosive Bomb Seeds.
All Bomb Seeds have a 10% discount applied on The Vault Cannabis Seeds Store website now for Black Friday / Green Friday.  You can still apply further discounts in the cart!  This is live until Dec 2nd so act fast and get your order in now!
About Bomb Seeds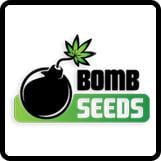 Well quite simply, if you are looking for the best combination of Strength, Power, Quality and Yield; Bomb Seeds genetics are the best available.
Their selection process of the best traits from already world beating strains, combined with our explosive Bomb genetics delivers time after time.
When it comes to finding seed genetics which possess a winning combination of explosive potency, supreme quality and super-high yield potential, Bomb Seeds is one breeder that will give you plenty of 'bang-for-your-buck'!
All of Bomb Seeds' strains have been grown in the Netherlands, under the observant eyes of experienced breeders, who hand-pick only the most perfectly matured, viable seeds from their library of stable, specially-bred strains.
All seeds are stored in a humidity and temperature-controlled environment, to keep them super-fresh until they need to go out to the ever-growing league of avid Bomb Seeds collectors all over the world.
The Promo #Instabomb
In this Instagram only promo, we're offering you up the chance to win some seriously good genetics.
1st Prize X10 THC Bomb
2nd Prize X5 THC Bomb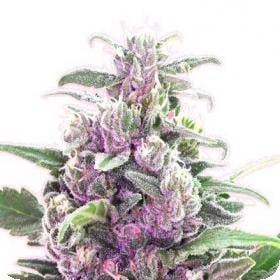 As Bomb Seeds' signature strain, this delightful variety is an instant classic which has sent explosive ripples throughout the seed collecting world.
Properties that define this breeder are evident in this prime specimen of a strain:
Thunderous power (high THC), huge yields (up to 650g/m2), a fast indoor flowering time (7-9 weeks) and a delicious, potent and complex flavour profile.
A true heavyweight, THC Bomb is da bomb!
How to Win
Simply like THIS POST on Instagram and tag 3 friends who you think would like to enter too! It's really that simple!
*No entries will be taken on the blog post but if you visit our Green Friday blog, you can win multiple prizes there as well – https://www.cannabis-seeds-store.co.uk/Cannabis-Seeds-News/green-friday-at-the-vault-insane-offers
(Bomb Seeds also have another competition currently open to win even more Bomb Seeds HERE but act fast as the winners will be selected at random and announced on Thursday the 28th Nov)
Discount
A 10% discount is currently applied to all Bomb Seeds on the Vault website. For the smart shoppers amongst you, you'll want to take advantage of the current Green Friday discount of 15%, by checking out the post above (Green Friday). That would give you a total of 25% OFF a Bomb Seed purchase.
Well blow me down I hear you say!
Winners will be selected using random number generator and announced on the 4th Dec! The discount will run until the 2nd of Dec so make sure you get your order in now.
Newsletter Sign Up
Make sure you never miss another Vault promo – sign up for our newsletter at http://goo.gl/Bt2Ba2
Legal Disclaimer: The competition winners will have their prizes sent to them via recorded delivery.  If you win the competition but don't receive your prize, we cannot resend competition prizes, so you'll have to raise this with your local delivery service (In the UK, for example, this would be Royal Mail).
Remember: It is illegal to germinate cannabis seeds in many countries and some remote, less enlightened planets outside the core systems.  It is our duty to inform you of this fact and to urge you to obey all of your local laws to the letter.  The Vault only ever sells or sends out seeds for souvenir, collection or novelty purposes.