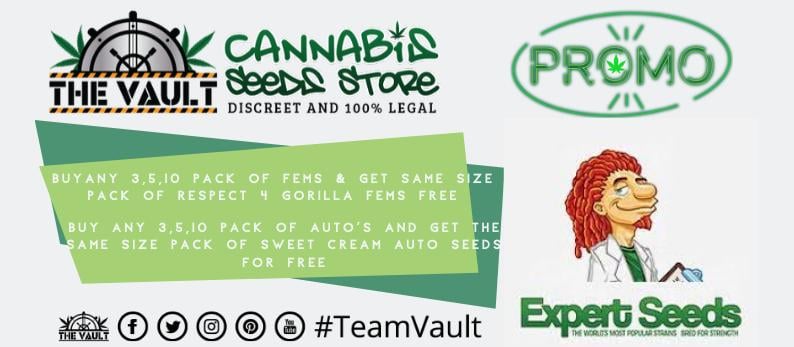 A consummate promo brought to The Vault from our buddies over at Expert Seeds – Now live at The Vault Cannabis Seeds Store!
Essentially double your seeds when buying anything from the cannabis seeds breeder Expert Seeds at The Vault!  Break it down for me buddy:
Buy any 3, 5 or 10 pack of fems from Expert Seeds and get the same size pack of Respect 4 Gorilla Feminised seeds free!
Buy any 3, 5 or 10 pack of Autos from Expert Seeds and get the same size pack of Sweet Cream Auto seeds free!
This is of course, on top of all the other offers currently live at The Vault Cannabis Seeds Store, check them out on our cannabis seeds offers page.
Expert Seeds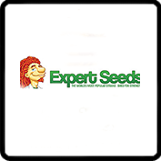 Expert Seeds from Ireland is a project involving breeders from many different European countries. Therefore a lot of different experience come together within one seed bank, mixed with love and passion for cannabis.
Collectively they have been growing and breeding for many decades. They decided that it was time to operate under one name and the company "Expert Seeds" was created. They focus and specialise in selective breeding of the worlds most famous strains.
Their focus is to take popular and award winning genetics and improve them as best they can, focusing on both THC and CBD levels, medicinal values, visual appearance, aroma, taste and potency.
All of Expert seeds are produced using only natural organic nutrients and insecticides.
Expert seeds are confident that their seeds are of the highest quality. Our catalogue offers a wide range of Sativa, Indica and Auto-Flowering seeds and we believe that they have a strain to cater for every growers needs.
More About The Free Cannabis Seeds On Offer
Respect 4 Gorilla Feminized Cannabis Seeds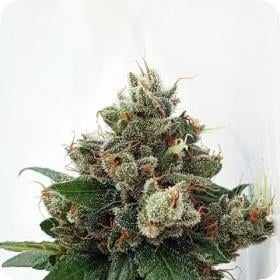 Respect 4 Gorilla is an earlier-finishing Gorilla Glue #4 strain with an elevated CBD production whilst maintaining high levels of THC.
It is a 70% indica strain which grows into a medium-sized plant. Growing to a height of between 100 – 150 cm Respect 4 Gorilla takes 55 – 60 days to finish flowering indoors with excellent yields of 550 gr/m2.
Outdoors it will be ready for harvest in northern latitudes in the middle of October with each plant producing up to 750 gr.
Growers at higher latitudes are recommended to use a greenhouse where the early autumn weather is likely to be somewhat inclement.
THC levels are around 19% with 2% CBD. The effects are of creative energy, mentally uplifting, motivating and euphoric.
Experts Seeds themselves recommend this strain for medicinal applications to help with symptoms of pain, nausea, as an anti-inflammatory, to stimulate appetite, the side-effects of cancer treatments and for psychiatric conditions.
Sweet Cream Auto Feminised Seeds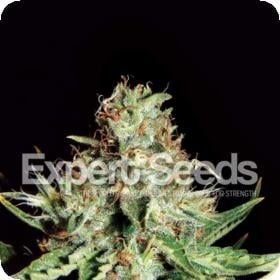 Sweet Cream Auto Feminized is a tall strong auto with high production.
Sativa characteristics, becomes a big plant, spicy aromatic aromas.
Still very much an Indica, fabulous resin production, deliciously fruity sweet.
Genetics: Cream Mandarine Auto x Diesel
Variety: Indica / Sativa
Flowering time: 56 days from germination
Flowering type: Autoflowering
THC Content: 18%
Grows: Greenhouse, Grows indoors, Grows outdoors
Let us know your thoughts about Expert Seeds and their strains in the comments section below.
Why not head on over to The Vault Cannabis Seeds Store now and pick up some Expert Seeds now, whilst taking advantage of the discount code VAULT15 for a whopping 15% discount off your order of Expert Cannabis Seeds.
Newsletter Sign Up
Make sure you never miss another Vault promo – sign up for our newsletter at http://goo.gl/Bt2Ba2
Remember: It is illegal to germinate cannabis seeds in many countries and some remote, less enlightened planets outside the core systems.  It is our duty to inform you of this fact and to urge you to obey all of your local laws to the letter.  The Vault only ever sells or sends out seeds for souvenir, collection or novelty purposes.