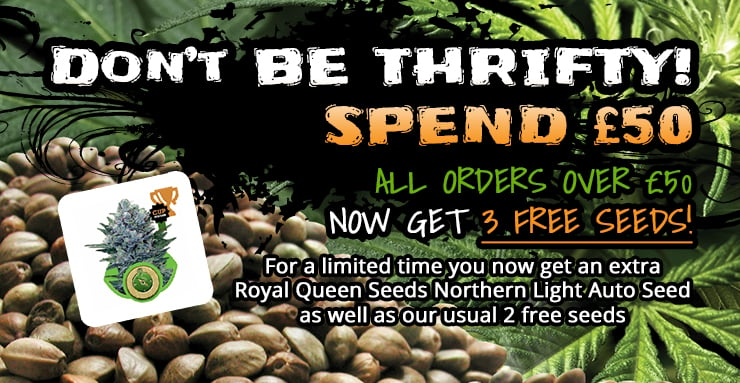 In Scotland, where we are based, the people are known to be thrifty. It's often said that we are tighter than a submarines window when it comes to spending cash!
That said, The Vault are always pushing the boundaries and working on getting you more dank for your buck!  So, we are going against the grain, and encouraging you to spend £50 or above on our luscious seeds.
Right now you get two free seeds in our "choose your own freebie" section for hitting that £50 threshold, but for the next month (Friday 13th of July to Monday 13th August), we are offering you an extra seed on top! This will be the lovely cup winning RQS NL Auto!
So, if you have been waiting to put in a larger than usual order now is the time to get some bonus seeds, have a think about adding something extra so you can get extra.
All customers who spend over £50 from Friday 13th of July to Monday 13th August, will be entered into a draw to win a Vault Goodie Bag too. This will be a coveted Vault T Shirt, with papers, x10 seeds and other goodies.  We will contact the winner on Tuesday the 14th of August.
We 100% respect our customers privacy so don't worry, if your the lucky winner (chosen at random) then we will contact you via email or by phone to arrange delivery of your prizes and will not publish any details about you anywhere.  It would be fantastic (but not required) though if you were to post a picture of your prizes to 1 or more of our social pages.
So, don't be thrifty and spend £50.
This is of course on top of all our other usual amazing offers so if you also buy some seeds currently on promo you can end up with even more free seeds for very little cost.  check out our current offers now at https://www.cannabis-seeds-store.co.uk/cat_offers.html to see what other on purchase breeder promos are currently active.
Legal Disclaimer: The competition winners will have their prizes sent to them via recorded delivery.  If you win the competition but don't receive your prize, we cannot resend competition prizes, so you'll have to raise this with your local delivery service (In the UK, for example, this would be Royal Mail).
Remember: It is illegal to germinate cannabis seeds in many countries and some remote, less enlightened planets outside the core systems.  It is our duty to inform you of this fact and to urge you to obey all of your local laws to the letter.  The Vault only ever sells or sends out seeds for souvenir,collection or novelty purposes.
#TEAMVAULT
Make sure you never miss another Vault promo and sign up for our newsletter at http://goo.gl/Bt2Ba2