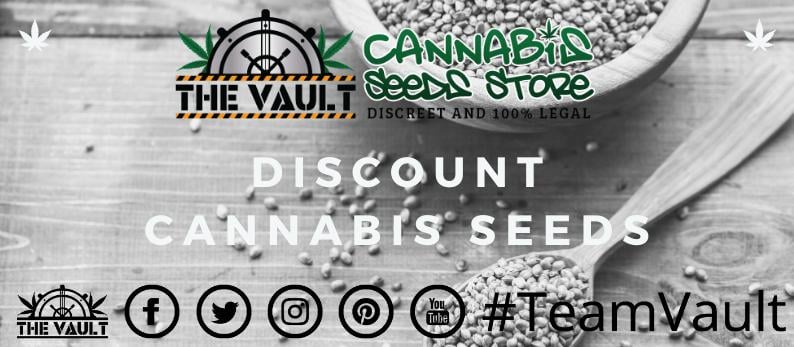 Discount Cannabis Seeds
Are you looking for some discount cannabis seeds?  At The Vault Cannabis Seeds Store we stock an enviable range of over 3000 cannabis seeds from the worlds leading cannabis seedbanks but just because they are the best cannabis seeds, that doesn't mean they are the most expensive.  We have noticed that there seems to be a lot of Discount Cannabis Seeds shops popping up recently but their prices are still more expensive than ours!  You just #CantFaultTheVault
You can search for cheap cannabis seeds at The Vault Cannabis Seeds Store by simply going to any category and using the filter to sort the price from the cheapest to the most expensive.
Here is a link already set up for you to easily browse our discount cannabis seeds in the feminized section and our our discount cannabis seeds in the autoflowering section sorted with the cheapest cannabis seeds first.
Here are 2 examples of some of the cheapest feminised discount cannabis seeds currently available at The Vault Cannabis Seeds Store, the cheapest one currently is one of the new strains from Seedsman Seeds: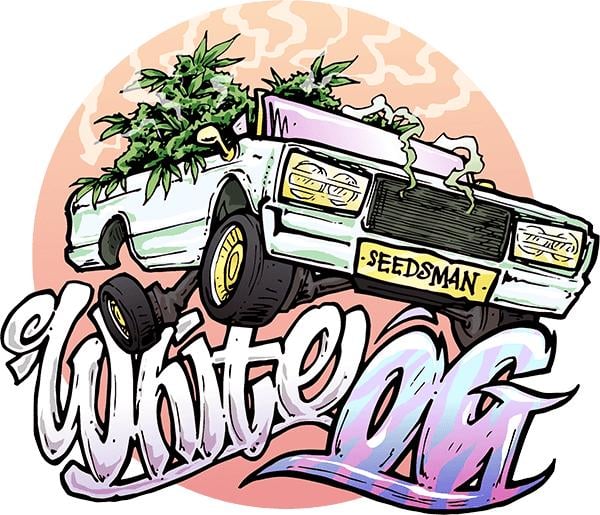 The White OG is a fusion of two superior OG Kush phenotypes.
The White is an elite clone of OG Raskal that is especially rare and the Rolex OG is an Amsterdam Cannabis Cup-winning strain. Together they deliver a Kush bomb with incredible resin production.
It is an 80% indica plant with prodigious yields. This plant can grow to a height of 250 – 300 cm. when grown outdoors in the sun although plants grown indoors will not be as big due to pot-size restrictions.
The indoor flowering time is 60 – 65 days with yields of around 500 gr/m2. Outdoors each plant will provide about 700 gr. of dried bud with harvest time occurring either at the very end of September or in the first week of October in the northern hemisphere. The buds are absolutely rock-hard and packed to the gills with resin.
The smell and flavour of this strain is very intense with great complexity displaying pepper, lemon oil and a pure OG Kush taste which emphasises diesel. THC production is high with low CBD. The overall effect is particularly intense and affects the body and mind. It has analgesic effects which may well be medicinally useful. Experience great US Kush genetics and see what the fuss is about yourself!
Another Discount Cannabis Seed that comes in very cheap from a well known breeder is the legendary Special Kush #1 Feminised: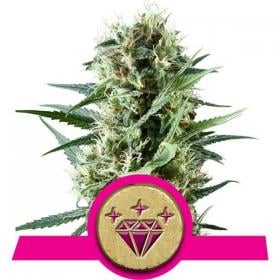 Royal Queen Seeds have decided to bring the Kush strain into modern times with their Special Kush #1 Feminised seeds.
As Special Kush likes to grow wild in the mountains of Afghanistan meaning that it will take up as much space as it can, and so, if grown indoors, care needs to be taken that it doesn't overgrow. If left and given the right sunny conditions it can grow to an impressive over 3 metres tall and produce an outdoor yield of over 150 per plant.
Indoors it will produce a yield of roughly 425-475 gr m2 under a 600 W light with a flowering time of 7-8 weeks. The strains genetic make up is a Kush and Afghan cross, resulting in an even Sativa and Indica split meaning that the best of both plants are apparent, as well as this it has a high THC content.
If you are looking for an auto choice for your discount cannabis seeds then here are 2 from the autoflowering range we highly recommend as well:
We will be back next time for a look at some discounted autoflowering cannabis seeds but in the meantime why not use discount code VAULT15 for a whopping 15% in the cart which we think makes The Vault Cannabis Seeds Store the number one shop online for discount cannabis seeds.
Newsletter Sign Up
Make sure you never miss another Vault promo – sign up for our newsletter at http://goo.gl/Bt2Ba2
Remember: It is illegal to germinate cannabis seeds in many countries and some remote, less enlightened planets outside the core systems.  It is our duty to inform you of this fact and to urge you to obey all of your local laws to the letter.  The Vault only ever sells or sends out seeds for souvenir, collection or novelty purposes.