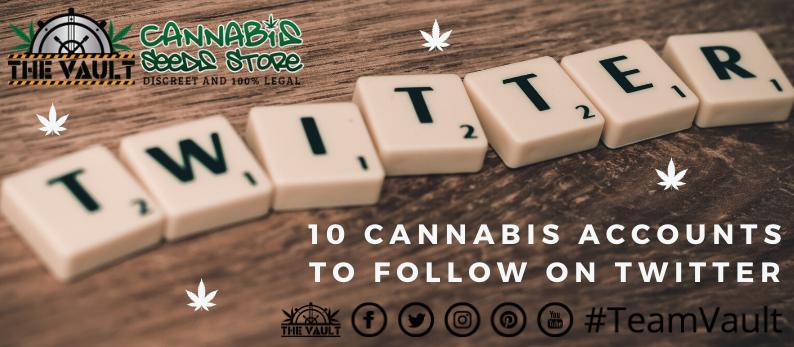 Twitter is one of the older kids on the Social Media sphere, in internet terms anyway. Before we get onto our list of 10 cannabis accounts to follow on Twitter here are some stats about the platform that will leave you reaching for a calming joint!
500 million tweets are sent daily
The most popular emoji in 2018 was the laugh-cry emoji
326 million people use Twitter every month
80% of Twitter users aren't American
80% of Twitter users are affluent milennials
Twitter is the no1 platform for Government leaders
So let's jump in and take a look at some of the accounts you should follow. Some of the big names are on there like High Life and Leafly, but we'll look at some of the lesser known but high quality accounts for you to follow.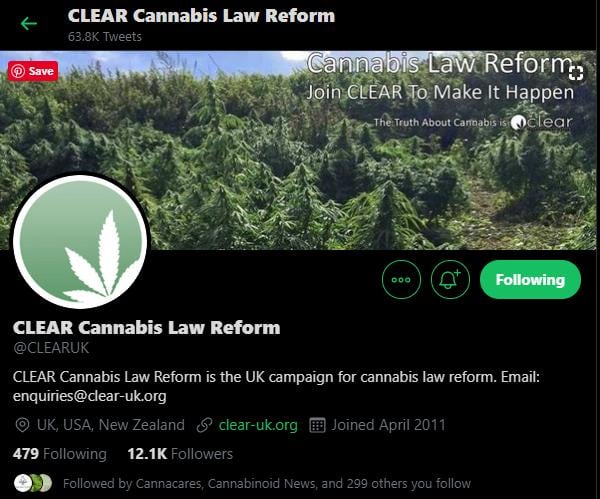 Clear Cannabis Law Reform is exactly what it says it is. It's so important that we have champions across the globe to help strive for change, especially here in the UK where we still have a very long way to go. Make sure you drop them a follow!
2 – Visions from The Ville Podcast Twitter Page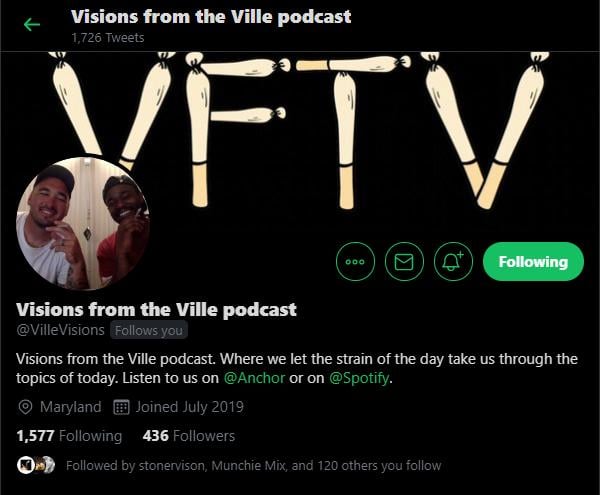 These guys were brought to our attention when we put a note out saying we were writing this blog. Given that Cannabis Seeds is our thing, we feel this account is well worth a follow. You will find links to the guys discussing the strains like Bubble Gum and Jack Herer. Who knows, they might pick up some seeds from The Vault soon and do some insights on that!
3 – Emerald Zoo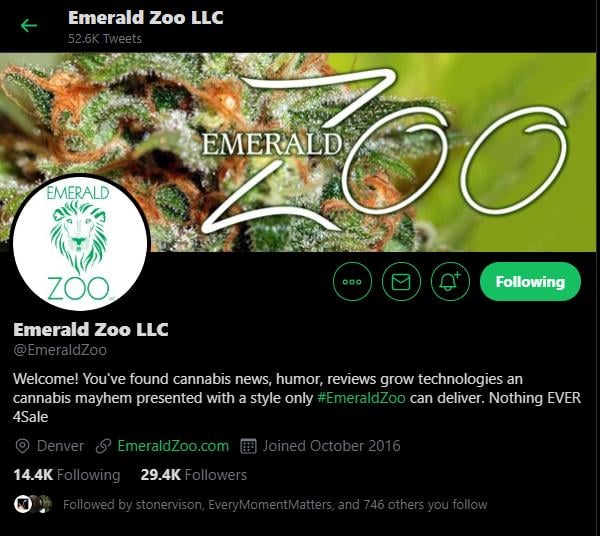 Emerald Zoo were brought to our attention by @christine_dantz . Their twitter account is wide and varied and goes from all things humour to grow review technologies. They're based in Denver, over the Pond and have some wonderful content that all Cannabis Twitter users should follow.
4 – CannaWorldSite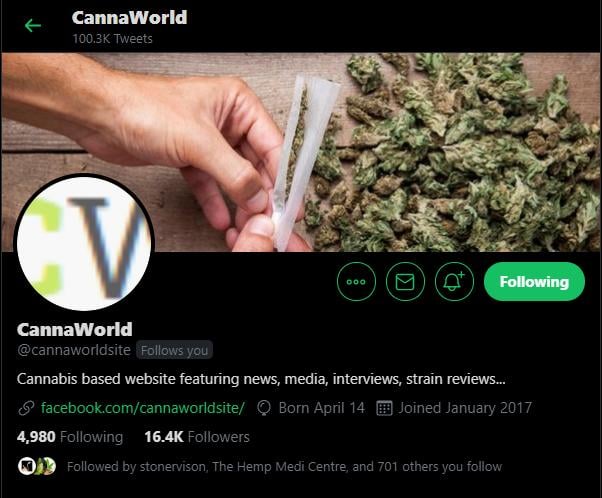 CannaWorld have been known to us for some time. They have superb, high quality, Cannabis content. You can also find them over on Facebook too. We like how they share the content of the every day Cannabis user as well as the bigger accounts in the Canna World too. We'd definitely recommend dropping them a follow if you don't do so already.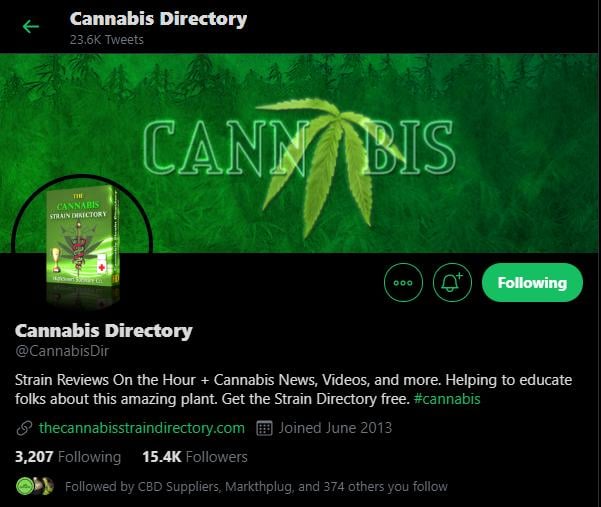 The Cannabis Directory is what it says it is. A Cannabis Directory and who doesn't need that given the vastness of marijuana. Check their page out for some brilliant content then head over to their website for the directory too. Let them know The Vault sent you.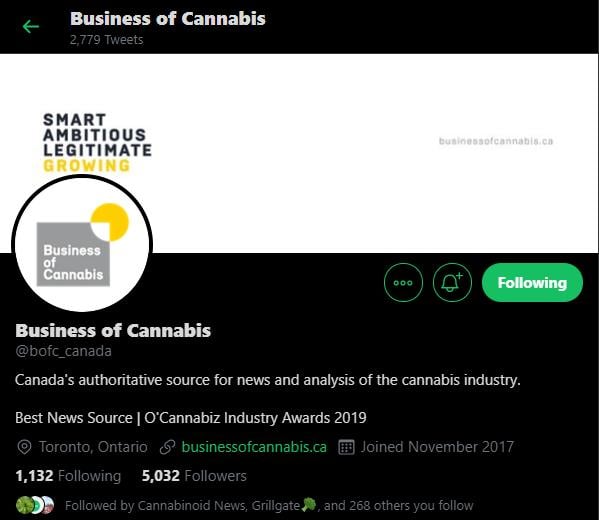 Cannabis is a serious business and that's why it's important to keep yourself updated on that side of things, especially if you are a 'Cannabiz' person. Admittedly this site is for Canadians, but those guys have been one of the leaders in legalisation, so it's very important to follow the good work they're doing over there as it could be an insight as to how the market develops for the rest of the Cannabis World.
7 – Warren Bobrow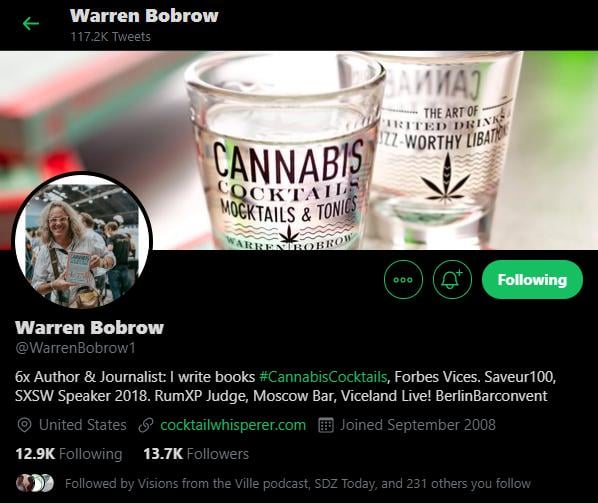 Thanks to the @GreenDadGuy for highlighting Warren Bobrow's account. We couldn't help but notice the hashtag #CannabisCocktails and that makes the staff at the Vault intrigued and happy. Make a connection to both Warren and Green Dad Guy now to extend you quality Twitter Cannabis content.
8 – Merry Jane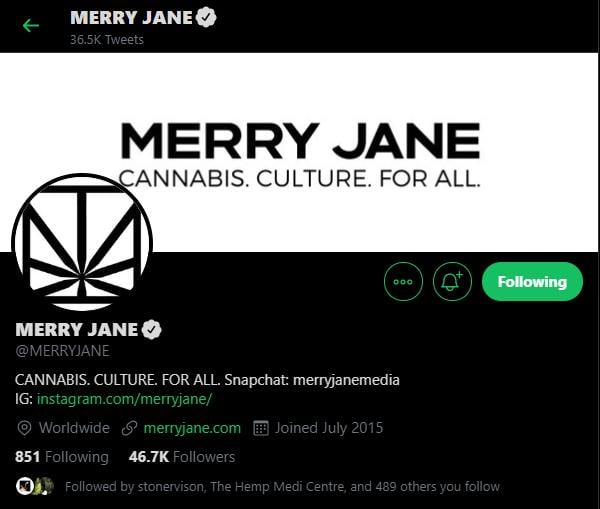 Merry Jane boasts a nice audience of over 46,000 followers, so you know the content is going to be good – and it is. As they state, it's Cannabis Culture for All. They share all the latest content and comment from professionals and others alike in the space! A must follow.
9 – Gary Cannabiz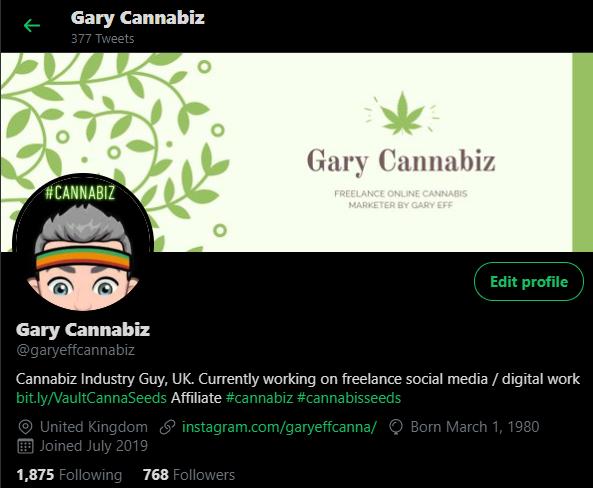 Gary is a Vault affiliate and general Cannabis marketer (plus good friend of The Vault). He shares a raft of Cannabis content, especially from the business and marketing side, plus he helps promote and share all promos from The Vault, so he's definitely worth a follow.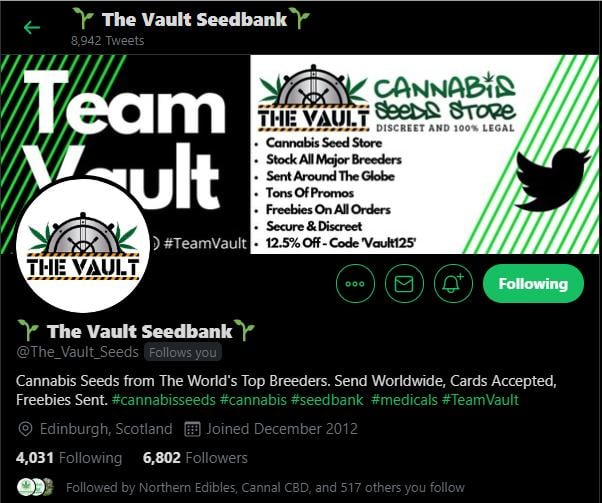 Naturally, we'd love you to follow The Vault on Twitter. We share memes, promos, news and more and love to keep connected to the Cannabis Community and our customers. Let us know you seen us via this blog and we will follow you back! #TeamVault #YouCantFaultTheVault
Summary
We've barely scratched the surface with this list, but you can see how great the content and accounts on here that you should follow. Twitter is where the conversation happens and if you're a Cannabis lover, you will always find something or someone you're interested in following.
Discount Code
We will be back next time for a look at some discounted autoflowering cannabis seeds but in the meantime why not use discount code VAULT15 for a whopping 15% in the cart which we think makes The Vault Cannabis Seeds Store the number one shop online for discount cannabis seeds.
Newsletter Sign Up
Make sure you never miss another Vault promo – sign up for our newsletter at http://goo.gl/Bt2Ba2
Remember: It's illegal to germinate cannabis seeds in many countries. It is our duty to inform you of this important fact and to urge you to obey all of your local laws. The Vault only ever sells or sends out seeds for souvenir, collection or novelty purposes. All of our content is provided for educational purposes only.