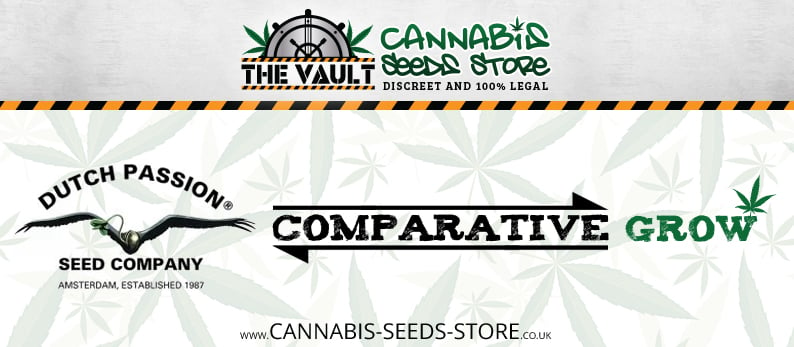 Comparative Grow – Dutch Passion | The Vault
The Vault Cannabis Seeds Store is back for another comparative grow this time in partnership with Dutch Passion, we know it's been a while since we done a comparative so Dutch Passion have very kindly offered to do a 2 in 1 and will have BOTH fems and autos available for you in this comparative grow!  Thanks Dutch Passion, you rock!
The purpose of the comparative grow is for our breeders to have an opportunity to put some of their strains to the test by getting you to grow them out using your own methods and report back on the results.
In order to enter the comparative grow you must follow all the instructions and agree to post pictures and comments about your grow to the relevant forum.  In return you will get free seeds, free shipping and a free Vault T Shirt!
How to enter the Comparative Grow
Make sure to specify your forum name, your username, and your preference Fems or Autos in the Comments section at the end of the checkout, for example: "George – The Vault, GrassCity, Fems".   Failure to provide the correct information may mean you miss out so make sure you do this properly.  Then simply choose the payment option: "Cash or Money Order Payment" to complete your entry.
Please feel free to use this opportunity to take advantage of the FREE delivery with this promotion, to add more seeds to your basket before checking out. If you do not enter your Username you cannot be entered for the Comparative Grow.
Please Note: This Comparative Grow is only open to genuine, active forum members. Only members with profiles older than 2 months, with 50+ likes and with more than 100 comments/messages will be eligible to enter.
Additionally, participants will not be considered unless they have completed at least one decent quality grow diary
To participate in the Comparative Grow you MUST post pictures and comments to the Comparative threads located at Grasscity or Roll It Up – failure to do so will rule you out of any future Comparative Grows.
Update 13/01/20 Percys Grow room has now been included in this comparative so check it out here
Delivery information for free Comparative Grow packages
For this Comparative Grow we will not be sending out our free packages using tracked delivery (this helps us to keep costs down so we can continue to offer such kick-ass free giveaways to the community!), meaning these free seeds and shirts will not come with our usual guaranteed delivery.
This only applies to the free seeds associated with this Comparative Grow: All normal orders with The Vault are still tracked and guaranteed!
Your buds here at The Vault hope you have loads of fun with this Comparative Grow – remember to share the love with all your buds.
To join in the fun and enter this Comparative Grow, simply visit this page: Enter and chose your T SHIRT, choose your t-shirt size, add to your basket and checkout using the option "cash / money order" unless of course you are adding additional seeds then please checkout and pay for the additional as usual, remembering to provide the requested information in the comments box –specify your forum name, your username, and your preference Fems or Autos .
Please remember it is a busy time for the postal services so depending on your location it could take a bit longer than usual to reach you.
Hold on – does this mean free seeds?
Eligible entrants will receive free Dutch Passion cannabis seeds from The Vault, along with an awesome free Vault t-shirt, so they can participate in the Comparative Grow in style!
Let's have a quick look at the amazing strains at the centre of this Feminised Comparative Grow…
Passion Fruit Feminised from Dutch Passion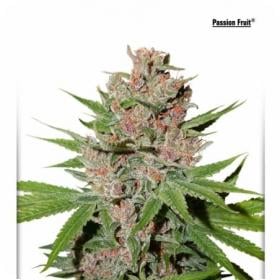 This strain is definitely one of the sweetest, fruitiest strains on the market. It is a combination of Sweet Pink Grapefruit and Orange Bud, so it's not hard to imagine how delicious it is.
This strain is usually suited to slightly warmer regions when grown outside such as central and southern Europe. It has an extremely high THC production which usually sits at around 20% with a low CBD level of 0.5%.
This means that this strain has a serious kick to it and, of course, a strong and mouth-watering smell and flavour of passion fruit.  Passion Fruit is a feminised strain, which means that it will only grow into female plants.
Auto Cinderella Jack from Dutch Passion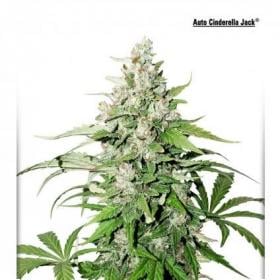 Auto Cinderella Jack is a new hyper potent strain which was born from Cinderella 99 and Jack Herer.
It is an extremely high yielding strain with a powerful kick to it. This is primarily due to its super high THC production. This strain has been played around with and put through a rigorous breeding programme to be the best that it can possibly be. It produces buds covered in resin with a THC content of around 20%.
Any strains that produced anything less were discarded during the breeding process.
This strain takes 10 – 11 weeks to flower and can be grown indoors or outdoors.
#TEAMVAULT
Why not head on over to The Vault Cannabis Seeds Store now and pick up some Cannabis Seeds now, whilst taking advantage of the discount code VAULT15 for a whopping 15% discount off your order of Marijuana Seeds.
Newsletter Sign Up
Make sure you never miss another Vault promo – sign up for our newsletter at http://goo.gl/Bt2Ba2
Remember: It's illegal to germinate cannabis seeds in many countries.  It is our duty to inform you of this important fact and to urge you to obey all of your local laws.