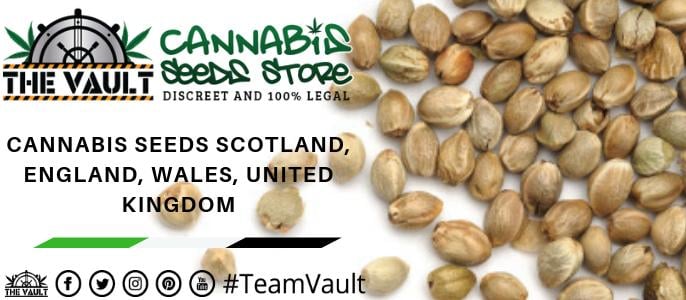 Cannabis Seeds are legal to buy, sell and send within all of the UK.  That means you can get your cannabis seeds delivered right to your front door in Scotland, England, Wales, and Northern Ireland from The Vault Cannabis Seeds Store without any worry over the legality.  We even provide a fully guaranteed service so even in the highly unlikely event that Royal Mail lose your order, we will resend it, for FREE!  We have got you covered #TEAMVAULT
Currently it is illegal to germinate Cannabis Seeds in the UK so please ensure you respect the law!  We think its only a matter of time though before the UK cannabis seeds legislation laws change and we hope our society catches up on the other countries around the world where its already legal to grow cannabis seeds.
Why should you buy your Cannabis Seeds from The Vault?
Well, we have the best "Choose your own" freebies system, we accept credit card payments for your cannabis seeds through our secure online website at The Vault, as well as bank transfer, cheque, cash, and Bitcoin.  We have a super secure, worldwide delivery system with guaranteed delivery.  We also have some of the best customers in the world which is reflected in our awesome reviews from within the cannabis seeds community!
Our prices are super competitive and all orders get free premium cannabis seeds with every order, as well as plenty of bonus on purchase promos the more you spend the more you get but we are confident that when you order with The Vault, you will be more than happy with your freebies, speed and ease of service and delivery!
We also love to give back and we run the largest and most frequent cannabis seed giveaways, competitions, and promotions, check out the latest cannabis seeds offers and deals on our social pages or at The Vaults Offers Page.
Our customer support team is fanatical about looking after our customers, hit them up on our many social pages, on the larger cannabis seed forums, direct at [email protected] or on the live help on our website.  Fire us a question and we will be happy to help.
Newsletter Sign Up
Make sure you never miss another Vault promo – sign up for our newsletter at http://goo.gl/Bt2Ba2

Remember: It is illegal to germinate cannabis seeds in many countries and some remote, less enlightened planets outside the core systems.  It is our duty to inform you of this fact and to urge you to obey all of your local laws to the letter.  The Vault only ever sells or sends out cannabis seeds for souvenir, collection or novelty purposes.