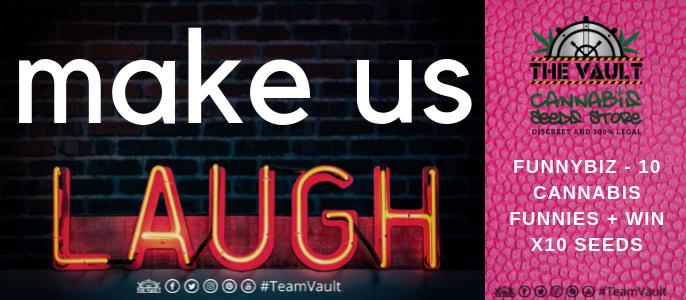 It's a funny thing Cannabis. Funny in many different ways, but one way is, that it can make you laugh. In fact, you can easily expect to get a good dose of the giggles when you use it. If this has happened to you before you'll know it can be about the daftest of things and you can laugh until it hurts.
To help you get the giggles for the next time, check out this collection of 10 Funny Cannabis things from the Internet.
Look out for our promo at the end of this post where you can win x10 Good Shit Feminised Cannabis Seeds from the ever generous Phoenix Cannabis Seeds for your funniest Cannabis Content / Post / Meme / Story.
Whoever makes us laugh the most – wins. Simples!
1 – Nurses Get High After Grandad Brings In Cannabis-Laced Cake to Say Thank You – https://www.mirror.co.uk/news/uk-news/nurses-off-faces-after-grandad-17476935
According to the story, Police were called to the hospital because staff felt relaxed. Maybe they should take it more often then. The cake, was supplied to the nurses by an old man who'd taken it from his grandsons 18th Birthday Party surprise. Not a bad present to be given, but I might freak out if I didn't know what was happening to me. I see the story calls it 'space-cake' – I didn't know it was still called this! I think edibles is the best way to explain it these days, is it not?
2 – Dairy Queen Worker Says She Was Sacked After Making Marijuana Themed Cake Due to Manager Mistake – https://www.independent.co.uk/news/world/americas/dairy-queen-marijuana-cake-moana-cake-mistake-georgia-a9003431.html
Ok, this story was funny as first, until the employee was sacked. It all started innocently when a Mum asked for a themed birthday cake for Disney Character 'Moana'. The request was misheard by staff and the employee produced this: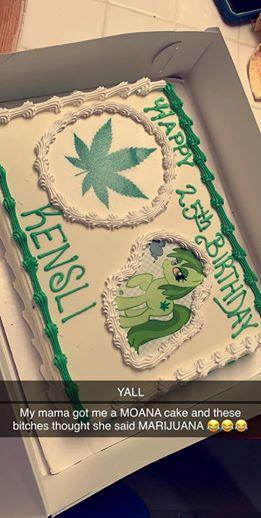 An innocent enough mistake you might think, but the unfortunate employee was dismissed. Pretty harsh we think!
3 – Parents & Kids Smoke Weed – https://www.youtube.com/watch?v=vWW_HsA-d-w
This is funny and educational. The guys at Strange Buds put this cool video together of parents getting stoned with their kids. They have some great conversations and could be a good idea to show any of your own friends and family to help break down those barriers. More of these please!
4 – Cheech & Chong – The Best Bits – https://www.youtube.com/watch?v=DzWz3En07og
This is considered one of the fundamental Cannabis Movies out there – Cheech and Chong. If you grew up of a certain era, it would be your go-to film for Cannabis Comedy. They made a few movies but 'Up In Smoke' is one of the best! Help yourself to the best bits with the link in the title. Let us know your favourite stoner movie in the comments.
5 – Vault Memes – https://www.facebook.com/thevaultseedsstore/photos/a.163354933867217/1108933182642716/?type=3&theater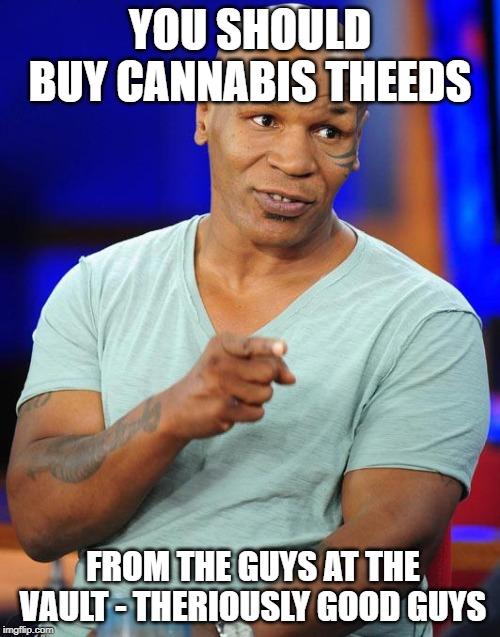 We don't take ourselves too seriously at The Vault. We like to make our own memes and if you follow us on Facebook (Or Twitter, Instagram & Pinterest for that matter), then you will find funny memes like the one we made above. Iron Mike is seen here dispensing some good advice! Go get those 'cannabis theeds' guys and gals! 😉
6 – Funny Cannabis Memes on Google

Google is the go to place for most things these days, and that includes memes. There are endless amounts that you can feast your eyes over on a Google search. Keep your eyes out for any new Vault ones that appear too!
7 – Cannabis Joke 1
Why did the cattle rancher give up his small Cannabis Farm?
The Steak Were Getting Too High!
8 – Cannabis Joke 2
When Was Cannabis First Used?
In the Stoned Age
9 – Cannabis Joke 3
I'm thinking of leaving the rat race and becoming a Cannabis Farmer.
It's a 'Kushy' job.
10 – The Vault on Pinterest – https://www.pinterest.co.uk/TheVaultSeeds/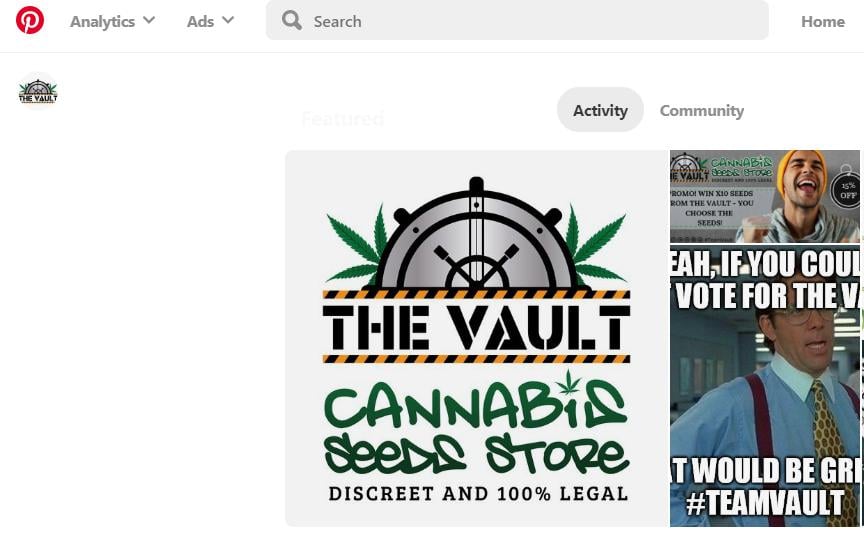 You may not use Pinterest a lot but you'll find lots of great Cannabis Content on there. We drop all of our funny posts and memes on there so it's definitely worth a follow. You could even have your own board full of funny memes and jokes.
What's your funniest Cannabis page / meme / joke or post. We'd love to see them. Please drop them in the comments section BELOW and we'll throw in 10 Free Good Shit Feminised Cannabis Seeds from Phoenix Cannabis Seeds for the winner, chosen by #TEAMVAULT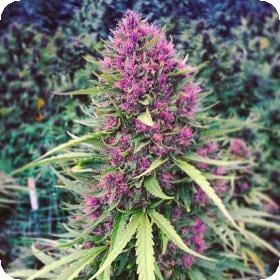 Winner will be announced on Fri 25th Oct!
Won by Mick, congrats buddy, I have emailed you via the email address you used to post with to arrange delivery of your prize 🙂
Newsletter Sign Up
Make sure you never miss another Vault promo – sign up for our newsletter at http://goo.gl/Bt2Ba2
Legal Disclaimer: The competition winners will have their prizes sent to them via recorded delivery.  If you win the competition but don't receive your prize, we cannot resend competition prizes, so you'll have to raise this with your local delivery service (In the UK, for example, this would be Royal Mail).
Remember: It is illegal to germinate cannabis seeds in many countries and some remote, less enlightened planets outside the core systems.  It is our duty to inform you of this fact and to urge you to obey all of your local laws to the letter.  The Vault only ever sells or sends out seeds for souvenir, collection or novelty purposes.