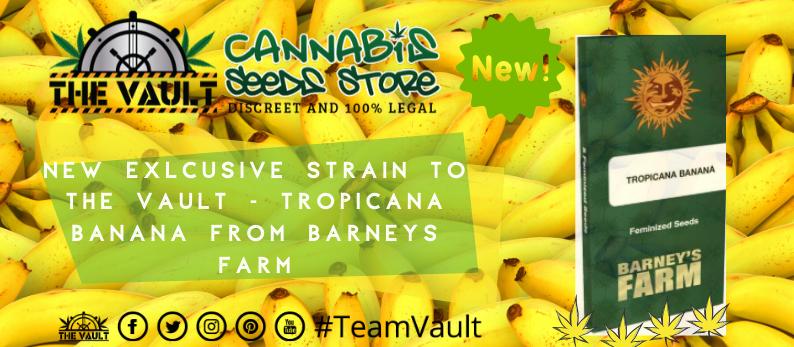 WE love Barneys Farm, YOU love Barneys Farm and now its been confirmed, Barneys Farm love us too!
The Vault Cannabis Seeds Store are super excited to announce that we will have the exclusive, early access, to a brand new strain called TROPICANNA BANANA from Barneys Farm.  You cant buy this anywhere right now, not even at Barneys Farm!
Not due to be released until around Jan 1st 2020 The Vault will be offering this a freebie to all customers that spend £50 or more at The Vault towards the end of Nov 2019, the seeds are currently in transit to us so we will get them live on the site just as soon as we can and of course we will publish an announcement when ready.  This is in addition to the free seed that Barneys Farm already give away to all Vault customers and is on top of all the other promotions currently live at The Vault, check them out on our cannabis seeds offers page.
So now you can be amongst the 1st to try out a new Barneys Farm strain even before Barneys starts to sell it!  This offer is not available anywhere else, only at The Vault.  How cool is that?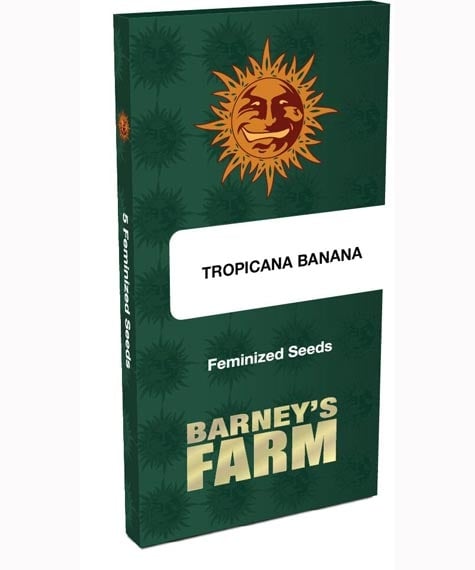 TROPICANNA BANANA ™
LET THIS POWERFUL BANANA TAKE YOU ON A TOTALLY TROPICAL TRIP INTO EUPHORIA
Here is what Barneys Farm have to say about the new strain – Another totally tantalising addition to their Cali collection.
A mesmerising tropical cocktail of fresh and fruity flavours, uncompromising power and extraordinary yield potential. This remarkable hybrid is sweet, sticky, pumped up, highly potent and will leave growers gasping in awe at these high performing genetics.
Barney's Farm have tamed this Sativa Dominant hybrid (60% Sativa, 40% Indica) and garnished it with huge dollops of glistening, sweet tropical fruit scented trichomes.
A perfectly crafted marriage of Tropicanna (Girl Scout Cookies x Tangie) and a twist of Banana Kush infuses a calming Indica influence. Let her effervescent personality guide you into a world of euphoric fizz and mystery.
Tropicanna Banana is a highly vigorous plant, capable of delivering monster production when in the correct hands. Growing Indoors expect heights of up to 1.1m with yields of 700g / m2 (flowering in 65-70 days) outdoors yields of up to 2kg per plant are very achievable. THC levels of 22-25% ensure extraordinary therapeutic value and uplifting invigorating effects that will stay with you throughout the day.
TROPICANNA BANANA™ Cannabis Seeds Specifications
Feminised
Normal
Tropicanna x Banana Kush
up to 2000
65 – 70
2nd-3rd week
Medium
60%
Medium
Fruity, Banana, Tropical
4
4
Hot & Temperate
Indoor/outdoor
Happy, Uplifted, Relaxed
700 gr/m²
October
110cm
40%
Mostly Sativa
Yes
Earthy, Pungent
5
4
2
Let us know your thoughts about the new strain Tropicanna Banana and your experience with Barneys Farm in the comments section below and 1 winner will be selected at random to win 10 x Tropicanna Banana.  Winner will be announced on the 27th of November.
Won by Jimmy De Weed – Congrats buddy, I have sent you an email to the email address you used to comment with to arrange delivery of your prize!
Why not head on over to The Vault Cannabis Seeds Store now and pick up some Barneys Farm Cannabis Seeds now, whilst taking advantage of the discount code BF15 for a whopping 15% discount off your order of Barneys Farm Cannabis Seeds.
Newsletter Sign Up
Make sure you never miss another Vault promo – sign up for our newsletter at http://goo.gl/Bt2Ba2
Legal Disclaimer: The competition winners will have their prizes sent to them via recorded delivery.  If you win the competition but don't receive your prize, we cannot resend competition prizes, so you'll have to raise this with your local delivery service (In the UK, for example, this would be Royal Mail).
Remember: It is illegal to germinate cannabis seeds in many countries and some remote, less enlightened planets outside the core systems.  It is our duty to inform you of this fact and to urge you to obey all of your local laws to the letter.  The Vault only ever sells or sends out seeds for souvenir, collection or novelty purposes.