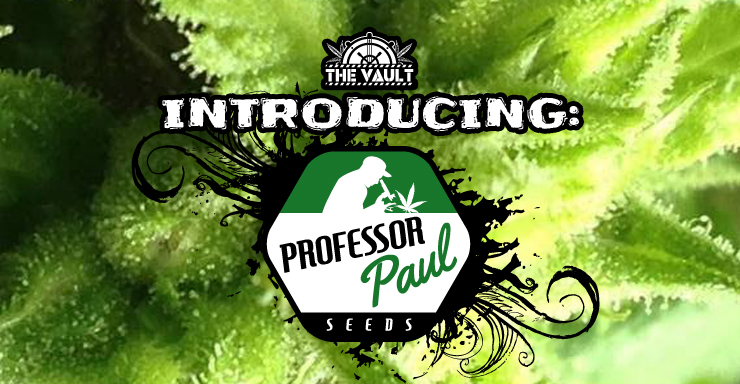 When it comes to cannabis seed strains, some breeders choose to focus upon the psychoactive effects of the plant, whilst others concentrate more on the medical benefits that nature's miracle herb can bring to those who need it most. Falling firmly on the side of the latter is a master breeder who The Vault is proud to add to its hand-picked roster of respected brands…
Professor Paul Seeds: Now available at The Vault!
In the words of the good Professor himself:
'We don't grow/breed cannabis for you to get high: These are medical strains';
The above quote sums up the ethos behind each of this experienced breeder's creations, many of which are the result of years of experimentation, which often involve some incredibly complex crosses and breeding procedures.
All of the strains on offer from Professor Paul Seeds pack massive medical potential, with each variety being designed to target specific medical needs with a high degree of efficacy.
Nonetheless, despite the amazing medical potential contained within each seed, the fact that the genetics are of such supreme quality means that these strains are some of the most beautiful, delicious-tasting and smelling medicines on the planet!
Who is Professor Paul?
The legend of Professor Paul began in 1988, when a young Paul would begin his training with a master gardener and teacher. In the years since, Paul has expanded his knowledge of holistic remedies and organic food production, studying the art, science and technology of horticulture at a respected college in Washington State.
By helping human beings – and pets – to heal naturally, using a combination of 100% organic, probiotic supplements and specially bred cannabis strains, Professor Paul has made a name for himself as an ethical, knowledgeable and kind-hearted individual within the medical marijuana world.
What kind of strains does Professor Paul Seeds offer?
By breeding specially-selected strains with certain cannabinoid profiles, it is possible to target specific diseases and conditions. Professor Paul Seeds specialises in strains that target:
Mental health
Pain management
Auto immune disease
The Professor and his team have an overarching goal: To help as many individuals as possible to alleviate their suffering. And in seeking to achieve this goal, the challenge for Professor Paul Seeds is to find what actually works and make it available to the masses.
All the strains that go into Professor Paul Seeds' lab have been sourced with love and care, with intentions to work for the highest and greatest good of all whom consume.
Check out Professor Paul Seeds' strains at The Vault today – tell us what you think and make sure to spread the word to your buddies about this outstanding medical breeder.
Remember: It's illegal to germinate cannabis seeds in many countries. It is our duty to inform you of this important fact and to urge you to obey all of your local laws. The Vault only ever sells or sends out seeds for souvenir, collection or novelty purposes. All of our content is provided for educational purposes only.