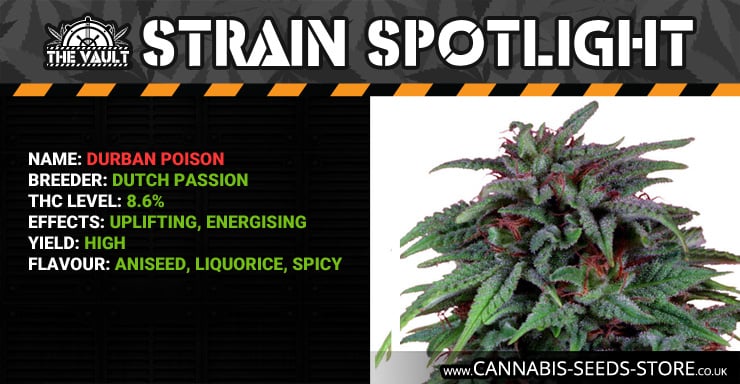 In our latest strain spotlight, we're going to home-in on one of the most popular 'Guerilla' strains on the market: Durban Poison.
Background
This exotic strain can trace its genetic origins to South Africa, but it was in Holland that it really came into its own, as it slowly, but surely became acclimatised to the cold, damp conditions of northern Europe, generation after generation, without the addition of any other genetics.
At some point, however, there is speculation that some Indica genetics managed to find their way into the strain, resulting in characteristics which make Durban Poison resemble an Indica at first, before developing into a long, slim, Sativa form.
Today, Durban Poison is revered as an incredibly versatile, robust and vigorous strain that can flourish both outdoors and in with little to no maintenance, making it one of the most iconic and beginner-friendly varieties on the planet.
Effects
Durban Poison hits the mind like the best Sativas out there, with an uplifting, energetic, feel-good high that packs a creative twist. Great for treating stress, depression and pain, the 8.6% THC level means that it is effective, but leaves one with a clear head, sense of motivation and a pleasantly energising buzz: A fantastic day-time medicine.
Flowering time and yield potential
A 9 week flowering time can generate massive yields, packed with oodles of glistening, heavy, rock-solid buds. Resistant to mould and pests, this strain is one of the hardiest varieties in the world today that has revolutionised the collecting scene.
Flavour
The taste of this strain is truly delicious: Spicy, with aniseed and liquorice notes, the strain gives off a pleasantly-numbing clove-like aftertaste and delivers a potent haze-like incense smell.
Would you like to add some Durban Poison Feminised to your collection?
If you like the sound of Durban Poison Feminised and want to pick up some seeds for your collection, we've got some great news for you…
Enter the code: DPF15 at the checkout and you'll get a huge 15% discount off Durban Poison Feminised at The Vault!
With this discount, an already great-value strain has become an even better deal for you!
Remember: It's illegal to germinate cannabis seeds in many countries. It is our duty to inform you of this important fact and to urge you to obey all of your local laws. The Vault only ever sells or sends out seeds for souvenir, collection or novelty purposes. All of our content is provided for educational purposes only.