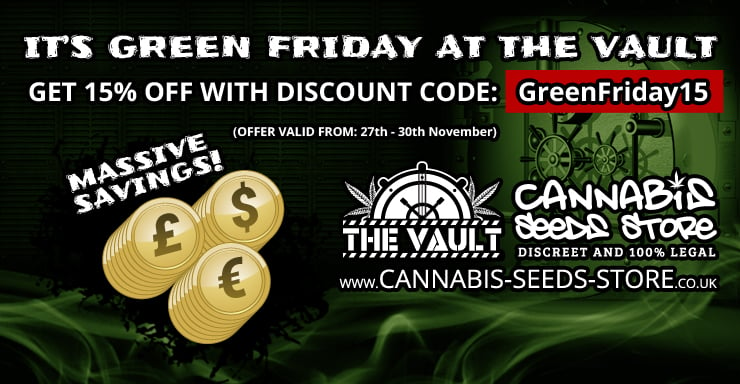 Whilst it's difficult to go anywhere these days without hearing about all the great savings to be made on Black Friday and 'Cyber Monday', anyone who keeps it real knows the only event worth adding to your calendar is Green Friday…#GreenFriday
Save big with The Vault this Green Friday
At The Vault, we always take care of our customers: From the free seeds which we send out with every order, to the incredible amount of promos and special offers that we regularly host, all the way through to the massive line-up of consistently great value seeds we which we offer, getting a sweet deal is just part of the package when you make The Vault your seed store of choice.
To celebrate the arrival of Green Friday, we're going to be making your Vault shopping experience even sweeter, with massive discounts to be had across the board…
Get 15% off!
Yup, your eyes are not playing tricks on you: The Vault is slashing prices by a whopping 15% on all orders placed between Friday the 24th of November all the way through to Monday the 27th of November when you enter the discount code: GreenFriday15 at the checkout.
If you've got seeds that you always wanted to add to your collection but have been holding off on while you wait for the best possible deal, or if you just happen to be planning a purchase anyway and would welcome the savings, Green Friday is the perfect time to get an extra special deal and save a whole bunch of money!
What is 'Green Friday'?
In case you didn't get the memo, we'll fill you in buddy…
Green Friday is the cannabis-world's equivalent to Black Friday – a time when great deals can be had on a whole manner of weed-centric products.

To celebrate this occasion, The Vault is running an amazing promo which will allow you to make massive savings on your seed purchases during the Green Friday Weekend

The more you spend, the more you'll save – so why don't you get a piece of the action?
Sounds great – but what's the catch?
The only problem (If you could actually call it a problem) with Green Friday is that with such great savings to be made and so many products to choose from at The Vault, you might have a hard time deciding which strains to add to your collection: After all, the more you spend, the more you'll save – and our selection is vast…
If you need help making your mind up on which strains suit you best, feel free to get in touch with us – we'll make sure to point you in the direction of the seed strains which will tick all of your boxes!
All our other special promotions and free seeds are still active so the more you spend the more you will get, check out our offers page to see the current promos and bag yourself a fistful of free stuff.
Spread the savings to your buds
Remember to tell all of your buddies about Green Friday at The Vault: After all, with such great deals to be had, it would be a shame if they'd miss out!
Make sure you never miss another Vault promo and sign up for our newsletter at http://eepurl.com/U2sFj
#TEAMVAULT
#BLACKFRIDAY
#GREENFRIDAY
#CYBERMONDAY
Remember: It's illegal to germinate cannabis seeds in many countries. It is our duty to inform you of this important fact and to urge you to obey all of your local laws. The Vault only ever sells or sends out seeds for souvenir, collection or novelty purposes. All of our content is provided for educational purposes only.