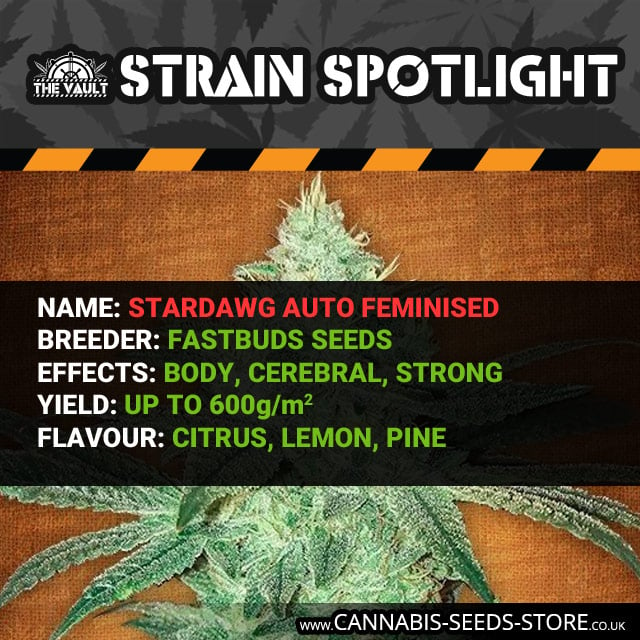 A glistening, super-resinous autoflowering behemoth from FastBuds seeds – Stardawg Autoflowering Feminised!
Background
Created by combining two mighty hybrids (Chemdawg 4 and Tres Dawg), Stardawg Autoflowering Feminised is a masterful addition to FastBuds Seeds' line-up of 5-star strains.
Effects
High levels of THC (up to 22%), combined with a 1% CBD level ensure that this strain hits fast – and hits hard, with a potent cerebral impact and an overwhelming full body stone, for a deeply relaxing, yet mentally stimulating experience.  Medicinally, this strain is packed with healing potential, with many possible applications for treating: Multiple sclerosis, herpes, AIDS, tumours, asthma, glaucoma, nausea, epilepsy, back pain, stress, migraines and much more!
Flowering time and yield potential
Thanks to its Indica/Sativa/Ruderalis genetics, this amazing strain can produce great results indoors or out, with a yield potential ranging from 400 – 600 g/m2.
Flavour
A combination of potent lemon/citrus and pine aromas flood the senses and deliver a mouth-wateringly delicious flavour.
Would you like to add some Stardawg Autoflowering Feminised seeds to your collection?
If you'd like to pick up some of these superb medical seeds, The Vault is giving away an amazing 15% discount off Stardawg Autoflowering Feminised, when you enter the code: SDG15 in the cart!
Or browse the huge online range of Weed Seeds at The Vault Cannabis Seeds Store!
Newsletter Sign Up
Make sure you never miss another Vault promo – sign up for our newsletter at http://goo.gl/Bt2Ba2
Remember: It's illegal to germinate cannabis seeds in many countries. It is our duty to inform you of this important fact and to urge you to obey all of your local laws. The Vault only ever sells or sends out seeds for souvenir, collection or novelty purposes. All of our content is provided for educational purposes only.