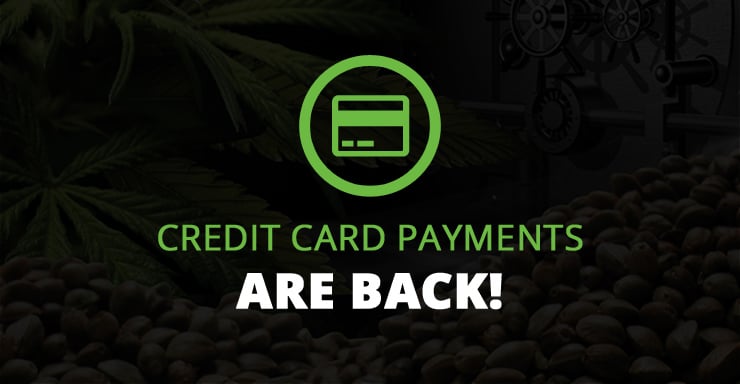 At The Vault, we are committed to providing all of our customers with the best possible customer service, security and choice – no matter where they might be located; to this end, we are excited to announce that we can now accept Credit Cards (once again) for most regions as a payment method!
What regions have returned?
The Vault can now accept credit card payments again for customers based in most countries, including:
USA
Australia / New Zealand
Canada
Turkey
In addition to this, we continue to be able to accept card payments for most of Europe.
Don't Forget:
Please check your order dispatched emails to see what it will say on your statement and if you are in any doubt just give us a call or drop us an email.
The Vault still offer the best stealth shipping options and free guaranteed shipping (where tracking is available)
Not shopped with us before?  Then feel free to use discount code FIRST10 in the cart for 10% off your first order!
Go place your order now at The Vault – www.cannabis-seeds-store.co.uk
Check out our latest offers and our unique 'choose your own freebie' system at https://www.cannabis-seeds-store.co.uk/latest-offers
What if credit card payments are not accepted in my region?
We have worked our socks off to enable full global coverage as much as possible – so if payments via credit card are still not possible in your region, please rest assured that we are working on getting this implemented as soon as possible – remember, The Vault has your back buddy!
If paying by card is not presented as an option when you are checking out then unfortunately we cannot accept card payments for your location but you can still pay by Bitcoin, Bank Transfer, Cash and Cheque.  Please see https://www.cannabis-seeds-store.co.uk/payment-options
We're here to help
If you are unsure about how this update may affect you, or have any questions at all, please drop us an email at: [email protected]
Make sure you never miss another Vault post – sign up for our newsletter