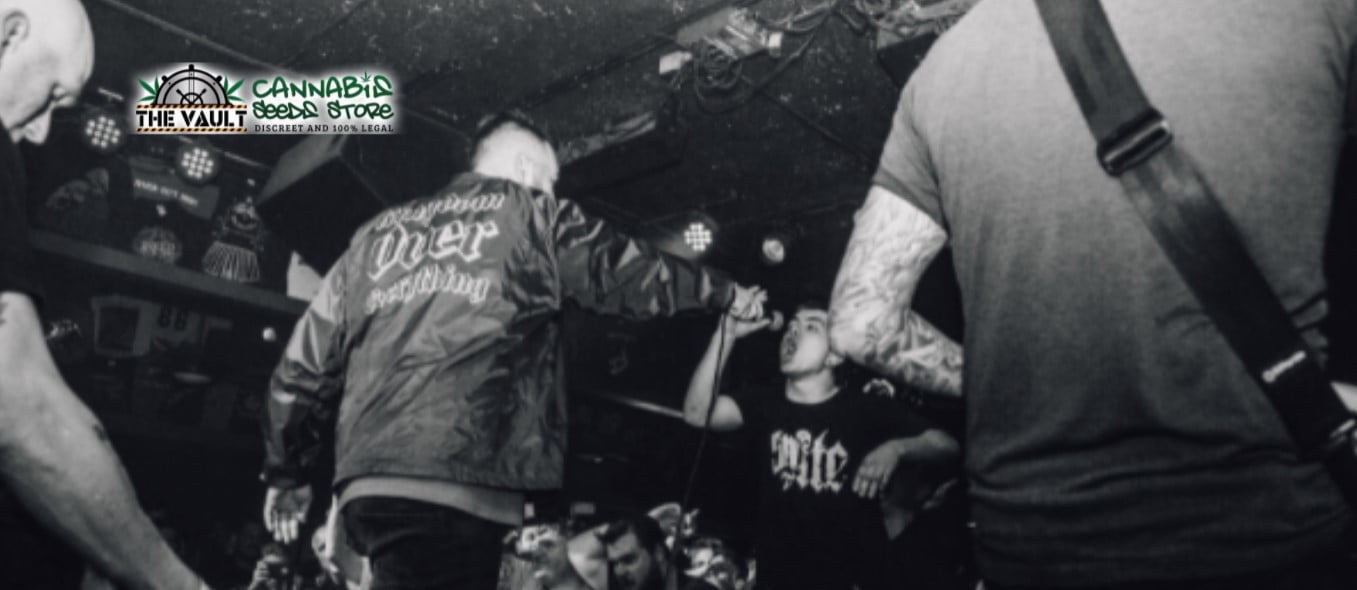 Most of the time weed is connected with very specific music genres, metal not necessarily being one of them. However, some of the most committed stoners I've ever met have been metalheads. Some of them even introduced me to some fantastic stoner metal bands. Some of these bands are literally cannabis-themed and some are just big fans but if you are a metal fan that loves weed these bands might just be for you. 
Cannabis Corpse
Let's kick things off with a cannabis-themed metal band from Richmond Virginia. I'm sure anyone who is a fan of metal will know that Cannabis Corpse is a parody of the famous band Cannibal Corpse. In fact, all of their song titles are also parodies but the songs are all original material. The band first came together in 1999 when Philip "Landphil" Hall and his brother Josh "HallHammer" Hall came up with the name. The original lineup changed when the guitarist John Gonzalez moved to Hawaii. They picked things back up in 2006 with Andy "Weedgrinder" Horn and the band were signed to Forcefield Records. They are probably one of the more famous cannabis-themed bands and are a lot of fun to listen to. I would definitely highly recommend them. 
Bongripper
Another one with a cannabis-themed name but slightly more recent than Cannabis Corpse. These guys came together in 2006 when they released "The Great Barrier Reefer". This album consisted of a single song that went on for 79 minutes. This is probably great if you're super high, so give it a go. The band continued to release their own albums over the next few years. Their music genre is described as instrumental sludge and they are now signed with The Great Barrier Records. The main thing I love about this band is their darkly funny and satirical which is right up my alley when it comes to music. They hate hippies, love inside jokes, parodies of drug culture and generally just an overwhelming hatred for everything. These are great for nihilistic metal head stoners. 
Electric Wizard
Now onto an English doom metal band that came into existence in 1993. Since they began as a band they have often been synonymous with weed. They actually have an album called Dopethrone which was released in December of the year 2000. It was the band's third studio album. The point of this album was to respond to their own addictions at the time. They wanted to make the most messed up and disgusting album possible to mimic the drug issues. According to the band, they would camp out in the studio, cram as many drugs as possible into their bodies, and then start recording. 
Weedeater
This band is another that is considered to be stoner doom sludge metal and they formed in 1998. It is also known as weed metal and the sound was inspired by the previous project of the band's vocalist Dave "Dixie" Collins. Their debut album came out in 2001 and the second came out in 2003 as the band started picking up speed. After the second album, the band moved from Berserker Records to Southern Lord Records. This was followed by their third album and going on stage as the support band for mega-group Down. Following this amazing boon for the group, they played at the 2010 Hellfest, one of the biggest metal festivals in the world. After a few more albums there was a bit of a setback when the singer Dave Collins shot himself in the foot. Unfortunately, I mean this literally rather than figuratively. He was cleaning his shotgun and blasted off one of his toes which set the band back a little. They later went on a tour that would be known as the "Nine Toe" tour. In recent years the band has changed labels again and is with the French record label Season of Mist. The last album they released was in 2015 but the band are still going despite no tours since 2019. 
Down
Since we mentioned them in the previous section we may as well move right onto Down, probably one of the most famous stoner metal bands. The band is from New Orleans and got together in 1991. The members were close friends and all enjoyed bands like Black Sabbath and Saint Vitus. When they got together they had a pretty adorable way of trying to get the band going. Without letting anyone know they were the band they would ask metal fans if they had heard of Down and would give out their tapes. Well, it worked and when the band played a small show a record executive attended and signed them to Elektra Records. Their first album came out in 1995 and NOLA was a massive hit right off the bat. They went on a 13 date tour and then the band took their first hiatus. This hiatus ended in 2001 and they came back with their next album. This one wasn't quite as popular as NOLA but it still got them on stage at Ozzfest. After this, they went into yet another hiatus until 2006. Through that year they wrote their next album and they were back up to mostly good reviews. Then in the summer of 2009, they started a US tour then in 2010 they released a live album Diary of a Mad Band which is a reference to Ozzy Osborne. To this day they are still moving ahead, still releasing albums and they have tour dates coming up for 2022. One thing I love about this band is that when you hear their songs you know who it is right away. Their love of weed definitely comes through in their work and if you want to get stoned and listen to metal this is probably the best band you could pick. 
There are so many more amazing stoner metal bands that I didn't have time to get to, but I will come back at some point soon with a part 2. 
Newsletter Sign Up
Make sure you never miss another Vault promo – sign up for our newsletter at https://www.cannabis-seeds-store.co.uk/the-vault-newsletter
Remember: It is illegal to germinate cannabis seeds in many countries including the UK.  It is our duty to inform you of this fact and to urge you to obey all of your local laws to the letter.  The Vault only ever sells or sends out seeds for souvenir, collection or novelty purposes.
Photo by Joel Muniz on Unsplash