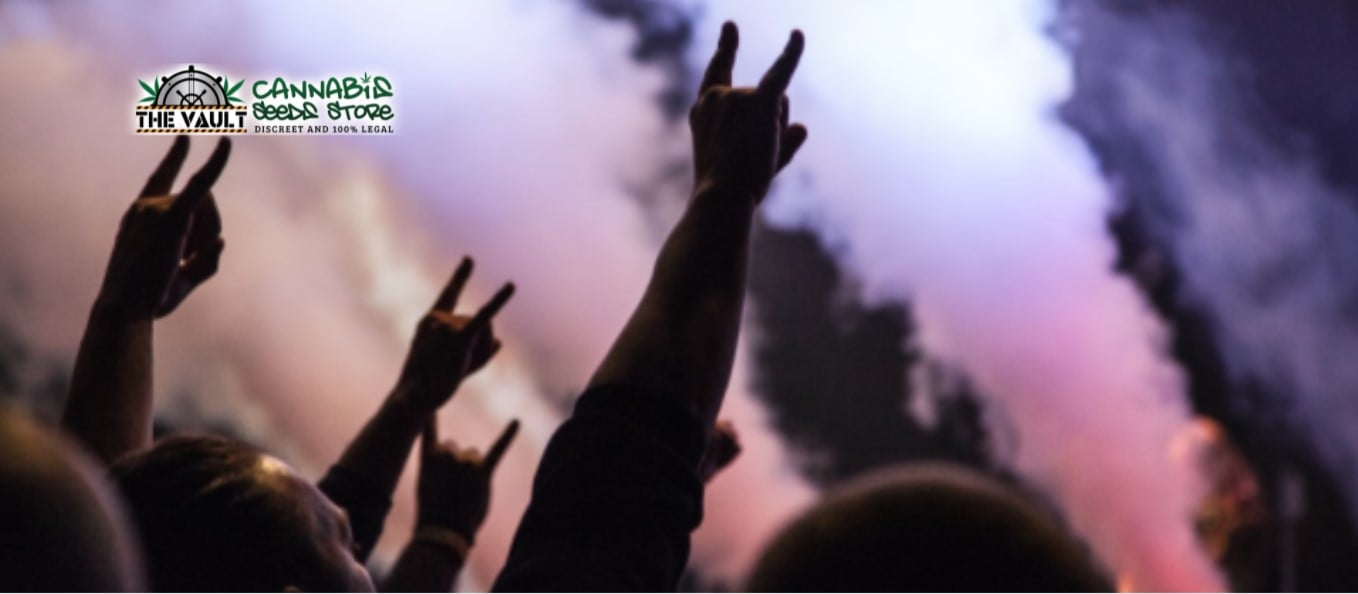 We are back with the next part of Greatest Stoner Metal Bands. That's right, there are so many more. We covered many of the most mainstream ones last time, so let's have a look at a few you may not have heard of before. Stoner metal is a massive part of the metal genre and leaks into so many different factions it's unreal. However, these are all bands who have cannabis as the main part of their brand, the ones that are super committed to the industry and the lifestyle. All of these bands are great for listening to stoned or sober and would be a fun high gig. So for all my smoker metalheads out there, here is part two of Greatest Stoner Metal Bands. 
Greenleaf 
Let's kick things off with the fantastic Swedish band Greenleaf. These boys have been around since the late 90s early 2000s and are still happily going to this day. They bring a fantastic stoner sludge energy that is perfect sitting back with a joint or throwing yourself around a crowd. These guys quickly became one of the most popular niche stoner bands with their amazingly hypnotic and strangely swirly soundscapes. They definitely aren't your average sludge stoner metal band. These guys aren't just hardcore metal sounds they bring together a combination of brain twirling weirdness and an incredible vocalist to really massage a stoned brain with their music. If you want something a bit spooky, weird and almost witchy then Greenleaf are the perfect stoner band for you. They started as just a side project for the guitarist Tommi Holappa, bassist Bengt Bäcke, and drummer Daniel Liden. However, the members changed multiple times over the years with Tommi currently being the last remaining original member. Personally, these guys are one of my favourites to just lie back and enjoy while smoking, give them a listen. 
Belzebong
Next, let's move on to the Polish stoner metal band Belzebong. These guys are a little more recent than some of the bands I've covered and came into existence in 2008. Much like a number of amazing bands these guys never really show their faces and instead cover themselves with their hair and fog machines. Well, they use fog machines to obscure themselves with fog they don't literally cover themselves in fog machines. This gives them a slightly cheeky self-aware vibe that I enjoy. I've never been a fan of metal that takes itself too seriously. They are an instrumental band as far as recordings go and despite the fact that they did at one point have a vocalist there are no vocal recordings available. I actually love that they are an instrumental band because when you're stoned you can just get lost in their music or have it on in the background without overwhelming your brain. 
Telekinetic Yeti
We are back in the USA with this stoner metal duo known as Telekinetic Yeti. These boys are from Iowa and are even more recent having come into existence in 2015. This band is pretty heavy but also has a fun creative side that breaks through in the guitar parts. They aren't just the average stoner sludge metal. This is not the first band that the duo Alex Baumann and Anthony Dreyer have been in. They were both in quite a few other bands before they came together to form Telekinetic Yeti. They brought their act together very quickly and immediately started playing shows. Their popularity grew just as quickly and soon the shows were being arranged at an incredible rate. The first album was released in 2017 and absolutely caught fire amongst metal stoners. They have continued to release music up until this year and it looks like they have no intention of stopping. Definitely a good listen if you want something a little trippy but still nice and heavy. 
Eyehategod
This entertainingly named band hails from Louisianna and was formed in 1988. Technically they are considered sludge metal but they have a stoner aspect to them. These guys are a bit more well known than some of the bands that we have looked at in this article. They are in fact considered to be one of the pioneering bands of sludge metal as well as one of the most popular bands to come out of the NOLA metal scene. The original name of the band was far more geared towards weed and general drug culture. The band started life as Snuffleupagus on Acid as originally they were meant to be sort of a joke band. However, after being signed to a label and increasing in popularity the band became a little more serious in their attitude towards the music. The music got heavier and the band began to perform alongside other big heavy metal bands. They have experienced a long and prosperous career, in fact, they are still very much performing and recording to this day. They released a new album this year called A History of Nomadic Behaviour. 
Kurokuma
Let's finish up with a band from Sheffield who actually has their own brand of weed. Musically this band is fantastic for anyone who likes to test their limits. They are extremely heavy but also have a beautifully hypnotic aspect to them. Their lyrics are extremely intense and the music is phenomenally written. These guys are massive in the UK underground metal scene with their unforgettable and brutal brand of music. Their strain is called KuroKush and was created in collaboration with Name Seeds. The breeders are based in Spain and due to the collaboration, Kurokuma is the first sludge metal band to have its own strain. The strain is a beautiful dark purple and black colouring to go with the Kuro aspect of the name, meaning black in Japanese. The strain is just as powerful as the band's music and was created by combining Black Venom and Bloodfire Lebanon. Both the band and the strain are definitely worth a try. 
Newsletter Sign Up
Make sure you never miss another Vault promo – sign up for our newsletter at https://www.cannabis-seeds-store.co.uk/the-vault-newsletter
Remember: It is illegal to germinate cannabis seeds in many countries including the UK.  It is our duty to inform you of this fact and to urge you to obey all of your local laws to the letter.  The Vault only ever sells or sends out seeds for souvenir, collection or novelty purposes.
Photo by Luuk Wouters on Unsplash