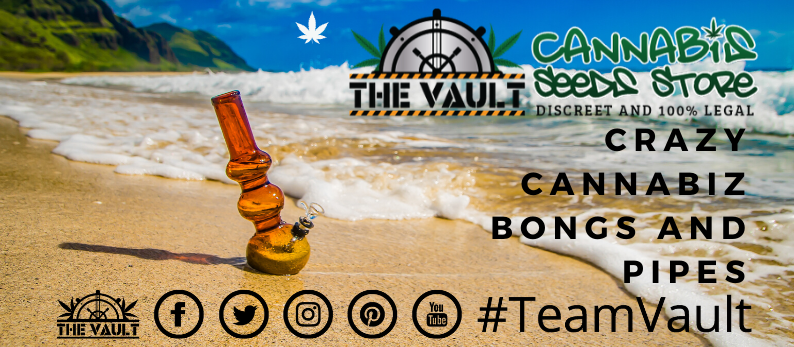 Cannabis Bongs & Pipes
This blog is a fun look at some of the crazier sides of products we use to consume our Cannabis including a look at some of the ways you can do it if you don't have a budget.
Some of these ways we don't condone, but when you see it, you'll recognise it!  As always we must stress that we only provide this information for educational or novelty purposes, always ensure that you follow all the laws relative to your location at all times!
The Bucket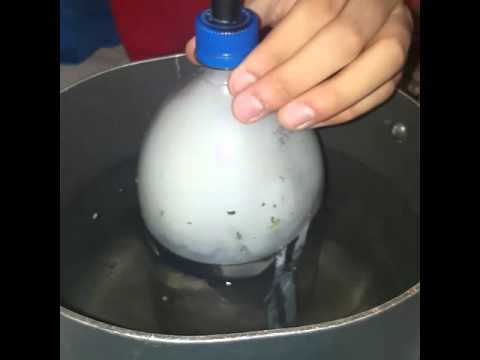 Back in the day, when you didn't have a pipe, papers or a proper bong, one of the ways would be to take a 'bucket' This involved cutting a plastic juice bottle in 2 ( say ⅔ down), then adding/amending or replacing the lid with say tinfoil to create a housing for your weed. Make sure you've pierced some holes in there with a pin and you're almost ready to go. The final step is where the bucket comes in. Simply fill it with water, pop the bottle in with said weed, light it and lift and before you know if you have a 2-litre plastic bottle full of weed smoke. Final step; remove the lid and inhale.
The Can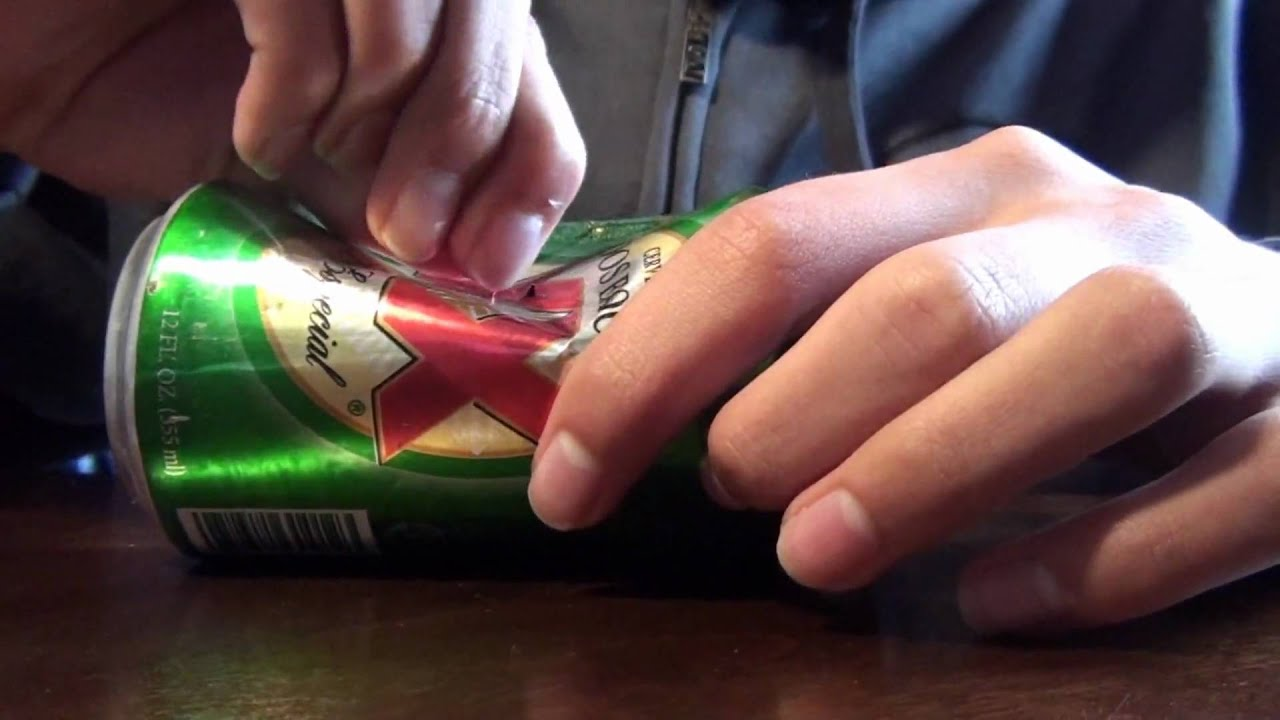 The good old can will get you out a situation in seconds. You've maybe forgotten your papers and have no pipe, but reach for the fridge and quickly drink a can of juice (or beer), then you've just taken the first step to this rudimentary pipe. All you need to do is dent the can in the centre to allow a housing then get yourself a pin and knock some holes in it. Try to make sure the side you dent lines up with the opening of the can and your good to go. Just add weed and light it up, suck it, and you're in business. We're clearly speaking to our Canadian and some American friends when doing this, because it's legal there (mostly). That said, the #TeamVault guys are too sophisticated for this now. Unless of course you look into a slightly more custom made version like this: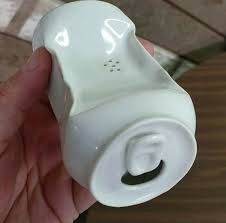 A banana
We just noticed the image recently on the world wide web, but it does make sense when you see it.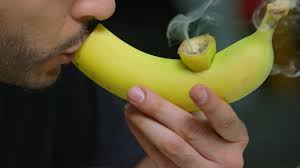 Simply cut the end off, hollow it out and make a nice hole for the smoke to flow through. See image. Ok, maybe this is a quick fix that could get messy but always worth trying something once we say
The Teenage Mutant Ninja Turtle Bong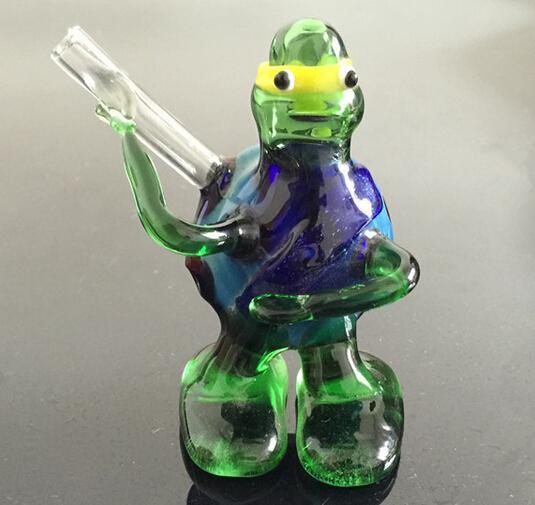 Who didn't love a bit of the Teenage Mutant Ninja Turtles back in the day? Well now you can live out your dreams (possibly), and enjoy a nice smoke courtesy of the hand made pipe / bong. No instructions needed – just smoke away.
Super Mario Bong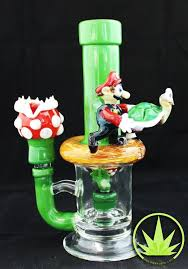 If you want to get high and do so courtesy of one of the most famous plumbers on earth then check out this Super Mario Bong. At least if you have a leak it will be fixed immediately.
Lego Bong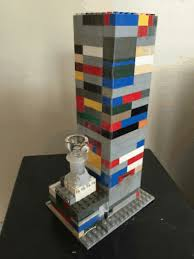 Back to something a little bit more homemade! We have a bong made of lego here with pipe instaled. Unfortunately, we can't see the inner workings so we're going to have to guess it smokes well but ten out of ten for thinking outside the (lego) box.
Apple Bong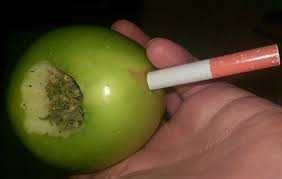 Earlier in the post we had the humble banana. How about an apple. Just gouge out (we love that word, 'gouge'), a ¼ circular hole in the apple, then apply a utensil or instrument such as the inside of a pen and line it up with the hole in the centre of the apple. Within minutes and for around £1 all in you have a super healthy apple bong. #tasty
Pringles Bong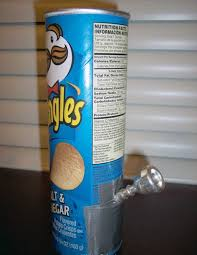 How's this for 2 in 1 bong luxury. Fetch yourself some pringles from the cupboard, empty the tin and keep hold of the pringles until AFTER you have your smoke (for obvious reasons). Attach a pipe or instrument of some form that breaches the tin near the bottom. Remove the plastic lid and make your own top. Give it a whirl, wait 5 minutes, then eat the content of the Pringles tin that you emptied out earlier. BINGO.
Lava Lamp Bongs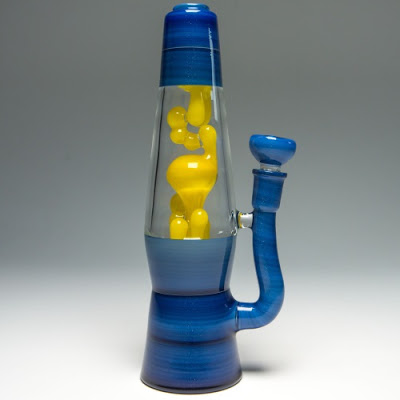 This is professionally made but we like it nonetheless. It's in a classic lavalamp design from the 80s and 90s. This could act as a good decoy if you share a house and you could pass off the bong as a lavalamp! Possibly!
Home Made Cannabis Pipe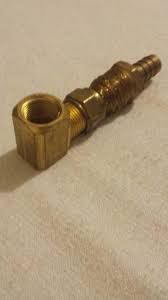 You'd have to be a proper metalhead or plumber type to make this one from screws and bolts and whatever else. It looks great but I think we'll leave this one to the experts. Genius nonetheless.
Candy Pipe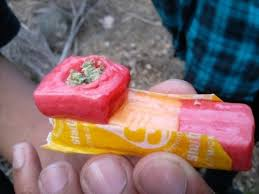 So, here we have the Candy pipe or if you're from the UK like us it'd be called a sweety pipe. It's basically some Starburst or the like stuck together, with a hole carved out to allow the smoke to come through. Make a housing at the top for the weed and you're good to go. This looks more novel than functional, but again, give it a try if you're of a certain age!
Seashell Pipe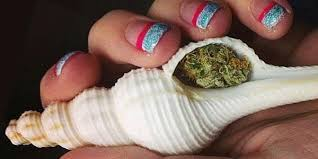 She sells sea shells on the sea shore. Well not this type, I hope! But look how ingenious this is. Simply find a nicely shaped shell, drop the grass in and go. It might need a straw or something like that to help filter the smoke out but this looks good!
Tic Tac Pipe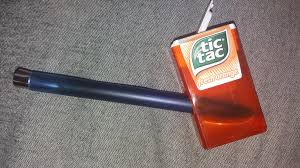 The Tic Tac one does look a little, well Taccy, but when in Rome and all that! Just drop a pen or straw in, sort out the top with some kitchen foil and you're ready. It's not a great size so probably for a beginner if anything.
SuperSoaker Bong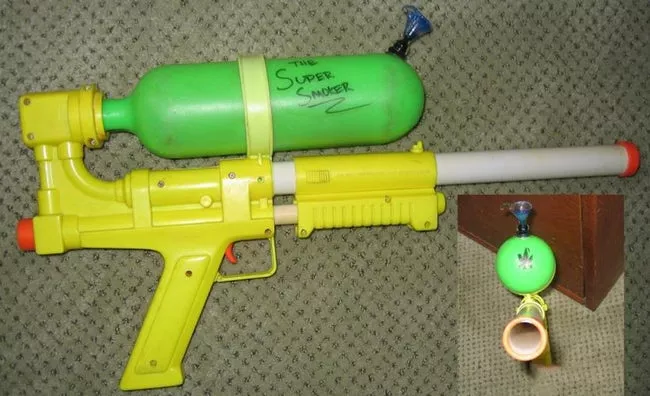 Renamed the super smoker, this one tops the lot surely.  Don't ask us for instructions as we don't know but it sure as hell looks good. Get inventive and try to make one for yourself. Send us pictures if you do.
Santa Bong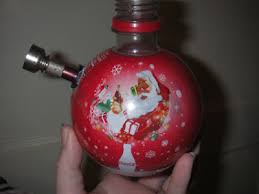 At first, looks the looks like a bauble but then perhaps some small juice container. Regardless of that, we think it looks great and given the time of year perhaps its something to inspire you. That said, smoking a bauble doesn't sound safe, so stick to something a little more professional perhaps.
Leave us a comment (with images if you like) about your favourite bongs or crazy stories about what you have used when options where scarce in the comments section below.
Disclaimer
The Vault endorses consuming your Cannabis products through professionally made devices. This post is a mere reference for nostalgic reasons or for those who want to make something for fun.
Why not head on over to The Vault Cannabis Seeds Store now and pick up some Cannabis Seeds, whilst taking advantage of the discount code VAULT15 for a whopping 15% discount off your order of Cannabis Seeds.
Newsletter Sign Up
Make sure you never miss another Vault promo – sign up for our newsletter at http://goo.gl/Bt2Ba2
Remember: It is illegal to germinate cannabis seeds in many countries and some remote, less enlightened planets outside the core systems.  It is our duty to inform you of this fact and to urge you to obey all of your local laws to the letter.  The Vault only ever sells or sends out seeds for souvenir, collection or novelty purposes.