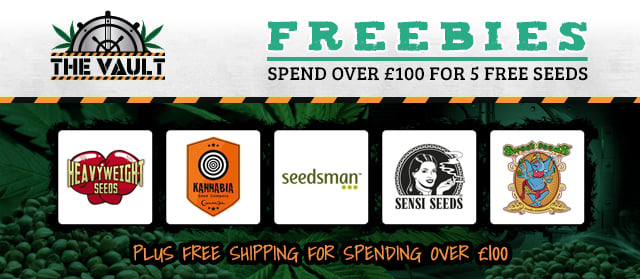 Big shout out to the Kannabia Seed Company as they have made another 2 amazing cannabis seed strains available for The Vault customers to try out, for FREE!
Simply order over £100 at The Vault and you will qualify for no less than 5 free seeds and free shipping which will now include a choice of Indica Cream Feminized from Kannabia or Ginger Punch Auto from Kannabia.  This is of course on top of all the other cannabis seed offers live right now, visit our discount cannabis seeds page to view all the latest cannabis seed deals The Vault have for you.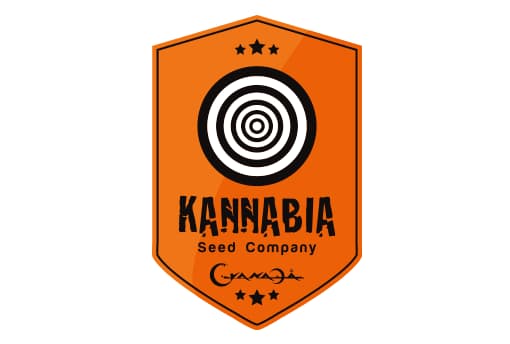 Kannabia Seeds is a Spanish brand that was for many years at the forefront of Spanish seed banks and is still considered one of the best available brands in Spain.
They are extremely dedicated to their customers and provide an extensive catalogue of new and interesting seeds and strains that would fit even the pickiest pallet.
This brand has been growing for many years now and consists of extremely experienced breeders who have been growing and producing top quality products for a long time and don't plan on changing any time soon. In fact, if anything, they have greatly improved on account of their new and more stable breeding environment their seeds have only been getting better.
Kannabia Seeds have even won a couple of awards, for example at the Toronto 'Treating Yourself Expo' their strains won first and second place in the medical marijuana cup. With their many years of experience and the great amount of care that they have been shown to put into their strains this is hardly surprising and explains why it is that they are one of the leading Spanish brands.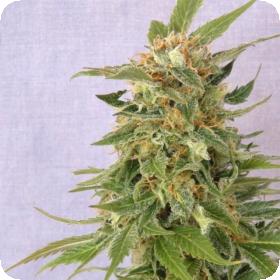 Ginger Punch Automatic Feminised is another of Kannabia Seeds' projects that improves on an already great strain. They took the iconic Ginger Ale, perfected it by isolating the best plants (thereby preserving the best genetics), crossed it with a premium quality ruderalis to make it automatic, and – just to be sure they covered all the bases – created an easy-to-manage feminised version that practically grows itself.
The precise genetics include the legendary Haze, Cinderella 88 and Ruderalis. The combination of genetics produces a strain of cannabis that is very hardy and also impressively resistant to common plant diseases, moulds, and fungus. Hobbit can be grown even in very humid climates without fear of any of these problems. The flavour of Hobbit Automatic needs to be experienced to be believed: sweet, tart, with the distinct taste of fresh strawberries and sugar.
The flavours stay on the palate and keep the user coming back for more. This is good news since the effect has seemingly no ceiling. The aroma is equally sweet and adds much to the experience overall. Indoors, Hobbit Automatic can be grown among any other strain – it isn't picky about lighting or temperature and it grows well no matter what growing medium is utilised.
Outdoors, the plants flourish in a variety of weather and climate conditions but will need to be brought in before any threat of frost. In the Northern hemisphere that generally means harvesting sometime in October. Flower time both indoors and out is about 65 days from seed.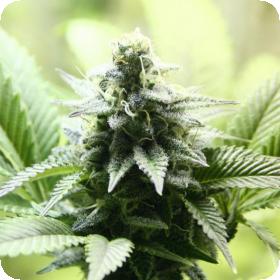 This award-winning, super strong indica is a deeply relaxing variety that features rock hard, crystal covered buds that are perfect for hashmaking.
Indica Cream is highly medicinal and narcotic in effect with an unmistakable sweet taste. Growers will appreciate how quick finishing and heavy yielding Indica Cream is.
Win some Kannabia cannabis seeds for free:
We have 2 prizes to be won so there will be 2 winners – 5 Indica Cream Feminised or 5 Ginger Punch Autos!
Simply leave us a comment below to be entered in the draw to win, let us know if you want to be entered to the draw to win the fems or the autos or don't mind which, maybe tell us about your experiences with the cannabis seed breeder Kannabia and or their strains.
Winners will be announced on Tuesday the 17th of March.
5 Indica Cream Feminised won by ROBERT BEDETTE. Congrats, I have sent you an emails via the email address you use to post with to arrange delivery of your prize.
5 Ginger Punch Autos won by Kyle Michael.  Congrats, I have sent you an emails via the email address you use to post with to arrange delivery of your prize.
Discount Code
Why not head on over to The Vault Cannabis Seeds Store and pick up some cannabis seeds now, whilst taking advantage of the discount codes Kannabia15 for 15% of all Kannabia Seeds and don't forget to check out our discount cannabis seeds page for all the latest cannabis seed offers, promos and competitions!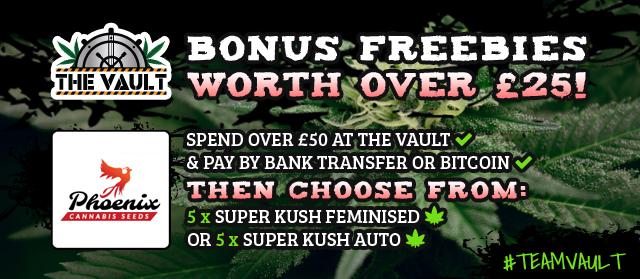 Newsletter Sign Up
Make sure you never miss another Vault promo – sign up for our newsletter at https://www.cannabis-seeds-store.co.uk/the-vault-newsletter
Legal Disclaimer: The competition winners will have their prizes sent to them via recorded delivery.  If you win the competition but don't receive your prize, we cannot resend competition prizes, so you'll have to raise this with your local delivery service (In the UK, for example, this would be Royal Mail).
Remember: It is illegal to germinate cannabis seeds in many countries including the UK.  It is our duty to inform you of this fact and to urge you to obey all of your local laws to the letter.  The Vault only ever sells or sends out seeds for souvenir, collection or novelty purposes.