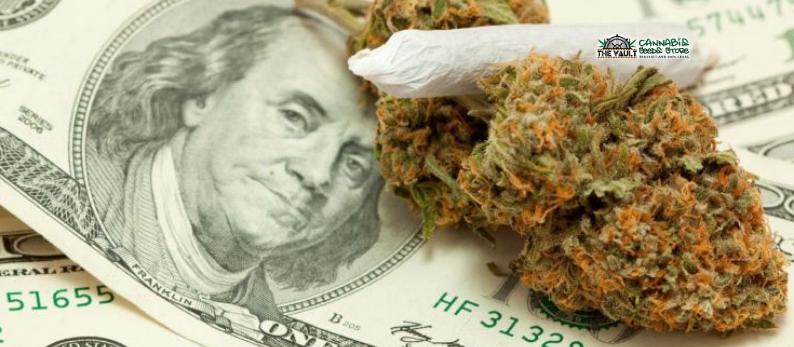 Celebrities in the cannabis industry
Although Cannabis is still illegal in most countries in the world, the cannabis industry is big business. Global cannabis market is estimated at 20.5 billions USD in 2020 and is projected to reach an astonishing 90.4 billion USD by 2026.
Big money attracts all sorts of people, some with real convictions, some just looking to make a quick buck and cannabis is no different. Various celebrities have been investing in the legal cannabis market since cannabis legalizations started in California and with pending federal legalization in the US and legalizations in other markets, it offers at least a promise of (big) profits.
Celebrities from all walks of life have been drawn to the cannabis industry and some have been more successful than others, often relying on their fan base to boost their sales. How good of a strategy that is, only time will tell and without actually having good and quality products, it's gonna be hard to maintain in the future, once the hype blows down.
Martha Stewart
Martha Stewart has a lot of fingers in a lot of pies so it's no surprise a cash cow like CBD and cannabis in general are something she ventured in. Martha partnered up with Canopy Growth, who have been signing and collaborating with celebrities from all walks of life left and right, in hope it will somehow increase their market share and presence and maybe dig them out of the hundreds of millions of dollars losses they generate each fiscal quarter. Owning a share in the company or being one of the partners is also a "clever" little workaround that allows celebrities to market cannabis products, which is otherwise banned under Canadian law.
When previously asked in an interview by Andy Cohen, an American television talk show host, if she can roll a joint, Martha replied – "Of course". And if stories about Snoop Dogg are even half true, it's not that far-fetched that she may have participated in a toke or two when they were filming "Martha & Snoop's Potluck Dinner Party", a celebrity TV cooking show.
While Martha's interest in using cannabis may just be a speculation, her business sense and interest in making money are quite genuine. Martha started a wellness CBD company that offers oil drops, soft gels and gummies and plans on expanding and offering a line of skincare products in the future as well. At the start of this year, she started a CBD line for pets too, tapping into the pet care market, also with Canopy.
Jim Belushi
Following the legalization of cannabis in Oregon in 2014, actor and former Saturday Night Live cast member Jim Belushi bought a 93 acre farm in Eagle Point in southern Oregon along the Rogue River and started growing cannabis under the Belushi Farm brand.
Although not a real "stoner" himself but rather a microdoser who additionally enjoys low dose edibles to help him sleep, Belushi says that cannabis has helped him on his personal "path of healing" and dealing with the trauma of his brother John's death.
Belushi is a passionate cannabis grower, activist and self-described "boots on the ground guy" that deals with all aspects of running a cannabis business, from growing to visiting dispensaries and shops and interacting with users and patients personally. His products are currently available in Colorado, Oregon and Illinois.
To promote his cannabis business Belushi filmed a three part Discovery TV series "Growing Belushi" that follows the life on Belushi Farm and his quest to source true Colombian landraces for his company – a quest given to him by Danny Aykroyd, who is also a partner in his cannabis business, lending the brand of "Blues Brothers" to Belushi's brand of pre-rolls.
Since there was no house on the property, they also filmed a show "Building Belushi" which shows the construction project that designed and built one, which can be seen on DIY Network.
Also on board of Belushi's brand is Jack Murtha aka "Captain Jack", cannabis grower and breeder known as "The smell of SNL". Captain Jack was well known for his extraordinary Afghani weed, which is also grown on the farm and available under the Belushi brand and , from last year, through Select/Curaleaf in vape pen form too.
Jim Belushi has also been a vocal cannabis activist and is one of many celebrities and public personas that support The Last Prisoner Project, which advocates for social justice, sensible drug policy reform and freeing every last prisoner jailed for cannabis offenses, starting with 40,000 people just in the USA.
Tommy Chong
Tommy Chong is a Canadian born actor and cannabis activist, best known as a half of the iconic stoner duo Cheech and Chong. To our younger readers, he's probably better known as a stoner hippie from the "That's 70s Show".
Often described as a true "Weed royalty", Tommy has been a part of the cannabis industry since its beginnings. Selling bongs and cannabis paraphernalia has even landed him in federal prison, when he was sentenced to nine months in jail in 2003.
Tommy has since started a number of cannabis (related) businesses and now offers various cannabis products from both THC and CBD selections through his "Tommy Chong's" brand. Products currently available under the brand included flowers, oil and edibles. Together with his long time partner Cheech Marin, he's also announced the launching of the "Cheech & Chong" dispensary chain in the US that will open in California and then expand to Arizona, Illinois, Nevada and Washington State.
Along with his US based businesses, Tommy Chong has collaborated with famous Spanish cannabis breeder Pyramid Seeds. Their collaboration resulted in a few strains available under the "Chong's choice" label.
Using cannabis was always an integral part of Chong's life, it's not just a sales gimmick or a marketing trick to push more sales. As well as using it "recreationally", unfortunately he was in a position where medical benefits of using cannabis helped him out too.
Tommy was diagnosed with prostate cancer in 2012 and has used cannabis oil suppositories in his cancer treatment which helped him clear his cancer. However, in 2015, he's been diagnosed with colorectal cancer which he successfully battled again with help of cannabis and has announced in 2019 that he is "cancer-free".
Seth Rogen
Seth Rogen is a Canadian-American actor, comedian, producer, writer and director and another well known celebrity stoner and cannabis enthusiast. Best known to stoners worldwide for his roles in "The Pineapple Express" and "Superbad", Seth has never hidden his love for cannabis.
He said that owning a cannabis business was his life long dream and after 10 years, he has finally made it a reality. In 2019, together with Canopy Growth and his longtime friend Evan Goldberg, Seth started a cannabis lifestyle company called "Houseplant".
Earlier this year, Rogen launched his cannabis brand in the US, offering not just weed but various cannabis related items such as lighters, vinyl box sets, ashtrays and ceramics. Following the launch of the brand in the US, Houseplant website crashed due to high number of visitors, wanting to see what it's all about. Being a celebrity and a true stoner will surely help his brand on the market and we can expect the brand to expand its offer and presence in the (near) future.
Ceramics, together with weed, is one of his life passions and pieces available look nice and trendy and would make a nice addition to any stoner environment.
Houseplant is also working directly with various cannabis activist organisations like Cannabis Amnesty, Cage-Free Cannabis and Marijuana Policy Project, which advocate to further advance the cannabis legalization in the US.
Willie Nelson
Willie Nelson is an American music legend, actor and long-time activist, well known for his love for all things cannabis. His love for weed spans back over decades, he's been arrested a number of times on cannabis related charges and he's even smoked weed in the White House with one of President Jimmy Carter's sons.
Cannabis culture is a way of life for Willie and he has always operated under a simple philosophy – my stash is your stash, to which many stoners can testify. Touring the country for decades, Willie and his band always attracted a flock of weed enthusiasts that happily shared weed from their gardens and local communities and Willie gladly returned the favor.
Willie entered the cannabis business in 2016, when he launched "Willie's Reserve", a cannabis company offering a wide range of flowers, edibles, vapes and cannabis accessories. Willie's Reserve is available in California, Colorado, Nevada, Oregon and Washington. Willie also serves as the brand's chief tester, so you know the products available are of the highest quality.
Adding to his cannabis brand, Nelson also started "Willie's Remedy", a line of hemp-based wellness products that include hemp infused coffee, teas, tinctures and soothing balms.
Willie and his spouse Annie have been involved in animal rescue and advocacy for a long time and together they have started "Willie's Rescue", a hemp-based pet line of products. A portion of each sale goes directly to various community animal rescue groups.
Nelson is an outspoken activist and campaigner for various causes – farmers, animals, lgbt rights and, of course cannabis and he's also worked with The Last Prisoner Project, a nonprofit organisation, addressing public education, legislative advocacy and cannabis criminal justice reform through legal intervention.
Remember: It is illegal to germinate cannabis seeds in many countries including the UK.  It is our duty to inform you of this fact and to urge you to obey all of your local laws to the letter.  The Vault only ever sells or sends out seeds for souvenir, collection or novelty purposes.
Make sure you never miss another Vault promo and sign up for our newsletter at http://goo.gl/Bt2Ba2
*Image via Unsplash