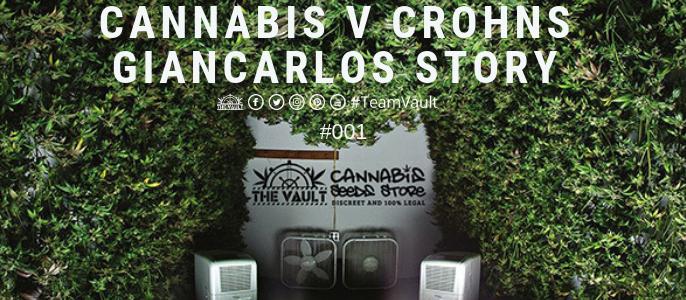 The Vault are starting a monthly blog series around your stories when it comes to Cannabis. Whilst laws are changing for the better around the World, it is still illegal to buy & grow here in the UK. Medically, it is available but there is still a lack of understanding there and in general, the stigma is very much still present. We hope that this new series of blog posts will go some way to breaking that stigma down and make people aware of the great benefits of this plant. Here is Giancarlo's story.
Cannabis Vs Crohn's
My name is Giancarlo, I am a 31 years old medical cannabis patient, living in London since 2015, who suffers from Crohn's disease, fibromyalgia, depression and anxiety. I am writing this blog post hoping that sharing my personal experience regarding the medicinal use of cannabis and its efficacy, along with all the burdens and stigma that I encountered when I was so vulnerable and desperate to save my life, will help to change the public opinion, to have a clear view and a better understanding of the struggle and importance to access medicinal cannabis in the United Kingdom.
The last 11 years were an unending nightmare for me, caused mostly by Crohn's disease and more recently by fibromyalgia, until I "discovered" and tried for the first time cannabis. It was literally a life changer! I wish that every patient who can benefit from the use of cannabis will be able to obtain it legally but also affordably from the NHS and hopefully not to be criminalised for growing their own plant for medicinal purposes. Unfortunately none of these are happening at the moment in the UK, but I have big expectations for the near future. "The Times They Are a-Changin'" according to a Bob Dylan's notorious song.
Therefore my story starts 11 years ago when I was first diagnosed with severe Crohn's disease, while I was living in Romania, when I was only 20 years old. It never occurred to me that I will get sick with an incurable illness which will completely affect my life in ways that I couldn't imagine before. I was a young father, freshly married, who didn't expect to be struck by awful illness. From the moment of diagnosis, I was going through a very long, exhausting and unsuccessful process, to find a treatment to keep my symptoms under control. I was seen by so many doctors, I've changed numerous medications and I was hospitalized several times, without finding a treatment that worked for me.
Every day, I had agonising symptoms including diarrhoea, incontinence, intense nausea, vomiting, intestinal bleeding, fatigue, lack of appetite, insomnia, excruciating abdominal and joint pain, dehydration, mouth sores, depression, anorexia and extreme weight loss. Also, being under various treatments, I suffered severe and intense side effects from steroids, painkillers, antibiotics, antidiarrheal agents and immunosuppressant medication, without achieving any significant relief. I had numerous accidents in public and at my workplace due to the incontinence, incidents that left me terrified to leave the house and not being in the proximity of a toilet. I developed anorexia because eating was causing me severe and long lasting abdominal pain, nausea, diarrhoea and bleeding.  This illness made me feel like I was damaged, rotten and gross inside, literally like something was cutting, ripping and burning my bowels from the interior. Later on, I had found out, the movie "Alien" had Crohn's disease as a source of inspiration. This says a lot about the symptoms of this horrible condition.
Luckily, my life has changed a lot in the last 6 years, while I was frantically looking for new ways of treatments. I then found out information about cannabis and how it could help ease my symptoms. I was sceptical at first, but despite the stigma, the lack of support from family, friends and doctors as well as being aware of its illegal status and risks, I pursued with my plan to give cannabis a try and it was definitely worth it! After I first tried cannabis (rolled in a joint/cigarette) I noticed the benefits right away: the nausea and pain totally disappeared, my appetite came back, diarrhoea was less frequent, the energy levels rise, depression faded and I was amazed to feel like I was normal again!! Finally, after years of failed treatments, I had found something that not only provided a relief, but it brings my life back! I was able again to spend time with my wife and daughter, to eat and sleep well, to gain weight and to come back to work, after 6 years when I had lost many jobs due to my incapacity of being fit for work. Being medicated with cannabis allows me to live almost a normal life, with fewer symptoms of my affections and less side effects from the immunosuppressant and biologic medication, while I am not relying on opiates or benzodiazepines anymore.
Being delighted by these effects of cannabis, I intensified my research regarding this way of treatment on the internet, looking for scientific studies and medical publications, other patients testimonials, opinions, and attending various events, having now a better understanding of cannabis and how it works, helping me to improve my methods of medication and dosage scheme.
But in the past 6 years, after I started using cannabis, another big struggle has occurred: having to maintain a supply of cannabis for so long, was a nightmare. Relying on black market supply it is very costly, stressful and dangerous. That's why many times I was unable to buy cannabis when I was desperately in  need of it, and staying more than a couple of days without it will bring me an horrible decline in my health condition, until I struggle to get off my bed or toilet and I spend day and night in pain and suffering. My longest break from cannabis was in 2015 when I didn't used for more than one month(due to financial reasons) and during that month I had an intense flare up of Crohn's disease along with a serious complication: a perianal abscess with dangerous levels of infection in my blood, which in the end required surgery and 10 days of hospitalization at St George's Hospital, London. Following the surgery, I remained with a fistula that got infected and caused extreme pain and distress for another 18 months, refusing to heal. This was indeed the most life threatening situation that occurred, but every time when I don't have access to cannabis, I'm definitely having a flare up and my symptoms are getting worse day by day until the point of being unable to function. I would use the toilet and come back to my bed, nauseous and just convulse because the pain was so severe and intense, with fever and chills, several times being stabilized at the hospital's emergency unit.
Almost simultaneously with my difficult recovery from surgery, I noticed the first symptoms of, what I was going to find out later on, was fibromyalgia, a condition that cause me widespread pain, extreme fatigue, sleep disturbance, limb numbness and severely affected my arms. The debilitating symptoms of fibromyalgia made me so ill that I was hospitalized 8 times during a 12 months span. Various strong prescribed painkillers failed to provide any relief and the  smoked/vaped cannabis didn't improved my symptoms to much. Then I changed my "approach" and with tremendous financial efforts, I started using cannabis oil and edibles containing CBD and/or THC, hoping again at great results. I wasn't disappointed!! Ingesting cannabis oil definitely provided long lasting and improved medicinal effects, having a great impact on my well being,  targeting in my case, both Crohn's disease and fibromyalgia, with amazing results: the pain, muscle and joint stiffness, depression, inflammation, nausea, anxiety and insomnia, were drastically reduced while I am medicating with cannabis oil. However, I still use flower buds to smoke or vaporize, as a fast acting relief when I am in need, for instance before and after meals, prior to get to sleep and for toilet trips.
As I mentioned before, I am also under treatment with Infliximab and Azathioprine, using them along with cannabis, but if I could obtain a prescription of medical cannabis, or if the law will allow personal grow of the cannabis plant, I will be happy to quit the immunosuppressant and biologic medication, raising this issue to my gastroenterologist, being very concerned of the dangerous possible side effects of these treatments and also considering the costs of  Infliximab infusions for NHS, being a very expensive drug.
At this moment I am using pretty large amounts of cannabis flower (vaping and smoking between 3 and 5 grams daily), ingesting around 2-4 ml full spectrum oil (coconut oil extraction) and also using topical, for joint pain and inflammation, to keep my symptoms under control, achieving my first remission of my Crohn's disease (confirmed by the gastroenterologist at my last consult in February 2019) and keeping the fibromyalgia pain at lower, tolerable levels.
Unfortunately, even though medicinal cannabis is legal from 1st November 2018, my every attempt to discuss with any health professional (GP, Gastroenterologist, Neurologist, Dietician, Therapist) about the possibility of being entitled for a cannabis treatment on prescription, their reaction was mostly negative, fearful, or they were literally unaware of the legalisation nor the benefits of cannabis based medicine. And every time when I say the word "cannabis", doctors start whispering instead of talking normal, aloud, being visibly concerned not to be heard by others in the hospital.
Basically their reaction hasn't changed much after the legalisation of cannabis based medicine from last year. Indeed, part of the medical staff that I encountered, denounced the lack of proper guidelines and research studies regarding cannabinoids, for their refusal of prescribing any cannabis compounds. I was even advised by my dietician to stop using cannabis because of the lack of scientific evidence, arguing that "cannabis use only hides the symptoms and interferes with the prescribed treatment". I politely declined his advice…
Regrettably, the stigma surrounding cannabis, either medicinal or recreational, that affects the society and institutions, is causing considerable amount of harm to people that already suffer and are the most vulnerable. On the other hand, I noticed a change in the media and web coverage relative to medicinal cannabis, highlighting the latest studies from top medical institutions and heart breaking medical cases of severely ill patients helped by cannabis medication, an approach that already leads to a change in perception of the society. Clearly, the internet and social media are the paramount tools of data dissemination and plenty of supportive, genuine information about cannabis, already reached an important part of the population and sparkled the interest of many people.
The social media is having a crucial role, connecting patients online and further to social or medical cannabis clubs that already spread around the UK. This is how I found my first information, my first connections with other patients or NGO's and events, becoming an activist as well as a registered cannabis club member.
It is vital to spread the word about cannabis, to break down the stigma and stereotypes, to support and encourage the medical research in order to reduce the harm and to find more effective and safe treatments for all of us.
Giancarlo
Disclaimer
The Vault believes in the healing potential locked within our best medical marijuana seed strains, but we are not qualified healthcare professionals.  As such, we'll always do our best to answer your queries, but we cannot provide medical advice and cannot discuss germination or any other illegal activities.
You should ALWAYS seek the help and advice of a medical professional with any personal health issues you might have and follow that.
Vault Info – Get Involved
We thank Giancarlo for his insight into the experiences he's had with his health journey. We aim to have one customer written blog post every month which gives an insight into your own Cannabis Journey that helps break down stigmas. In return for your story, we will send you x5 free seeds, with a Vault Goodie Bag. Email [email protected] if you have an idea.
Shopping At The Vault
If you would like to browse our range of Medical Strains, click this link to The Vault Website's recommended top 10.
Remember: It's illegal to germinate cannabis seeds in many countries. It is our duty to inform you of this important fact and to urge you to obey all of your local laws. The Vault only ever sells or sends out seeds, or seed voucher prizes for souvenir, collection or novelty purposes.
#TEAMVAULT