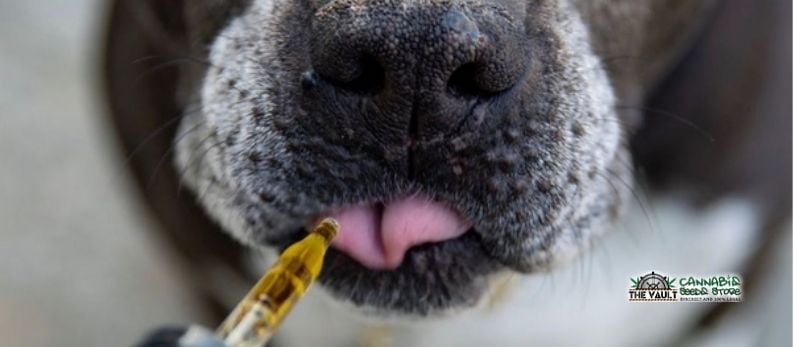 CBD isn't just a fantastic calming tincture for us humans, it is also often used for our furry friends. CBD is a fantastic natural way of calming anxious pups, chilling out skittish kitties and dealing with issues such as epilepsy, joint pain, and muscle issues. It is often far less expensive than traditional medications and has been used extensively over the last decade or so. However, all dogs are different, and just like with human use of CBD we should always talk to a medical professional.
What Does CBD Do For Pets?
There are a number of reasons why we use CBD when treating our fur babies. Primarily many consider it to be less harmful than some over the counter drugs, which are often more likely to have side effects. Scientific studies are sparse when it comes to animals using CBD but significant amounts of anecdotal feedback shine a very positive light on the practice.
CBD can be used for pets who are suffering from:
Joint Pain
Nausea
Anxiety
Stress
Gastrointestinal Issues
Seizures
Again there is little to no scientific evidence to support these claims, but hundreds of pet owners would swear by the use of CBD. It is entirely possible that the effects of CBD on animals aren't particularly high up the list of scientific studies to be done at present. Either way, many of the following companies produce third party tested chews and oils that have a variety of positive effects on pets.
How To Give My Pet CBD
Most CBD for pets comes in handy liquid droppers that can easily be fed to a pet. Oil tinctures are by far the most simple way to administer CBD is in liquid form. This can be given as a drop on the tongue or can be mixed into food/water. There are no clear FDA guidelines when it comes to dosages, so it is best to start with a low dose and observe your pet in order to raise or lower the dose. Usually, we will go for 1 mg of CBD for every 2.2 pounds of animal. Of course, if you are in any way concerned about giving your animal any form of CBD please talk to your vet before purchasing any of the following products.
The Best CBD Pet Companies
This is an excellent brand that is utterly focused on animal-friendly CBD supplements. The website has specific sections for dogs and for cats to ensure they have specialised products. Their products are all-natural, soy-free, and contain only 100% laboratory tested CBD oil. They have sections on the website that lead pet owners to separate sections for wellness, relief, mobility and calm. They don't only sell tinctures and oils, but also they sell chews and treats that contain CBD, making giving your pet CBD much easier. They also have an entire part of the website dedicated to "Petimonials" where owners can read how similar animals to theirs responded to the CBD products.
Joy Organics, rather than being a pet-specific CBD company, is already extremely popular amongst humans. They sell both dog treats and oils that are crafted with the same attention to detail as their products for people. Their tincture is 3rd party tested and is made with organic olive oil, which means it is also excellent for your pet's coat. Their products are all fully natural and gluten-free with less than .3% THC to minimise unwanted side effects. Their products come with information on how much each dog or cat should be given by their size.
This is the perfect company for any pet owners who are overly concerned about dosages. Petly CBD focuses on giving each bet the exact dose that they need for maximum results. It is possible for pet owners to buy different sized bottles with different sized droppers that are designed for different sized dogs and cats. This company also uses third – party testing and use extremely high-quality products in every one of their CBD animal supplements. Their website also has a blog with a lot of helpful tips and tricks for calming and looking after your animals.
This is another CBD general company that has an excellent pet section. They have a variety of treats and tinctures available for different needs. The three main sections are mobility, vitality, and mobility both in the form of treats and oils. The company is generally well thought of in the CBD community for being natural, for being farm to door and for carefully testing all of the hemp being used for their products. They also use third party testing to ensure that everything is above board before being purchased. This company also works with their community and is an ideal CBD company for anyone who is a conscious shopper. They donate to the Epilepsy Foundation as well as the ACLU Foundation of Oregon, the NAACP, and Dig Deep's Navajo Water Project.
Charlotte's Web has a well known CBD line specifically for dogs. They have a variety of products including treats and oils that are ideal for calming anxious pets. Their products are also designed to promote healthy joints and hips, as hip issues can come into play in later life for many dog breeds. The amount of CBD in their treats varies to ensure that you can get the perfect amount for your pooch. They also have balms available for pups with skin issues. In addition to all of that, there is a section of the website where you can learn about your dog's endocannabinoid system which can help you figure out exactly what your dog may need out of CBD products. These treats and oils are perfect for dogs who have travel anxiety, for rescues and for older dogs who may be starting to experience arthritis. There are a few money-saving bundles available in their shop for dogs who need a little bit of extra help.
Remember: It is illegal to germinate cannabis seeds in many countries including the UK.  It is our duty to inform you of this fact and to urge you to obey all of your local laws to the letter.  The Vault only ever sells or sends out seeds for souvenir, collection or novelty purposes.
Make sure you never miss another Vault promo and sign up for our newsletter at http://goo.gl/Bt2Ba2
*Image via Unsplash