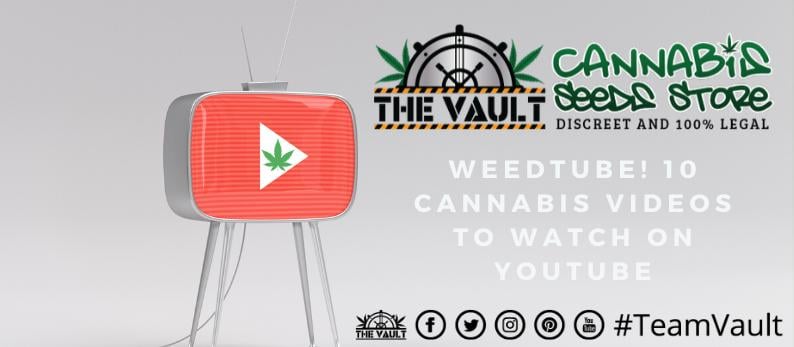 Here's a stat to bowl you over. YouTube is the worlds 2nd largest search engine. That's crazy. Here are some more interesting stats about the platform that will have you reaching for a calming joint:
The name YouTube.com was activated on February 14, 2005.
By 9th October 2006 it was announced that YouTube would be bought by Google for US$1.65bil.By 2010, the platform was getting 2 billion views a day
By 2013, it was seeing 1billion active monthly users
6 out of 10 people prefer video platforms to live TV
Back in 2015, 18-49 year olds spent 4% less time watching TV and 74% more time on YouTube
An account called Ryan ToysReview is the highest-earning YouTuber bringing in $22million dollars in 2018 – I repeat, crazy!
Thanks to BrandWatch where I plucked some of these key stats from. They're pretty jaw-dropping.
In this post, we are going to explore a range of different Cannabis videos on the platform that we think you'll like as a Cannabis fan. Some will be fun, some will be educational and the others will just be interesting. So let's start on this journey into the world of video cannabis!
1 – 7 Things You Probably Didn't Know About Cannabis – via History Channel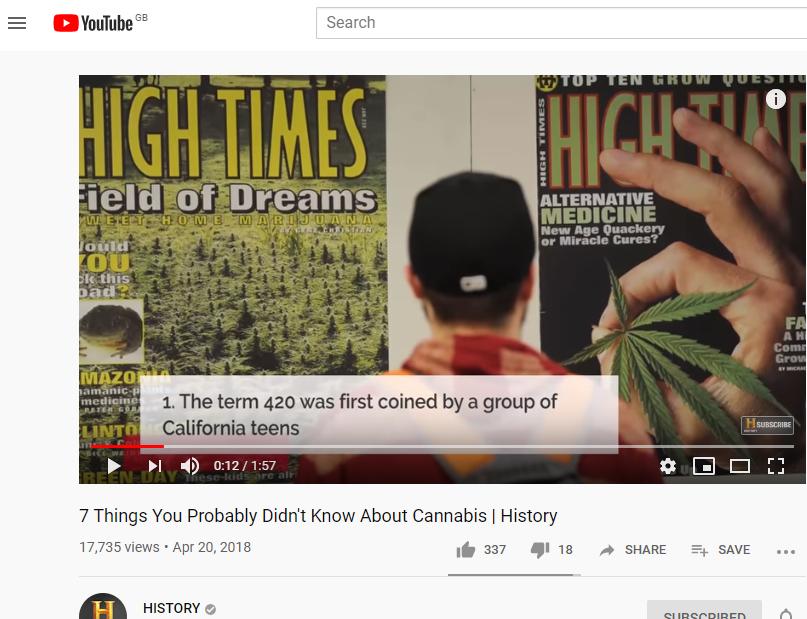 For the first video, it comes from The History Channel, no less. You're probably used to watching The History Channel for war documentaries and the like, but in this refreshing piece, they look at some interesting Cannabis stats, beginning with the ever contentious 420 arguments. Tune in for that and 6 others. Leave a comment on their post (remember to mention The Vault), if you have your own opinion on the origins of the 420 saying.
2 – Top 15 New Cannabis Strains to Look For in 2019 by Mantha Productions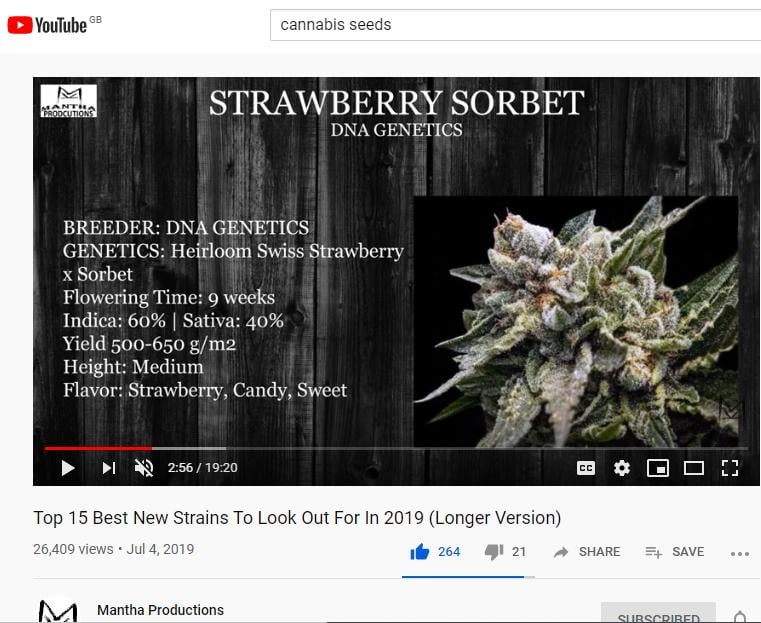 If you're looking for something new to add to your souvenir seed collection (we say cheekily), then this video from Mantha Productions is for you, dear reader. New strains emerge all the time and this video does a great job of highlighting the popular new strains for 2019 and beyond. In this still above we have Heirloom Swiss Strawberry which sounds just delicious. It's by DNA Genetics who are a friend of The Vault's too. The Vault may not stock all that you see here, but be sure to visit the website www.cannabis-seeds-store.co.uk to see which we do have and make an order!
3 – Tommy Chong's Medical Marijuana Garden – by Complex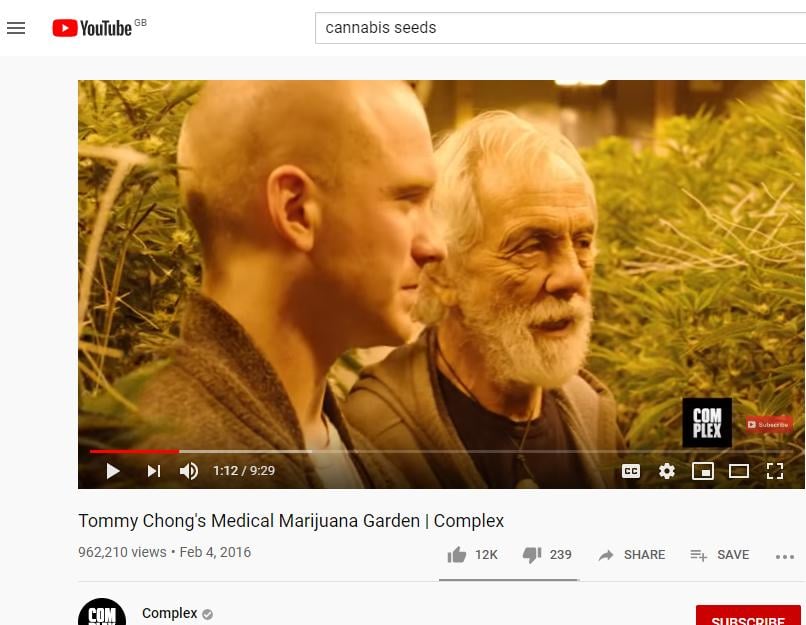 Tommy Chong needs little to no introduction. He's the other half of Cheech Marin, from the absolutely superb Cheech and Chong movies from way back when! In his latter years, he's now devoted to the legalisation movement and has his own farm. This film by Complex takes a behind the scenes look at his latest work in growing. The brand is 'Chongs Choice' and by the sounds and looks of it, it's great! Tune in now, especially if you're interested in Medical Cannabis. In it Tommy talks about his recent cancer care and how medical marijuana helps!
4 – Joe Rogan & Ben Shapiro Discuss Marijuana Use on JRE Clips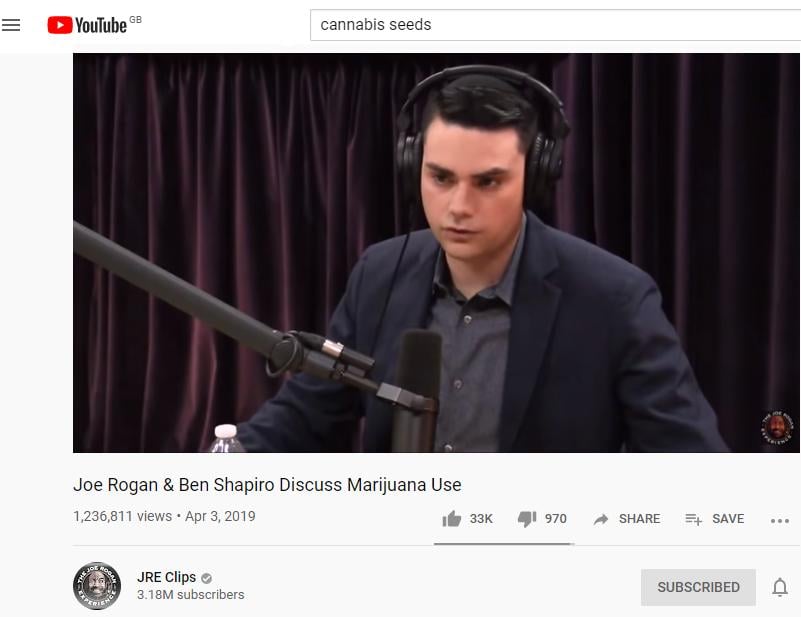 Joe Rogan is thee King of YouTube when it comes to his video podcasts / vodcasts, or whatever you might wish to call it. Recently, he was seen sharing a spliff with Elon Musk in one of his interviews and in this one he tackles Ben Shapiro, who has some strong opinions of his own. Joe is for it, but on the other hand isn't so much, so I'm sure you could get involved in the comments by sharing your own opinion.
5 – UK's First Patient to Get Medical Cannabis Has to Pay £2,500 For 3 Months Supply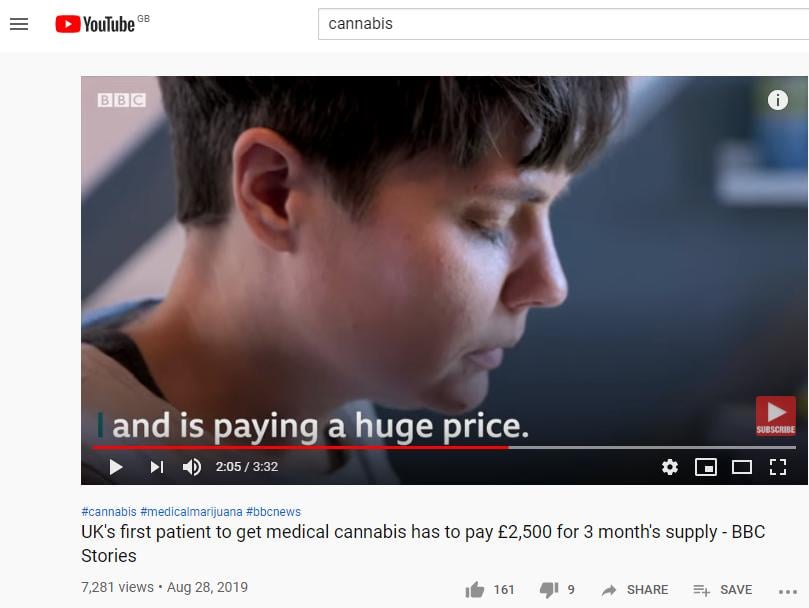 This is a pretty shocking story brought to us from The BBC. Ok, it's great to see and hear medical cannabis being prescribed in the UK but not when the patient is having to pay £2,500 for a 3 months supply. In this video, Carly Barton explains her journey and the reasons she needs to be treated. Clearly, the UK still has a long way to go with this, as these costs are just not achievable by the average patient.
6 – What Does Cannabis Do To The Brain – Brit Lab, BBC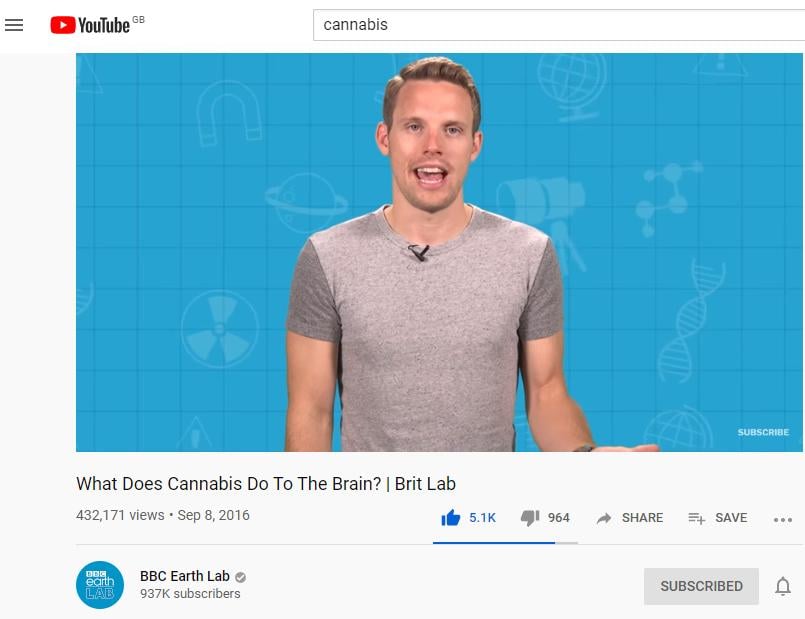 We stick with the good old BBC for this next piece of content, this time from BBC Earth Lab. In it, they look at THC v CBD and all the other elements of Cannabis and the effects on the brain regarding dopamine and so on. Most of you guys will know this but it's worth watching as a refresher if nothing else.
7 – Kings of Cannabis, by Vice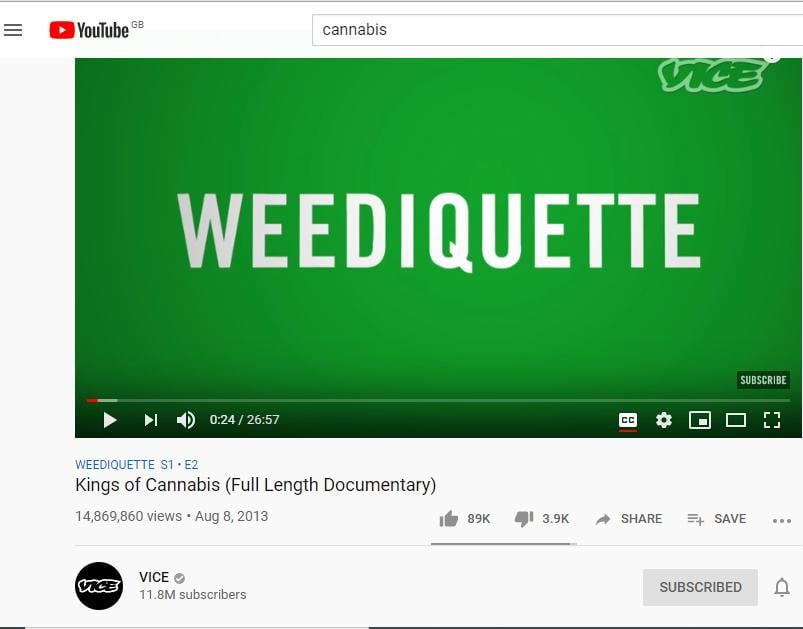 At The Vault, we actually have a sister page called Queen of Cannabis. So this marries in well, having a video on Kings of Cannabis, from Vice. It was filmed in 2013, so things have changed since then but it still gives you an idea of some of the key players in the market. If you've shopped at The Vault before you'll recognise some of the names and brands that are featured. Make sure you get involved by commenting and be sure to mention The Vault sent you.
8 – Cannabis Grow Up Tour – Learn From a Master Grower by From Seed to Stoned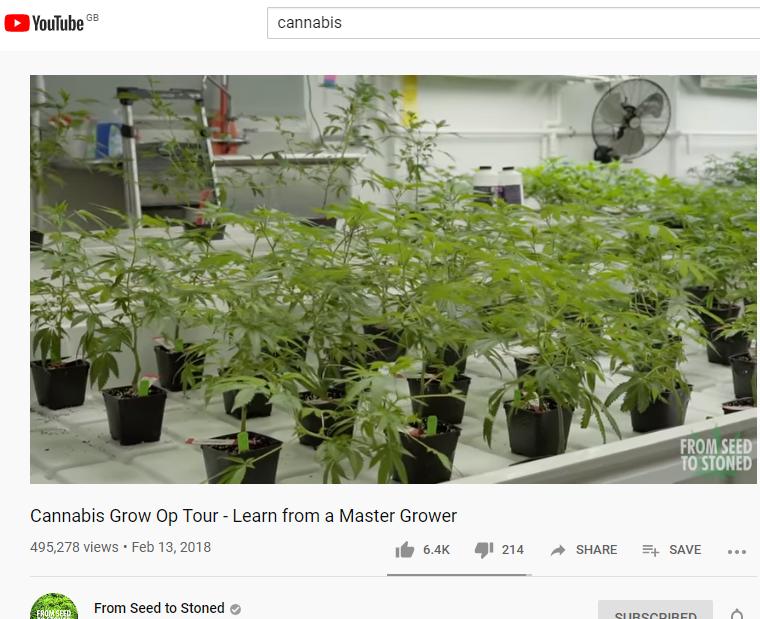 This video From Seed to Stoned has nearly half a million views, so it is popular. In this video, you'll see the whole grow process. It's super interesting and if you're a grower/cultivator from a legal territory (lucky you), then tune in and see how it's done on a commercial scale.
9 – The Funniest Movie Stoner Moments – by MTV International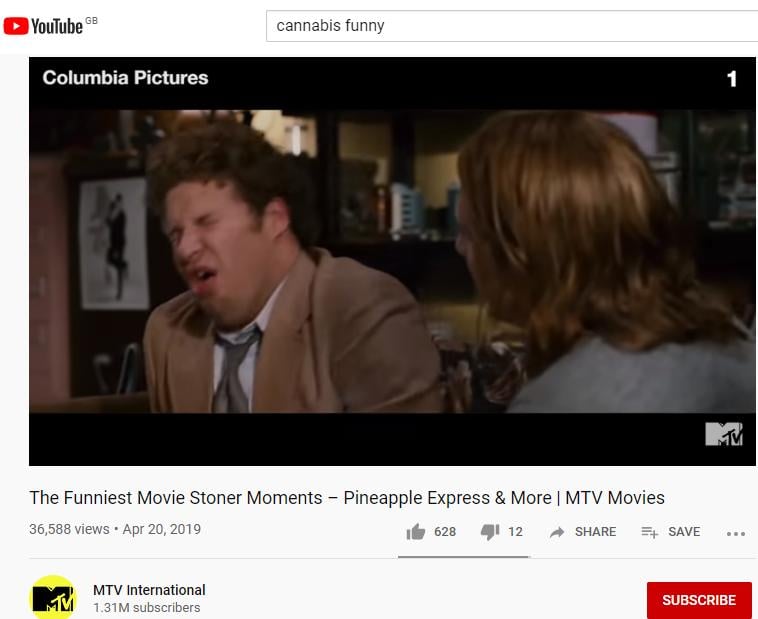 There are some really good Cannabis and Marijuana movies on the market. In this YouTube collection from MTV International, you'll find some of the funnier moments, like this scene with famous Cannabis advocate Seth Rogan or the stoner scene in 'Ted'. Cheech and Chong might have started the phenomenon years ago, but stoner humour will remain long after we're all pushing up the Cannabis Plants.
10 – The Vault Cannabis Seedstore on You Tube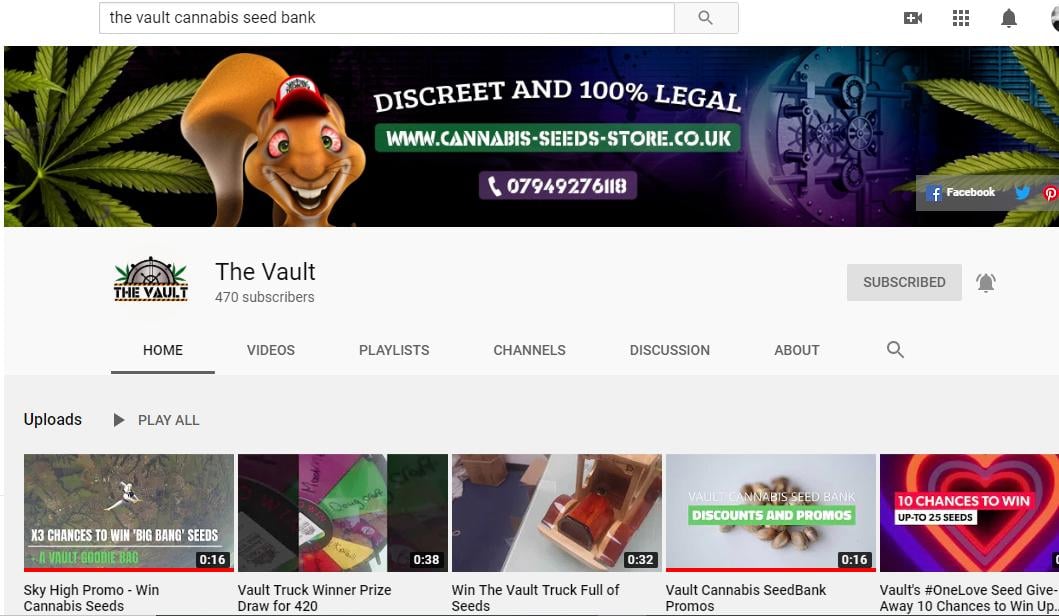 We've been on YouTube for sometime and use it mainly to communicate with the Cannabis Community. You will also find us sharing competition and promo videos on there too, so be sure to follow us and not miss out – we wouldn't want that.
As ever, we encourage you to share your own favourite YouTube channels when it comes to Cannabis. Please do so in the comments.
Why not head on over to The Vault Cannabis Seeds Store now and pick up some Cannabis Seeds whilst taking advantage of the discount code VAULT15 for a whopping 15% discount off your order of Feminized Seeds.
Newsletter Sign Up
Make sure you never miss another Vault promo – sign up for our newsletter at http://goo.gl/Bt2Ba2
Remember: It's illegal to germinate cannabis seeds in many countries. It is our duty to inform you of this important fact and to urge you to obey all of your local laws. The Vault only ever sells or sends out seeds for souvenir, collection or novelty purposes. All of our content is provided for educational purposes only.