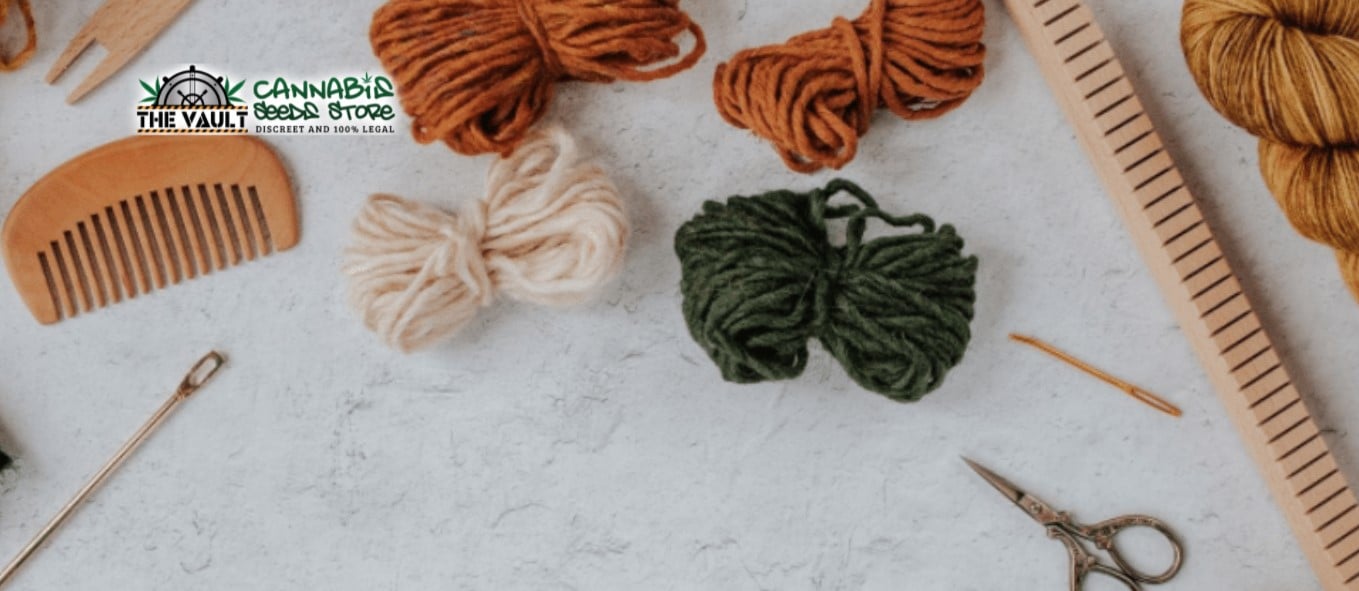 My favourite chill-out stoned activities are doing crafts. There are so many different options available and you can either do them with buddies or just on the couch while watching a stupid film. I find that the creative aspect mixed with the repetitive calm of most crafts to be an excellent way to enjoy having a smoke. If you're like me then you still like to keep busy, even if you are sitting watching something it can be nice to have another thing for your brain to focus on. Of course, there are different levels of stoned crafts. The simple knitting a scarf just for the movements, or maybe you want to break out a big canvas and paint something incredible. For any level of artist or craft enthusiast, there is something that goes perfectly with smoking. I may as well list a few of the best strains for crafting as well while I'm here. 
Crochet
This is a fantastic option for all levels of crafter. Crochet can be extremely easy if you just go for the simple making a little toy or something similar. However, if you are advanced you can make some truly extraordinary projects which might only be advanced by the creativity of getting stoned beforehand. There are loads of amazing patterns online and once you get used to it you can easily freehand. I've been making little stuffed animals for ages from improvised patterns based on the first bear I made. Yeah, they're all bear-shaped, but still, they are pretty cute. The best strain for crochet is probably Lemon Thai Kush as it brings both focus and creativity. It will give you the concentration you need to remember which row you are on, make sure you don't drop stitches, and help you keep the shape of what you're making. It also has a lovely creative boost that will give you everything you need to make something unique to yourself. 
Decoupage 
This one is a little messy so you might want to clear the floor and put down some newspapers. The best thing about this craft is you can use it on anything. You can decoupage a book, a table, a figurine, whatever you want really. Decoupage is the art of covering things in a special thin paper, usually in the form of a type of collage, and covering it in a special glue that forms a shiny coat over the paper. It can look absolutely amazing if it's done well. The good thing about this craft is that you can just go full creativity, there is nothing to remember or focus on, just doing what looks and feels good to you. With that added bonus of you getting to see the work after you've sobered up. Will it be rubbish or an absolute masterpiece? You don't know, you're stoned. Peyote Gorilla seems like a great strain for this pastime because it is powerfully uplifting and euphoric, amazing for creativity. It is one of the most stimulating strains so I would love to see what kind of table I ended up with after smoking this and getting out the decoupage glue. 
Macrame
All you need for this fun hobby is the yarn, no needles or anything else involved, oh well maybe a stick. But you can make loads of things, clothes, wall hangings, plant hammocks or whatever they are actually called, keyrings, bags, whatever really. This is particularly good for Christmas coming up. Just make all of your side character gift receivers a fun little macrame treat. This craft just uses knots to make all this stuff and again, like crochet, there are loads of different levels from beginner to expert. It's cheap to do and gives you that lovely calming repetitive motion. I also find that these kinds of crafts are a great way to release the endorphins associated with finishing a project. It won't take long, you won't get bored or distracted, and then you get to have a thing you made. Delicious lovely brain chemicals. The variety is also great with macrame as you can use all sorts of different colours of wool, not just the beige that for some reason seems to be the most popular with macrame. Or just go for the cream and make a heart-shaped wall hanging for the basic bitch in your life. I would recommend Jamaican Dream because it is relaxing, creative and focused. With anything in the knitting family you need to be able to pay attention a little to make sure you don't mess it up. So this strain will let you keep an idea of what's going on but also will let your creativity flag fly. 
Jar Painting
The final craft is one of my favourites, again anyone can do it but a talented painter can make some pretty awesome jars. You can do this with anything glass so don't limit yourself, I just usually use jars because I end up with thousands of them. Get some glass paint online, that's it. Literally, this is so easy and means you're upcycling unwanted glass things so you end up with some really pretty practical and decorative items. I used to love sitting stoned on my balcony watching the birds, listening to a podcast, and painting jars. Then I'd put candles in them, store things, put them on stuff, whatever who cares it's pretty colourful glass it has a million uses. If you are new to painting you can still just do lovely colours, then the candle will make it glow which is lovely in the dark. If you are experienced then you could make some beautiful pieces to show off in your home. Hulkberry is one of the best creative strains so ideal for painting. It has a powerful creative boost to it along with euphoric cerebral energy that will inspire you like nothing else. This strain is also very uplifting so perfect if you want to make your jar painting into a social event.
Newsletter Sign Up
Make sure you never miss another Vault promo – sign up for our newsletter at https://www.cannabis-seeds-store.co.uk/the-vault-newsletter
Remember: It is illegal to germinate cannabis seeds in many countries including the UK.  It is our duty to inform you of this fact and to urge you to obey all of your local laws to the letter.  The Vault only ever sells or sends out seeds for souvenir, collection or novelty purposes.