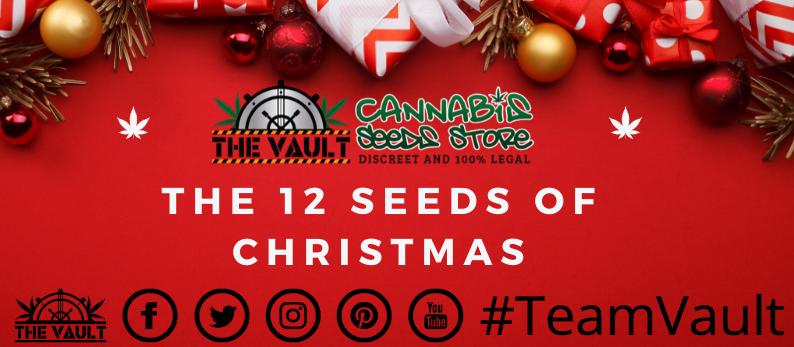 It's silly season and because it's the silly season we're going to look at some seeds named aptly around the time of year, which will hopefully put a smile on your face!
Christmas is a time for us all to get together and get around the tree with family and friends to celebrate the seasonal holiday. You might not be opening cannabis seeds at the Christmas tree but this list of Christmas themed seeds might see you order a discreet package for your personal souvenir collection.
Cannabis seed strains have some wonderful names and some are very funny and inventive. In fact, one of seedbanks who we love is Mr Kripling Seeds. These aren't winter themed but they've got names such as, Buzz Light Gear, Chemdog Millionaire and Ganj-nam Style. Check out their full range on The Vault Cannabis Seeds Store Website.
Ok, so let's get 'Christmassy' and check out some 'cool' seeds to warm your cockles. The 12 seeds of Christmas are:
1 – Strawberry Snow Cone by Regular Seeds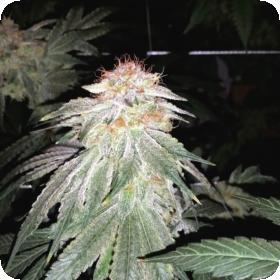 That name just sounds lush, doesn't it? Ok, you might not be looking for a cold ice cream cone in these temperatures, but this little bit of strawberry will light up your life. The genetics are Sour Diesel IBL x Strawberry Cough. It's a heavy yielding sativa which will make a room smell like sour strawberries!
2 – ICED Grapefruit Feminised Seeds from Female Seeds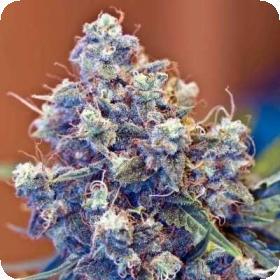 Remaining on the fruit theme we are going for some grapefruit this time. Not any old grapefruit, but ICED!  It's as you'd expected, Ice x Grapefuit and is a Sativa. The aroma given off by these plants is sour and strong. It is tangy, citrusy and very sweet. One whiff and one is certain that good times are coming. Slide on over to The Vault website now to check the full run down
3 – Santa Sativa from Dinafem Seeds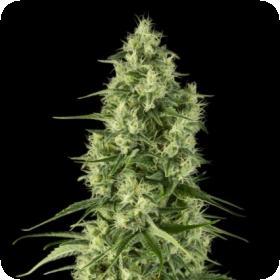 Ho, ho, ho, this is a triple whammy of a strain. It's Haze x Northern Lights x Skunk which grows both indoors and out. This particular strain has a very high level of THC which means that it has a rather intense effect but still has a very gentle after effect. If you want to have it Santa come down your chimney (through your letterbox) pop over to The Vault Store now.
4 – Spice Regular Seeds by Mr Nice Seedbank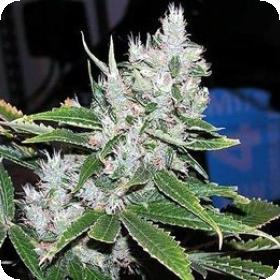 What's Christmas without a little spice added. It goes well with cakes and coffee and in this case, works with cannabis seeds. What we have with this strain is Hawaiian Indica x Hawaiian Sativa just to warm things up a little. This strain is said to be a very stable and fast-growing plant that produces large resin-coated buds and boasts some wonderfully fruity smells and tastes with a balanced effect.
5 – True Love Regular Seeds by Jinxproof Genetics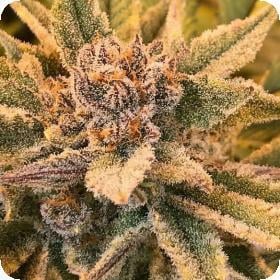 Christmas can be a romantic time for some. Perhaps you're in a new relationship or have just built up the strength to as your other half to marry you. Let this 'True Love' seed help you along the way. The genetics are Juicy Fruit x Norton. It invokes a mild euphoria while creating a cerebral high that opens the door to creativity. An exemplary choice for a daytime high. We'd 'love' you to check it out on The Vault Store.
6 – Dark Star Feminised Seeds by TH Seeds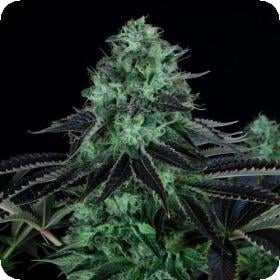 Winter provides us with great views of the sky where we can gaze up at the stars! Look out for The Dark Star from TH Seeds. The genetics are Purple Kush x Mazar I-Sharif! This mega Indica not only grows ridiculously dense buds, but the potency is out of this world. Darkstar™ is a great plant for those seeking pain relief, appetite enhancement and otherworldly activities. Follow the star now (hint: you will find it on The Vault Website).
7 – Swiss Cheese Regular Seeds by Nirvana Seeds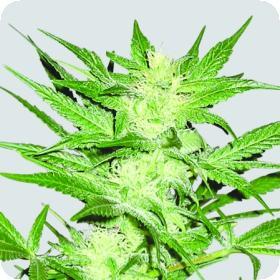 After your Christmas meal, you'll be keen to get stuck into some wine and cheese perhaps. Make it Swiss Cheese with this great strain from Nirvana Seeds. The genetics are Skunk #1 x Swiss Miss and believe us, you don't want to miss it. Just don't overdo it.
8 – Baby Boom Automatic Feminised Seeds by Kannabia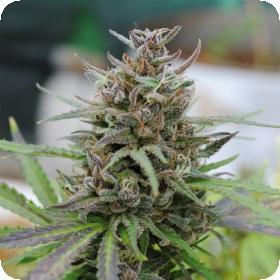 Let's remember, at least if you are religious, that it is all about a newborn baby. This might get you in the mood too and result in a winter baby boom. This Rudelaris and Northen Light x Blueberry. The Northern lights genetics bring out unique attributes like the smell of pine mixed with earthy, woody undertones. Couple that with the distinct smell of blueberries and you get an interesting mix of sweet and sour that is at the same time fruity and acidy with an undercurrent of musky goodness.
9 – Fat Banana Feminised Seeds by Royal Queen Seeds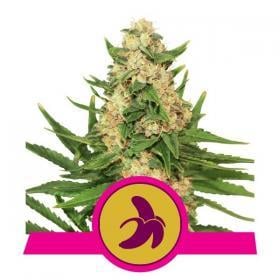 So after the Christmas splurge, you're going to be one big fat banana. It's Christmas time so just go with it.  Fat Banana is the product of a super selective strain development process that aimed to hybridise the biggest, fattest Banana OG specimens. Fat Banana is big on flavour and packing a serious amount of cannabinoids. If you can, get your fat fingers on the keyboard and check out all the information on the strain you can.
10 – Bubba's Gift Feminised Seeds by Humboldt Seeds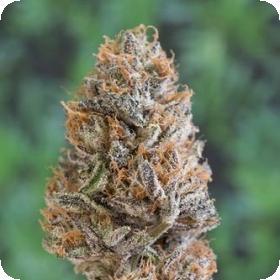 Christmas is all about giving, so how about you give someone Bubba's Gift! The genetics here are Bubba's Kush X God's Gift.  This strain also produces a very intense aroma and flavour with subtle hints of exotic tropical fruits that many compare to the taste of a Pina Colada with hints of oil and spice. You can't get any more 'Christmassy' than that, can you?
11 – Three Blue Kings by Humboldt Seeds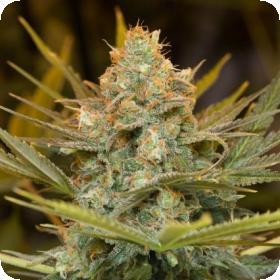 As you'd expect being Three Kings it's a cross of Blue Dream x Three Kings ((Headband x Sour Diesel) x OG Kush. What a beauty. The aroma of Three Blue Kings seeds reminds of fruity, sweet, zesty overtones while the intense flavour is pungent with hints of pine, fuel, petrol and lemon. A cannabis strain that produces a powerful, long-lasting couch lock high with a warm, cerebral effect. Lovely.
12 – Jesus Seeds from Subcool / TGA Genetics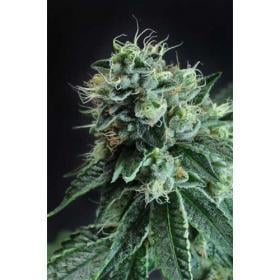 Jesus OG Regular Seeds from Subcool could be the answer your looking for this Christmas. Get some divine intervention with this 'cross' (did you get it)? Of Hells OG X Jacks Cleaner X Space Queen. Wow. You will know when you've been touched by Jesus OG. The effect is powerful and immediate and is everything a great sativa should be. With very high THC, this is no lightweight strain. It is very uplifting and will leave any user feeling energised, motivated, and inspired.
Why not head on over to The Vault Cannabis Seeds Store now and pick up some Cannabis Seeds now, whilst taking advantage of the discount code VAULT15 for a whopping 15% discount off your order of Discount Cannabis Seeds.
Newsletter Sign Up
Make sure you never miss another Vault promo – sign up for our newsletter at http://goo.gl/Bt2Ba2
Remember: It's illegal to germinate cannabis seeds in many countries.  It is our duty to inform you of this important fact and to urge you to obey all of your local laws.