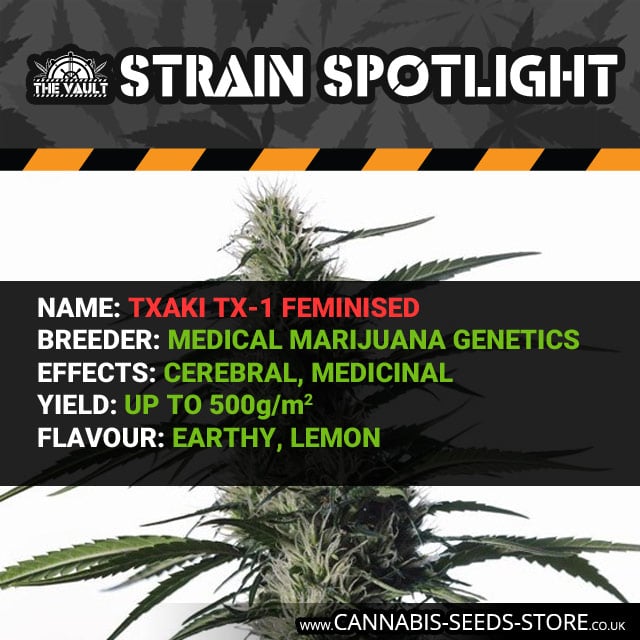 This sativa-dominant beauty is more than just a bunch of pretty pistils – it is simply packed with potent medicinal potential!
Background
Created by crossing the super-rare, much sought-after Mexican Tijuana with Medical Marijuana Genetics' signature strain – the CBD-rich Candida (CD-1), the resulting Txaki (TX-1) is a finely tuned medicinal masterpiece which possesses a balanced combination of its parents' best properties.
Effects
Lab tests on Txaki TX-1 returned some impressive results: a CBD level between 8.9% and 17.5% and THC level from 4.5% to 11.4%; a combination which delivers all of the medicinal benefits of each of these important cannabinoids, with a distinctly Sativa-esque cerebral effect.  Txaki TX-1 is a popular choice for cancer sufferers and also comes highly recommended as an effective way to alleviate the effects of ADHD, depression and anorexia.
Flowering time and yield potential
This gorgeous strain really likes to spread itself out, with the ability to grow incredibly large in both outdoor and indoor settings.  A flowering time of 10-11 weeks can yield impressive results of between 300 and 500 g/m2.
Flavour
Earthy, with light lemon and pine notes, this delightful strain has a complex flavour profile with a wide range of subtle nuances that any Sativa connoisseur will appreciate.
Would you like to add some Txaki TX-1 seeds to your collection?
If you'd like to pick up some of these superb medical seeds, The Vault is giving away an amazing 15% discount off Txaki TX-1 Feminised, when you enter the code: TX115 in the cart!
Why not head on over to The Vault Cannabis Seeds Store now and pick up some Medical Marijuana Genetics Cannabis Seeds whilst taking advantage of the discount code VAULT15 for a whopping 15% discount off your order of Marijuana Seeds.
Newsletter Sign Up
Make sure you never miss another Vault promo – sign up for our newsletter at http://goo.gl/Bt2Ba2
Remember: It's illegal to germinate cannabis seeds in many countries. It is our duty to inform you of this important fact and to urge you to obey all of your local laws. The Vault only ever sells or sends out seeds for souvenir, collection or novelty purposes. All of our content is provided for educational purposes only.