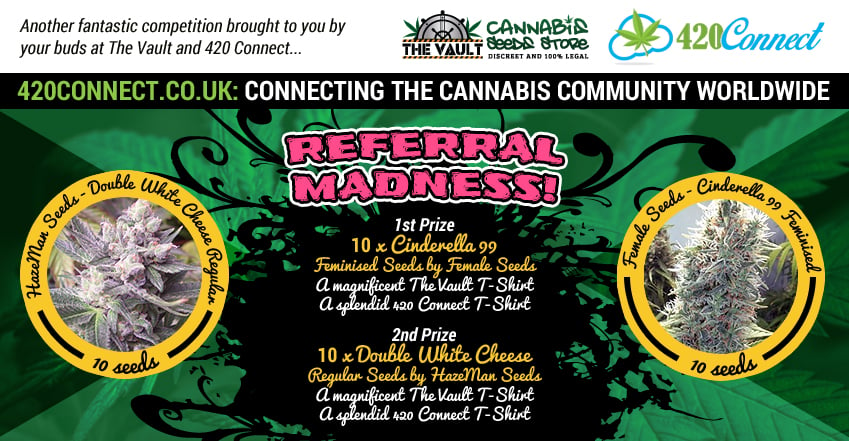 Here at The Vault, we're always looking for new ways to give our buddies around the world a great chance to win some top-notch goodies. This time, we've teamed up with our comrades at 420 Connect to bring you a fantastic competition that will see two winners walk away with some truly superb prizes…
Are you ready for Referral Madness?!
Two winners will get a Hulk-sized fistful of prizes:
1st Prize
•   10 x Cinderella 99 Feminised Seeds by Female Seeds
•   A magnificent The Vault T-Shirt
•   A splendid 420 Connect T-Shirt
2nd Prize
•   10 x Double White Cheese Regular Seeds by HazeMan Seeds
•   A magnificent The Vault T-Shirt
•   A splendid 420 Connect T-Shirt
How to enter
Lady Luck will definitely play a part in determining who will win this badass competition: But this time you can help to stack the odds in your favour and take matters into your own hands…
That's right, for this competition we won't be picking winners at random: You can only win if you bring some hustle and put your game-face on, because the prizes will be awarded to the two people who bring in more 420 Connect referrals than anyone else between 19th Feb and the 1st of March.  Winners will be announced on the 2nd of March.
If you have the guts and the gusto to go referral loco, you stand to win big: So get out there, hit up all your buds, bring in mega-referrals and seize the chance to win this awesome prize with both hands!
To find your referral link: Simply visit your profile page on www.420connect.co.uk, then scroll to the bottom of the page where you will find your unique referral link (If you're logged in you can visit this link to jump straight to your profile: http://www.420connect.info/forum/index.php?action=profile)
Share your unique link and get anyone you think would be interested to sign up for the forum through your unique link or by typing your username in the appropriate box on the registration page, here: http://www.420connect.info/forum/index.php?action=register
Official thread on 420 Connect can be seen HERE
About the prize seeds
The seeds that we are slinging this time are true grade-A masterpieces of genetic engineering from two of the most cutting-edge breeders on the planet. Let's take a sneak peek at what the winners stand to add to their seed collections:
Double White Cheese Regular Seeds by HazeMan Seeds
As delightfully delicious as a deep-dish Hawaiian pizza
Featuring a genetic makeup which includes UK Cheese and Aloha White Widow, this is a smooth, blissfully mellowed-out strain with excellent pain-relieving potential. Earthy undertones help to blend the waves of tangy cheese scents and floral, tropical aromas together in perfect harmony for a remarkably well balanced flavour profile that will give you a real taste of paradise.
Cinderella 99 Feminised Seeds by Female Seeds
This iconic Sativa-dominant strain is pure magic that will knock those glass slippers off your feet!
The fairy godfathers at Female Seeds have done it again by resurrecting a legendary strain which was worryingly close to being lost forever. Thanks to their efforts, the beautiful Cinderella 99 seed strain is back for good and ready to add to your collection!
C99 is known for its clear-headed, energetic high, fragrant pineapple/grapefruit aromas and its deliciously sweet, incredibly moreish flavour profile: If you want to have a ball, this strain is the perfect fit!
Legal disclaimer
The winners of this competition will have their prizes sent via recorded delivery. If you are lucky enough to win, but don't receive your prize, we cannot resend competition seeds, so you'll have to raise this issue with your local delivery service (in the UK, for example, this would be Royal Mail).
Remember: It is illegal to germinate cannabis seeds in many countries. It is our duty to inform you of this fact and to urge you to obey all of your local laws. The Vault only ever sells or sends out seeds for souvenir, collection or novelty purposes.
UPDATE 02/03/15:
The winners of the 420 Connect referral competition have been announced at http://www.420connect.info/forum/index.php?topic=901.msg4956#msg4956
A big thanks to all who entered. We will have a new competition for you soon, stay tuned