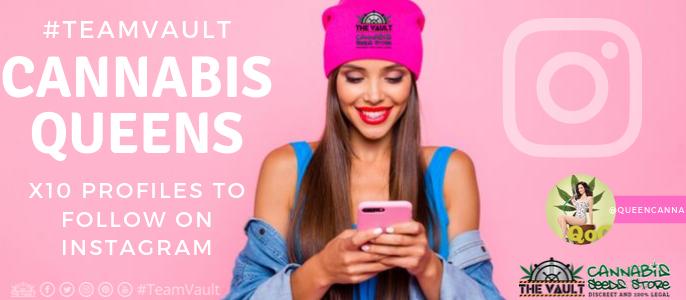 This blog post is a collaboration between our sister Facebook page, Queen of Cannabis, which has an audience of just under 50,000 – why don't you start by dropping it a follow. The page posts general Cannabis funny and entertaining content, alongside some Queens of Cannabis pics and Influencers too.
The page is now evolving into a place where the top Cannabis Influencers will be featured daily. If you're keen to be featured on the page please tag us in this post on Instagram or DM us on any of our social media pages.
In the post, we take a look at some 'Queens of Cannabis' over on Instagram. It's a busy Cannabis Community and there are some passionate female Cannabis fans out there that we think you should follow.
We're not necessarily looking at those with the largest audience (that would be too easy), but those whose accounts we like based on the content they share and sometimes the causes they believe in (legalisation and so on). Some of the following have also featured on the Vault Instagram page too, due to their quality canna content.
Before we kick on with the 10 accounts, keep an eye out for a follow-up post on the 'Kings of Cannabis'. We will publish this in the coming weeks, but as we're polite gents here, its Ladies first…
1. U Highness – @u_highness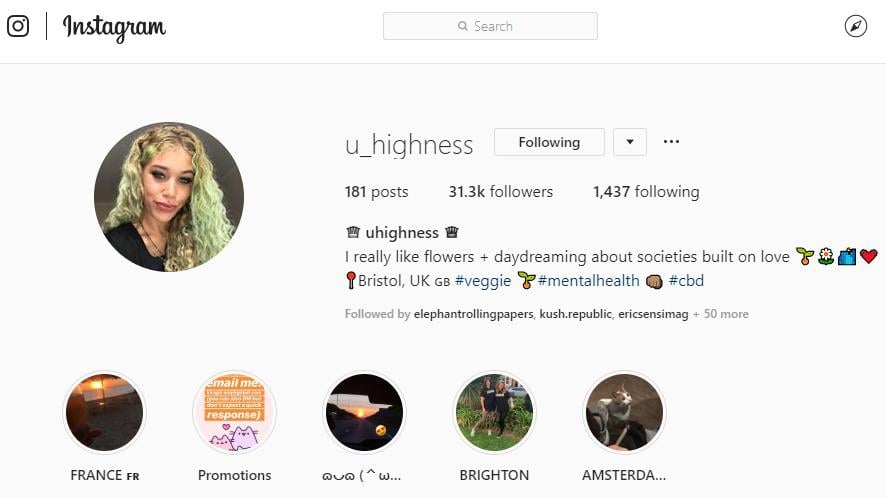 U_highness has been an online #cannfam friend for a while now. You tend to find influencers are very approachable and out-going, and we found that when we connected with UH. UH posts often and delivers some cool and quirky Cannabis content. Follow now, we say.
2. Baked Beautyyyyyy – @_bakedbeauty420_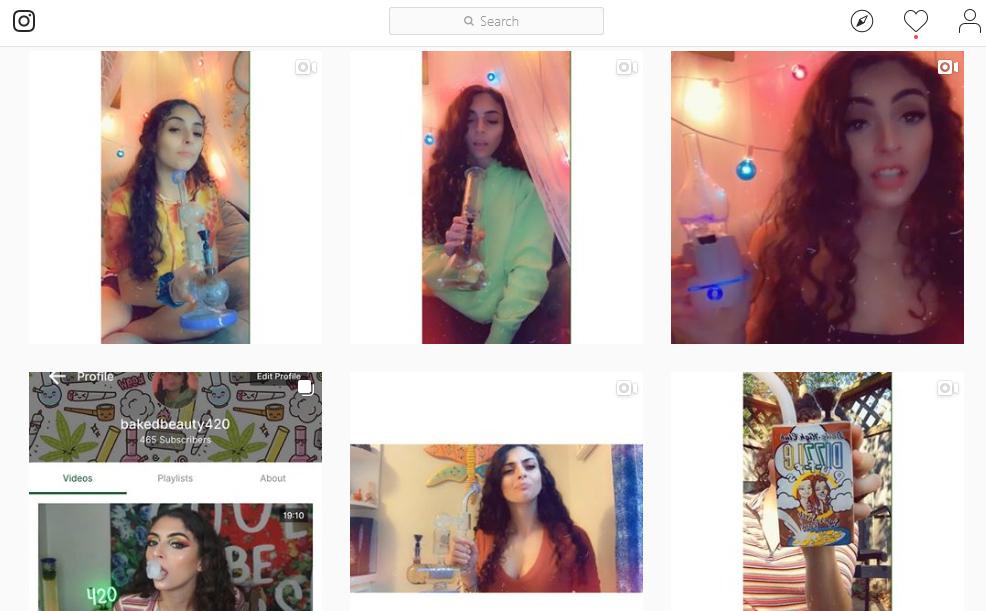 So BB loves a good video and sometimes even a song, heck. And why not. Baked Beautyyyyyy describes herself as a Weedtuber and Weed enthusiast so you should get involved and follow her. Tag the Vault in the post when you say hi.
3. QueenCannabisUk – @queencannabisuk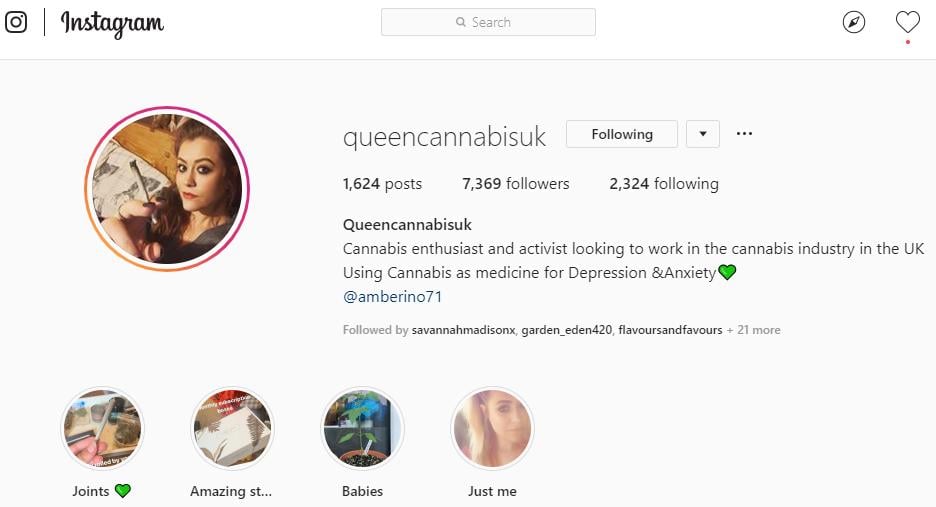 Queen Cannabis UK has a great account that she updates daily with her life and ties it into her love of Cannabis, especially being used as a medicine for Depression and Anxiety. The more we can have people like Queen Cannabis UK who talk openly about mental health and at the same time show how Cannabis helps, the better. It's also good to have someone from another part of the UK too – Wales.
4. Savannah Madisonx – @savannahmadisonx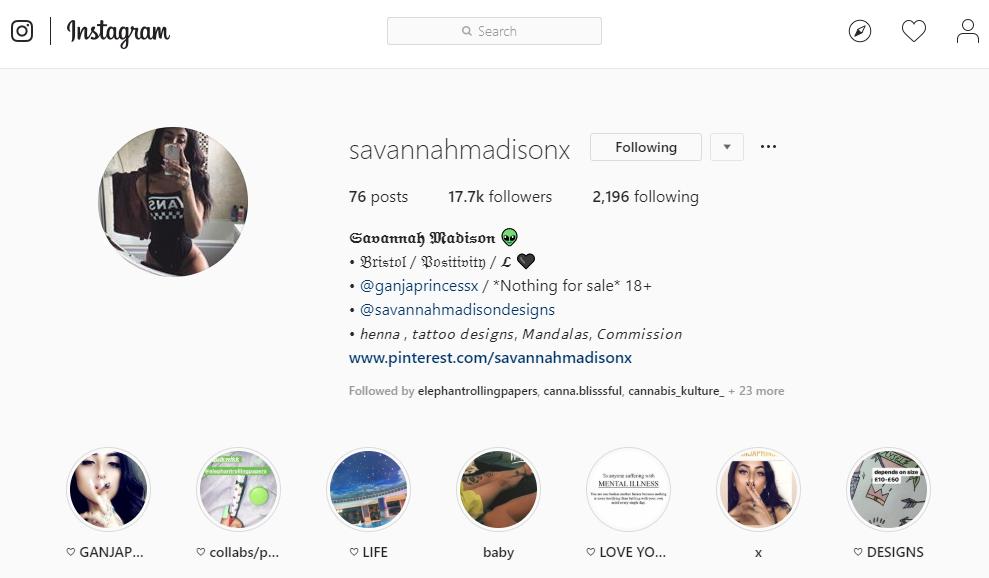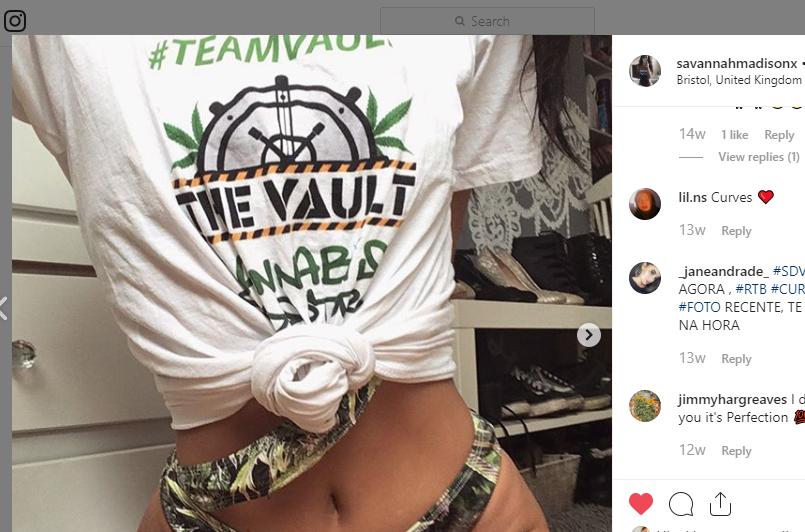 Savannah worked with the Vault recently by dropping is a post on her Instagram page. For doing this, we supplied the seeds and a goodie bag. If you have a Cannabis orientated account and have a good following of engaged Cannabis people, then we'd be happy to drop you a package out. See more details at the end of the blog.
So back to Savannah, make sure you follow! She's an arty type too, so her posts should be more eye-catching, quirky and entertaining! Tag the Vault and tell Savannah we sent you.
5. Gypsy Kira – @gypsykira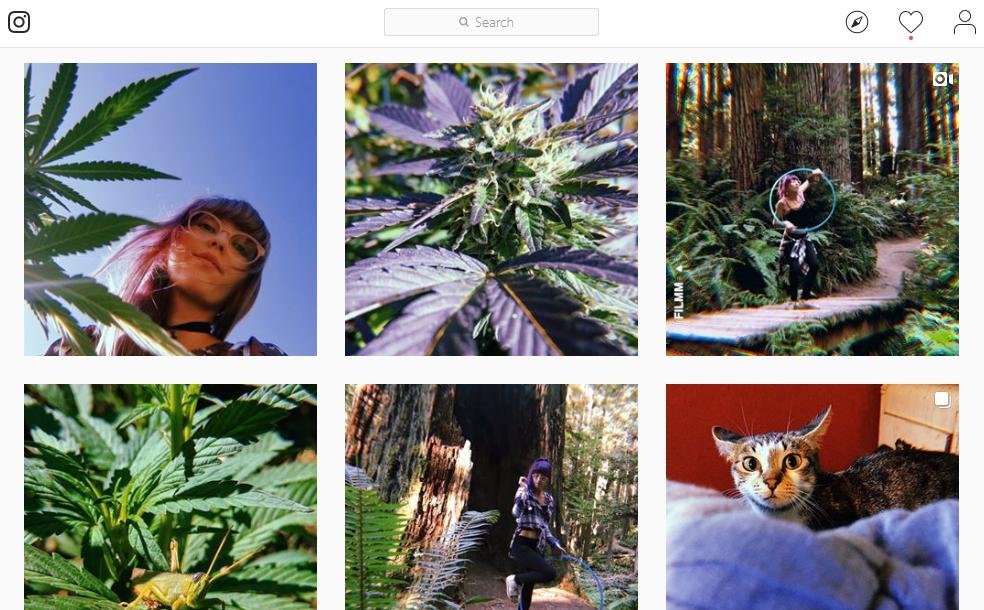 Gypsy Kira popped up under the #cannabisgirl hashtag and we found her page through that. Her pics' are simply stunning, such as the Cannabis Plan at the top centre above! There's also a bonus cat pic' in there if you like cats.
6. BootyandBuds18 – @bootyandbuds18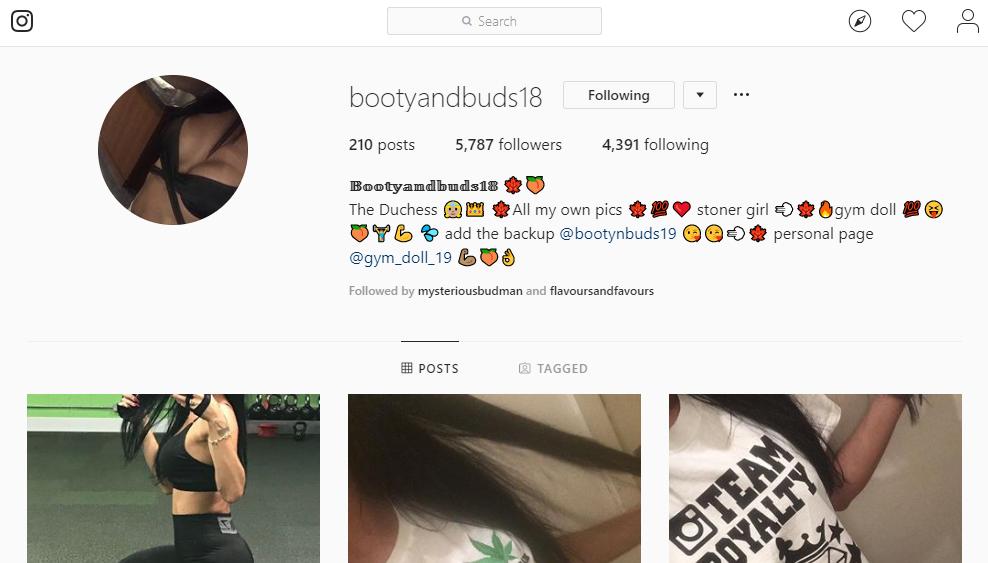 It is what it says on the grinder, I mean tin – sorry. Booty and Buds 18 is The Duchess! More than suited to a post on the Queen of Cannabis page. Follow for more.
7. Aaliyah Ei – @thelittlebeast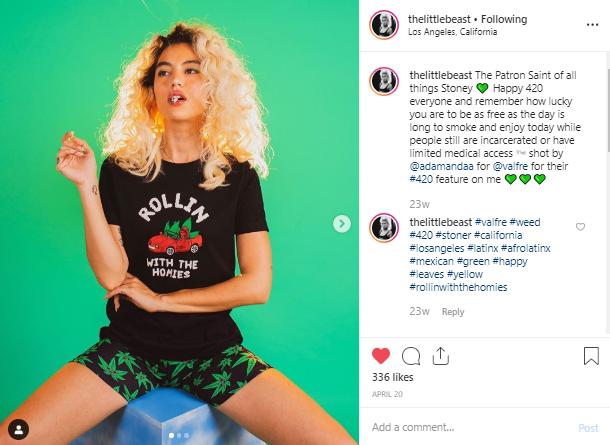 The littlebeast just has a damn pretty cool account and that's that nearly 12,000 others follower her. You should too! Say hi and mention the Vault sent you over.
8. Bess Byers – @imcannabess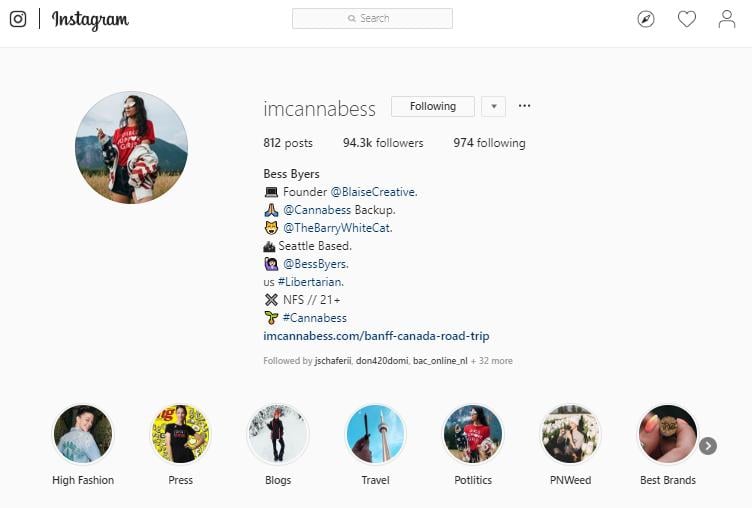 Bess is well known across the industry and we've noticed her pop up on various Canna' related sites across the web. Her pics are always of a high quality and she can usually be found in Cannabis Farms and other cool locations, with reefer in hand. Check her out.
9. Green Goddess Glow – @greengoddessglow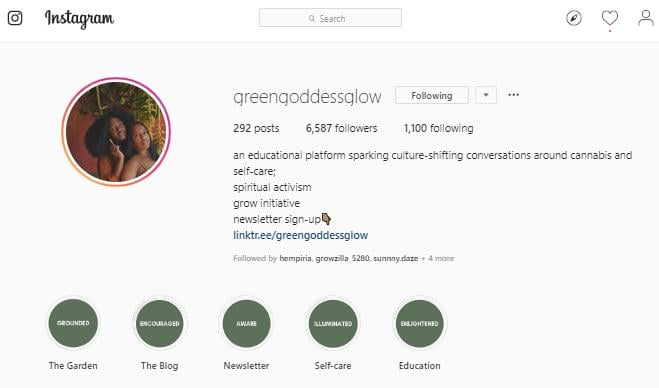 GGG takes a slightly different look at Cannabis Her profile is about Cannabis education and trying to make culture shifts around it. Check out here content via the link above.
10. Grow Sisters – @grow.sisters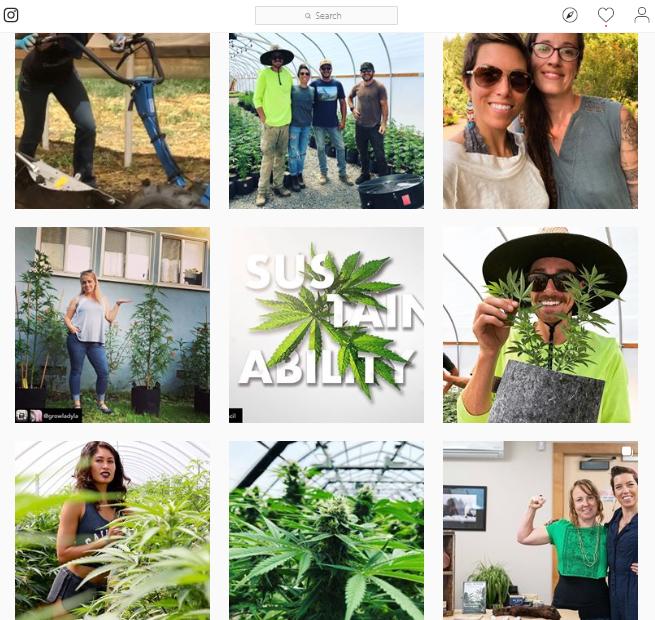 The Grow Sisters are pro's on Instagram when it comes to their content. With nearly 100k following you can see why. Follow their story using the link above.
Summary
So there are 10 accounts to get following on Instagram. Remember to engage too and not just follow. There are a ton of other Cannabis people we could have made note of, but we will be focussing on another 10 accounts soon.
Want to become an Influencer for The Vault?
The Vault are a UK based cannabis seeds, seedbank who sell around the globe. We're always open to new ways to get in front of a new audience, therefore, if you'd be interested in swapping some seeds and goodies in return for sharing some of the Vault love, we'd love to hear from you.
Any influencers who work with us will also benefit from a shout out on The Queen of Cannabis Facebook page to help with your own promotion.
You can reach the Vault On Instagram here. This is our newer backup account.
GO #TEAMVAULT
Newsletter Sign Up
Make sure you never miss another Vault promo – sign up for our newsletter at http://goo.gl/Bt2Ba2
Remember: It is illegal to germinate cannabis seeds in many countries and some remote, less enlightened planets outside the core systems.  It is our duty to inform you of this fact and to urge you to obey all of your local laws to the letter.  The Vault only ever sells or sends out seeds for souvenir, collection or novelty purposes.