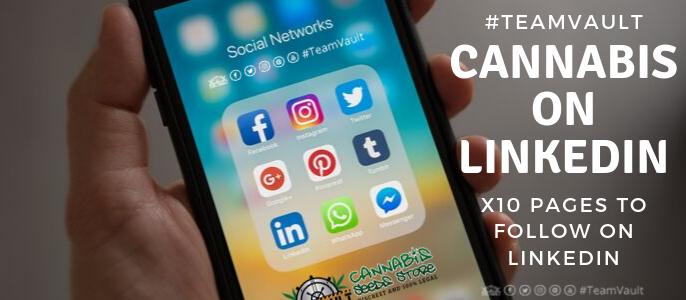 Cannabis & LinkedIn. Something I didn't think I would be writing about a few years ago, but here we are! So why? Well, Vault community, the reason why is that there's a really active community on there discussing Cannabis. Yes, it might be more business orientated, but if you're on there, then it's worth digging a little further and connecting with some cool people, or joining some fun groups.
So, to save you some time, here's a list of 10 key things you should be doing on LinkedIn to get Cannabis Connected!
1.  Find a job in the Cannabis Industry
With it being a professional business network, one of they key things you're able to do, is find a new job. This is a growing market in the UK as we aim for legalisation here, but it's a very mature market in the US and Canada. By clicking on the title of this section you can take a look at the current Cannabis related jobs on the market.
2. Cannabis Groups on LinkedIn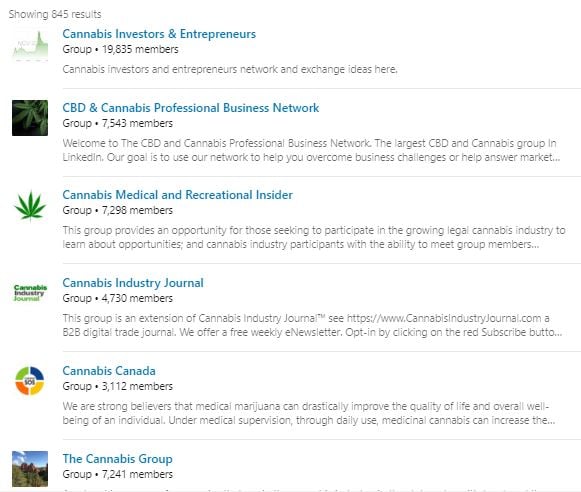 There are 845 groups on LinkedIn with a Cannabis orientation. Here's a list of some of the groups you could join. Again, they all have a business tone, but maybe you have a business idea and want to sound it out in these groups. Just make sure you don't start a Cannabis Seed Business as the best one is right here (where's the tongue in cheek emoji when you need it).
It's great to see that people can be open and honest about what they do on LinkedIn. Obviously, this is a little easier to do if you're in Canada, where it's legal, but in the UK, we know fellow peers who won't display they work in the industry, due to fear of a future employer bypassing them due to the pre-existing stigma that still exists.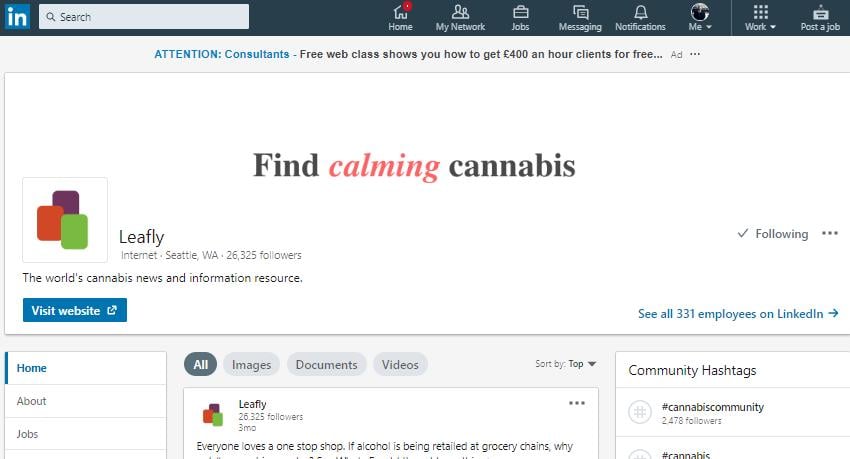 We all know Leafly right? Well, it's no surprise that they're on there along with 331 connected employees of there's. What a big operation that is, but I suppose they have to be as they state they are 'The World's Cannabis News and Information Resource. We can't argue with that. Click on the title of this section to view and follow their page.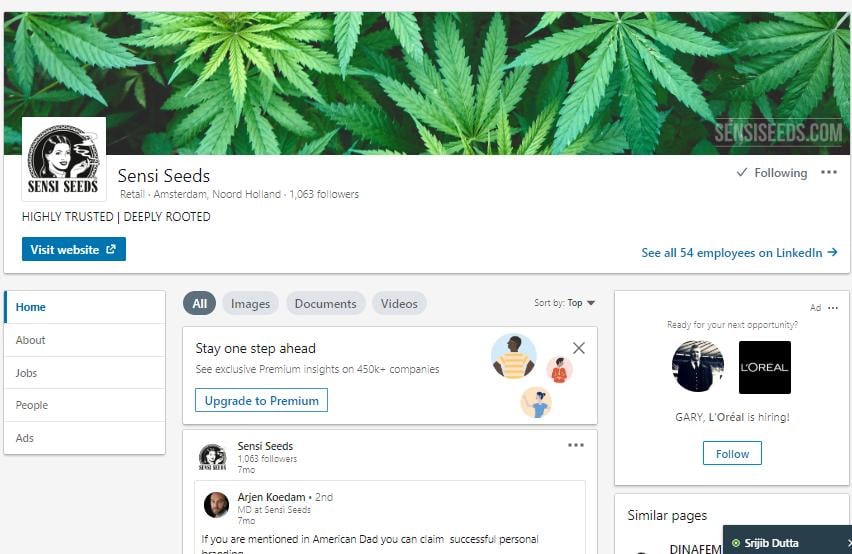 This is a name that should be very familiar with The Vault Community. Sensi Seeds have worked with the Vault for a while now and continue to be generous to our audience by doing cool social media give-aways and running promos through The Vault Website and Social Media Channels. This is definitely a page you should follow if you're on the platform.
There are many of our partner breeders on LinkedIn, but the next of interest to you should be Dutch Passion. As per their write up, Dutch Passion are one of the world's oldest seedbanks and one of the few remaining original seed companies. DP are clearly staying ahead of the game by building an audience on LinkedIn.
LinkedIn, like all other social media channels is driven by fresh content. If you simply search 'Cannabis' under the content tab, you're delivered some up to the date blog and video content. Check for example this video from Kevin Ahaesy: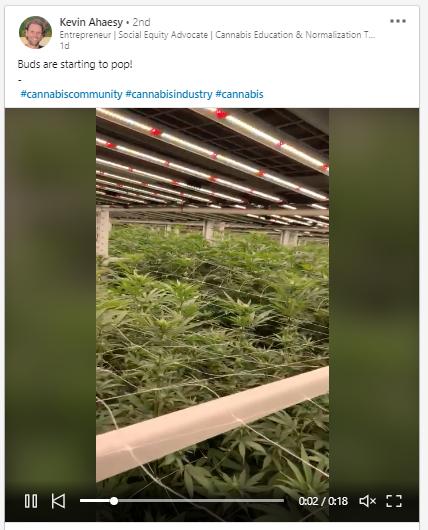 Not every day you see that type of content scrolling past you every day on LinkedIn. It's only been live for one day and has had 108 reactions, 29 comments and 1,852 views. Not bad numbers at all and goes to prove there is an active Cannabis audience and community on there.
Not only is there good video content, but there's great short and long-form written content too (such as blog posts).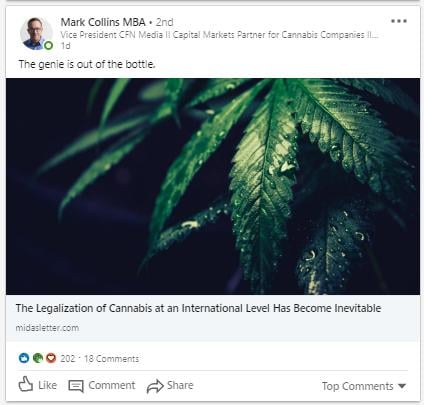 This post from Mark Collins, MBA points to the fact that the legalisation of Cannabis at an International level has become inevitable. We sure do hope so. To read this and all other content Mark distributes, click on the image above.
8. Cheryl Shuman – LinkedIn Profile: Invester, Keynote Speaker, Events, Media Producer, PR, Founder of Beverley Hills Cannabis Club.
You can't do a post on the movers and shakers in Cannabis without mentioning Cheryl Shuman. Cheryl has an audience of 25,000 on LinkedIn and they tune into her content which looks a little like this: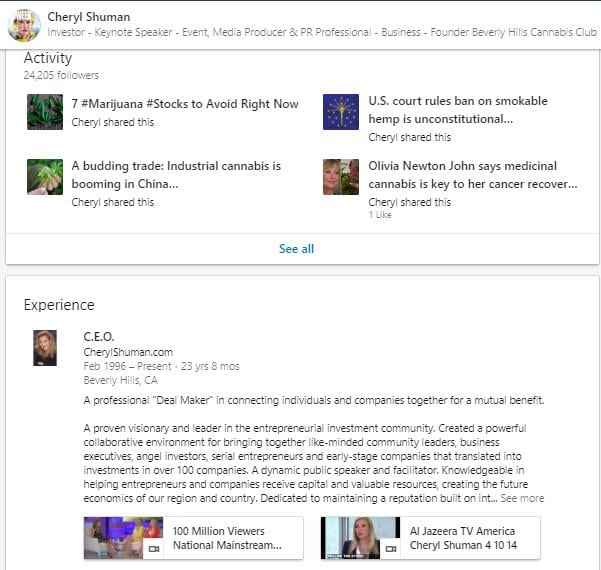 Be sure to connect!
9. Peter McCusker – Launch Editor of Cannabis Health Magazine
We wanted to drop a special mention to Peter McCusker who's just launched the Cannabis Health Magazine in the UK. We actually received a print copy of the first edition and have to say we are very impressed. I'm sure if you asked Peter nicely he might let you know how to get your hands on a copy.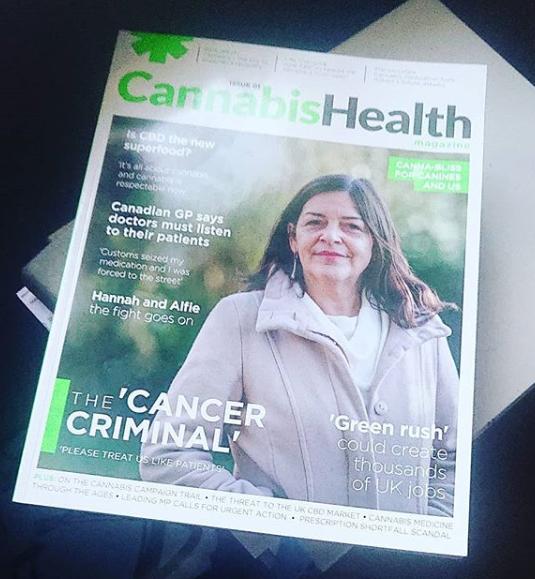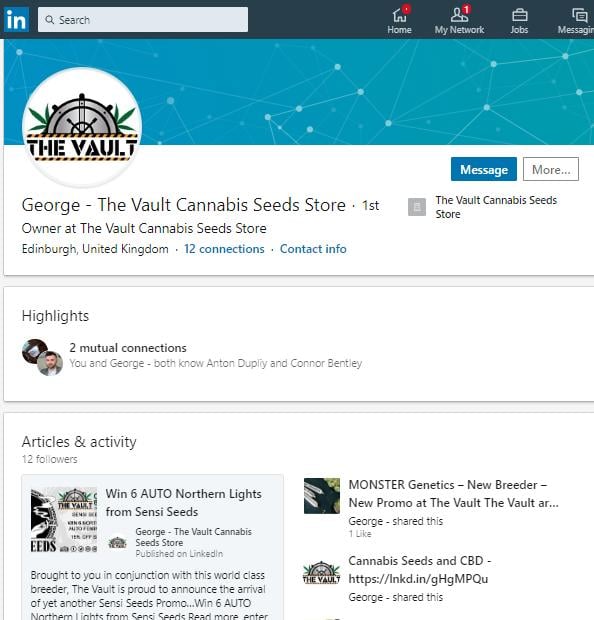 As you know, The Vault are very busy across all Social Media pages. We like to keep you entertained, informed and give you some of the best promos around on our Facebook, Instagram and Twitter pages amongst others. Now that we've established ourselves there, we are going to be more active on LinkedIn. George's page can be found here. If you're on LinkedIn please drop a connection request over and mention you read this blog post.
Summary
 LinkedIn isn't for all, and if you're not on it, I wouldn't suggest (unless you really want to) set up a profile just for the Cannabis content. You can get the same/similar content on other channels. That said, if you're a Cannabis professional and / or work in the industry (or want to), then set up a profile now as you're missing out.
Newsletter Sign Up
Make sure you never miss another Vault promo – sign up for our newsletter at http://goo.gl/Bt2Ba2
Legal Disclaimer: The competition winners will have their prizes sent to them via recorded delivery.  If you win the competition but don't receive your prize, we cannot resend competition prizes, so you'll have to raise this with your local delivery service (In the UK, for example, this would be Royal Mail).
Remember: It is illegal to germinate cannabis seeds in many countries and some remote, less enlightened planets outside the core systems.  It is our duty to inform you of this fact and to urge you to obey all of your local laws to the letter.  The Vault only ever sells or sends out seeds for souvenir, collection or novelty purposes.