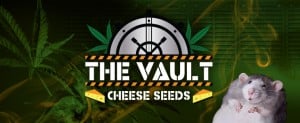 When it comes to unique cannabis seeds, few strains have the potential to divide opinion quite as much as the notorious 'Cheese' variety and all of the spin-off remixes that it has laid its cheesy-smelling tendrils on…
The cheese which doesn't come from a dairy farm
The infamous 'cheese' strain of cannabis first made waves on the UK seed collectors' scene, way back in the early 1990s, a time when MC Hammer hit up the charts and when pump-up trainers were all the rage (Yes, it was that long ago!);
Cheese's uniquely pungent aroma and uplifting characteristics made it a firm favourite for many connoisseurs, however, like the finest cheeses, it often proved to be a bit of an acquired taste, which some taste-buds rejected in favour of sweeter, more fruity strains…
Nonetheless, this convention-challenging strain would endure the test of time, going on to become the most popular variety of cannabis seeds sold in the UK!
Rolling on to the present day, Cheese is a globally recognised strain which regularly appears on many collectors' all-time top-3 lists: This is due to the efforts of top breeders like Big Buddha Seeds, who have worked tirelessly over the years to bring Cheese bang up-to-date with the addition of Afghani genetics for bigger yields, improved flavour and an even greater range of mind-blowing effects.
Crackers are optional with this cheese
Today's breed of Cheese maintains the all-important ripe, dank characteristics of the 1990s strains, with a mildly sweet scent buried beneath waves of pungent, unmistakeable cheesiness; The taste is often described as being rich, tangy and sharp, with earthy, spicy notes and a goat's cheese-like aftertaste: In fact, there's nothing quite like cheese in the weed-seeds world, which is why no seed collection would be complete without a few cheesy specimens present…
Would you like some cheese on that?
Thanks to some truly pioneering work by top breeders throughout the globe, a veritable smorgasbord of cheese-flavoured strains is now available at your fingertips, with some of the most popular remixes including:
Cheese Dawg Feminised: By crossing Chemdawg 91 with Big Buddha Cheese, this masterpiece is characterised by its strong Indica influence and its deep, pronounced medical-grade effects.
Cheesy Dick Feminised: This strain combines the legendary Moby Dick strain (itself derived from the marriage made in heaven which is Jack Herer x Critical Mass) with the critically acclaimed Cheese: Massive yields, colossal THC concentrations and beautifully spicy, smooth flavours make the genetics locked within each of these seeds a valuable addition to any library.
Pineapple Chunk Feminised: The boffins at Barney's Farm did the unthinkable: By successfully merging Pineapple with Cheese and Skunk #1 genetics, they produced a single strain which combines all of the strengths of these legendary seeds in one game-changing package: This truly is one strain to rule them all!
All of your favourite cheese strains in one handy place
Whichever type of cheese floats your boat, you can be sure that it'll be available at The Vault;
Our team of connoisseurs have been hard at work assembling an enviable collection of quality cheese strains to make their high-grade genetics available in one convenient location.
Click here to view our unbeatable range of top-notch cheese seeds now!
Be sure to obey your local laws and do not attempt to grow cannabis seeds if it is illegal to do such a thing where you live.