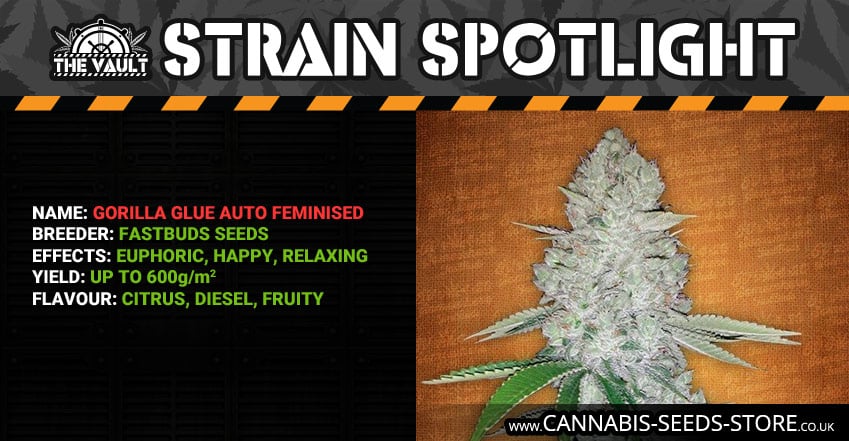 Stick around for a strain that's as strong as King Kong!
Background
This award-winning indica/sativa/ruderalis hybrid strain gets its name from the massive amounts of sticky, glue-like resin that virtually drip from its lush buds.
Effects
Exceptionally high THC levels, combined with sub 1% CBD levels mean that this is one seriously powerful strain, both in terms of its uplifting, euphoria-inducing high – and its painkilling potential, which makes it an incredibly effective method for treating a wide range of medical conditions.
Flowering time and yield potential
A flowering time of 8-9 weeks can yield incredible results of up to 600g/m2.  The resulting buds are massive, dense and simply jam-packed with oodles of oozing resin: When you factor in just how easily this strain flourishes, even in less than ideal conditions, you will realise why Gorilla Glue Auto Feminised is so popular among beginners and veteran collectors alike!
Flavour
Intense sour lemon fizzes on the tongue, whilst clean pine and funky diesel undertones create an incredibly complex aftertaste: Not a banana in sight, but you'll go ape for the taste of this sticky delight!
Would you like to add some Gorilla Glue Autoflowering Feminised seeds to your collection?
If you'd like to pick up some of these stunningly sticky seeds, The Vault is giving away an amazing 15% discount off Gorilla Glue Autoflowering Feminised, when you enter the code: GGA15 in the cart!
Make sure you never miss another Vault promo and sign up for our newsletter at http://eepurl.com/U2sFj
Remember: It's illegal to germinate cannabis seeds in many countries. It is our duty to inform you of this important fact and to urge you to obey all of your local laws. The Vault only ever sells or sends out seeds for souvenir, collection or novelty purposes. All of our content is provided for educational purposes only.