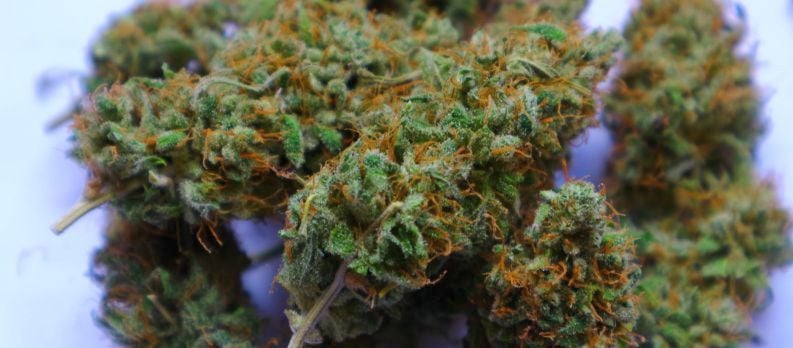 G-13 is probably one of the most talked about and hyped strains ever, it's history is, as one can imagine, clouded in legends, myths and as always disputed and has several angles or entirely different origin stories. The strain has been a part of legends for decades and has been featured in popular culture, most notable in the movies American Beauty and Pineapple Express. It's said that the strain that became legend is long gone and extinct but numerous hybrids and variations still exists.
The myth of how G-13 came to be
The myth goes that during the 1960s, '70s and '80s government grew and bred cannabis for scientifical and research purposes. And that part is true, on the University of Mississippi Government was trying to develop a standarized way to test for THC, CBD and other different cannabinoids and they grew various strains available to them. Some stories say that, among others they used seeds which were taken in police and FBI raids, but most likely they used seeds available to them from the UN.
The myth goes that G-13 was a 100% Indica Afghani descent which tested, at that time incredible 28-30% THC. The myth also states that the researchers had 23 pure Indica landrace plants labelled simple G1 – G23 where G stood for Government and that the G-13 was the best of the bunch while other versions say that the G-13 was short for Greenhouse 13 where the plants we're growing.
Although research conducted as part of the Potency Monitoring Project (PMP) show no records of strains with a potency higher than 9.5% and the similar PharmChem Laboratories Inc. research conducted at that time shows no strains exceeding 14%, people who have smoked G-13 'back in the day' sware by it's potency. The standard way for PMP to test samples was that they would take the whole plant with stalk, branches, leaves, flowers and seeds – mix them together and then test the sample so it's possible for the strains to have much higher results then the ones indicated but 30% seems far fetched.
Government ditch weed
High THC levels, even for today's standards seem very unlikely, especially knowing the policy of University of Mississippi's cannabis program. They remain to this day the only source for federally legal cannabis, that's available for various research and studies. Being a Schedule 1 narcotic, in order to have access and work with it, all researchers even need to become 'deputized' from the DEA, which limits the availablity and potential of any cannabis research.
Dr. Peter Grinspoon, one of the leading authorities on cannabis medicine, described their weed as "brown, muddy garbage". Dr. Mahmoud ElSohly – the head of the cannabis program, on the other hand, said that his cannabis is too high for someone to even finish the ciggarette. He believes that anything stronger than 8% THC is just used by addicts and can't understand why would anyone use it. Plenty of photos of government weed have been published already, so it's up to you who you'll believe but imagine the advances in medicine we could have seen if more medicinal and more potent plants were available.
Also, Mel Frank states that Ed Rosenthal and himselft visited the facility and were in contact with people working there. He states that when he first went there he was excited that he was going to meet scientists who could answer his questions and who could teach him, but instead it was the other way round and ended up answering questions them selves. Dr. Carlton Turner, who was leading the research, reported that their samples never exceded 6.5% of THC (a sample from Huboldt County) and was impressed with strains goten from Mel Frank that had tested way more than that.
The "real" birth and the commercialization of the G13
On how the strain got out of the facility there are many different tales, from some potheads breaking into the facility and taking the plants to the one that's more 'plausable' – that a friendly scientist gave away a few clones to his grower friends. One of those friends reportedly being Sandy Weinstein, a member of the Sacred Seeds, who later gave away a few clones to Nevile Shoemaker who brought them to Holland.
Once Nevile brought the clones to Amsterdam he began producing numerous F1 hybrids including G13 x Haze, G13 x Ortega, G13 x Hashplant, G13 x Northern Lights #2 and G13 x Skunk #1, most can still be found on Mr.Nice Seedbank. Out the bunch a hybrids with Haze and Skunk #1 remain the best ones to date. Acquiring pure G13 genetics is considered impossible if it ever even was a case.
With reportedly Sensi mother dying out just Nevile, Shantibaba and Soma – who has gotten his cut from Ed Rosenthal which got it from Neville may have access to some form of the strain. Also, as with any good strain, cuttings and clones were used to make new great strains like Lemon G-13, XJ-13 (a hybrid with Jack Herrer), Devil's Haze, Grenadine, John Doe, Lady Cane, Monster, MK Ultra, Cannatonic, Hash Heaven and ACDC.
The 'original' G-13 was said to be a pure indica but some people have reported more of a Sativa experience and look and feel of the plants, so it's possible that the plant had some phenotypes which would suggest that it was a Indica cross of some sorts rather than a pure landrace. Or like in many other cases it's just a case of misslableing being it on purpose or not but it's very possible that many people are trying to cash in on the misterious and enterteing myth of G-13.
Some of the G-13 related strains we have on the Vault are:
G13 X Skunk from Mr. Nice Seedbank is a cross between two legendary strains G13 and Skunk #1. Usually testing at 15-20% THC, it will provide for a strong and powerful body high, leaving you relaxed and happy. Its strong musky and earthy flavors are mixed with flowery and spicy aromas reminding you of smoking a really good hash. Plants are highly medicinal and usually come as two different phenotypes, each taking more from one parent.
Mr. Nice G13 X Hash Plant from Sensi Seeds was released in 1999 as a pure Indica. A cross between the legendary Mr.Nice G13 and a selected Hash Plant, it's a short, sturdy and stocky plant that finishes in 8-9 weeks and produces large yields. Pungent – spicy, sweet and earthy, it will provide for strong and long-lasting, relaxing body-buzz or even couch-lock. Strain was named after Howard Marks, legendary hash smuggler and is a multiple cup winner. A perfect choice for all cannabis connoissurs and Indica lovers.
By crossing the legendary G13 with a Hawaiian Sativa, Barney's Farm have created this highly potent Sativa dominant hybrid that's packed with aromas and flavor. Easy to grow, G13 Haze is perfect for all seeking a potent and flavourful day time strain. Effect are energetic, uplifting, creative and euphoric, leaving you relaxed and stress free. A great strain to use throughout the day. Smells are spicy – sandalwood, pungent and rich with earthy and piney undertones. Flavors are sweet and fruity reminding you of sage and other spices.
G14 Auto from Fast Buds Seeds is a hybrid cross between the legendary G13 Hash Plant and two different phenotypes of Lowryder. Made with stealth and guerilla grows in mind, this strain packs a lot in a small space and will satisfy beginners and professional growers alike. Due to its G14 HP heritage and relatively high potency, the effects will usually be ones we associate with all Indica dominant strains – strong, long lasting, relaxing and sedative – couch locked. While the aromas are usually pungent, sweet and lemony with earthy and woody undertones.
Check out other G13 cannabis strains we have on the Vault!
Why not head on over to The Vault Cannabis Seeds Store and pick up some cannabis seeds now, whilst taking advantage of the discount codes VAULT15 for 15% of your order total and don't forget to check out our discount cannabis seeds page for all the latest offers, promos and competitions!

Make sure you never miss another Vault promo and sign up for our newsletter at https://www.cannabis-seeds-store.co.uk/the-vault-newsletter
Remember: It's illegal to germinate cannabis seeds in many countries including the UK. It is our duty to inform you of this important fact and to urge you to obey all of your local laws. The Vault only ever sells or sends out seeds, or seed voucher prizes for souvenir, collection or novelty purposes.